If any company can find opportunities amid challenging circumstances, it's Starr Textile Services.
In 2004, Meyer Vacation Rentals in Gulf Shores, Alabama, was quickly outgrowing the only local laundry service available when Hurricane Ivan slammed into the coast. During the region's regrowth after the storm, a 35,000-square-foot building on seven acres in nearby Foley came on the market. "This was not a good time to buy a building and launch a new enterprise," said Sheila Hodges, owner of Meyer's parent company, SH Enterprises, "but I believed it was exactly what we needed."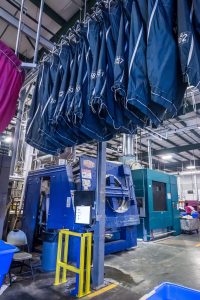 She was right. Originally named South Alabama Commercial Laundry, the facility served only Meyer properties for two years until the area began booming with new condos and other developments. SH Enterprises capitalized on this growth with a new name, Starr Textile Services, and a new $8 million facility that broke ground in 2007.
The recession hit the following year, unraveling Starr's market as construction permits expired and foreclosures mushroomed. The Gulf Coast was dealt yet another blow with the BP Deepwater Horizon oil spill in 2010. As tourism languished, servicing only Meyer Vacation Rentals wasn't an option, but neither was shutting its doors, so the company began expanding into new markets in Atmore, Biloxi, and New Orleans.
It was in New Orleans' recovery from Hurricane Katrina that Starr capitalized on another opportunity: a 13,000-square-foot laundry facility in the city and a newly renovated convention hotel in need of laundry services. Within a few months after opening its second location to service New Orleans hotels, Starr contracted with the convention hotel, and by 2013, the company had grown into a new 55,000-square-foot plant under the name Starr Textile Services of Louisiana.
Today, Starr can process up to 80 million pounds of laundry annually, including linens, towels, uniforms, and dry clean only items. It employs 120 staff members in its New Orleans plant and 80 in Foley, which combined serve 10,000 hotel rooms, Meyer's 35,000 reservations, and other customers in Louisiana, Mississippi, Alabama, and Florida. It is now the largest commercial laundry provider between the Texas and Florida coasts.
Michelle Hodges, president of SH Enterprises (and Sheila's daughter), was a part of Starr's expansion from the beginning. She credits much of its success to its roots in the vacation rental industry and explained that commercial laundry services usually come from a manufacturing base, but for Starr, coming from hospitality gives the company a competitive edge.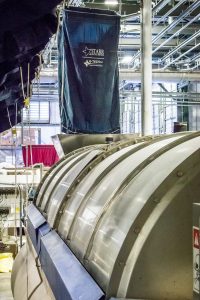 "It's a service-level mentality. We know what it's like to have a guest on one end and a need on the other end. It's not just about the product you're turning over, but a guest, a user, who expects expedited, 24-hour turnaround."
Starr's staffing, equipment, and other decisions are direct results of that 24-hour turnaround expectation.
Starr also differentiates itself from other commercial laundry facilities with another vacation rental-specific service: fitted sheets. Michelle explained that hotels don't use them, but vacation rentals do, and without a daily turnover, their beds can get sloppy. Starr invests in equipment that allows them to dry and fold fitted sheets, so guests always have a crisp, clean set.
Although Starr initially grew out of Meyer Vacation Rentals and its need for a larger service provider, and the two are interlaced as sister companies under SH Enterprises, Michelle added that Meyer doesn't use Starr as an owner retention or recruiting tool. Meyer's typical owners are absentee investors, some with multiple properties.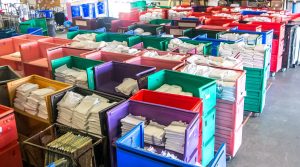 "They don't have interest in how we get it done, just that we get it done," said Michelle.
Instead, Starr whirrs along behind the scenes, adding efficiency to Meyer's operations, particularly when it comes to deep cleans. Having multiple locations also gives Meyer and its owners a backup in case something happens at the Foley plant.
Starr adds efficiency from an environmental standpoint as well. "People may think that when you do millions of pounds of laundry that it uses an excess amount of resources like water, but it's actually extremely environmentally friendly," Michelle said. Starr facilities use continuous batch tunnel washers that are 500 percent more efficient than traditional washers in terms of water and electricity consumption.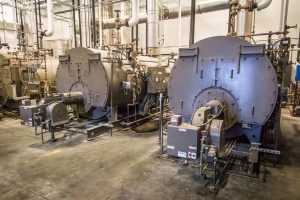 The textile business has its challenges, though. Like many companies in the vacation rental industry, Starr faces workforce limitations, particularly entry-level job turnover. "As automated as the equipment is, it takes a lot of people to make the system work," Michelle said.
Seizing on another opportunity in a different kind of recovery, Starr employs local prison inmates through work-release programs. This may not work for every company, but she recommends that other property managers talk with local wardens to see if a work-release program might work for them.
Finding creative solutions in the face of challenges isn't unique to Starr. While the laundry business overcame the hurdles of the last 14 years, so did Meyer, through an innovations engineering approach.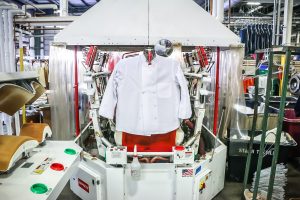 According to Michelle:

"In 2013, Meyer engaged the Alabama Technology Network's (ATN's) Mobile and Auburn University Centers to help address its innovation and growth challenges through the implementation of a year-long Innovation Engineering Management System (IEMS) project. Innovation Engineering is a systems-thinking approach to innovation with a methodology that teaches individuals and companies how to create and test meaningfully unique ideas using a Fail Fast, Fail Cheap approach to reduce risk and increase speed to market and to create a system and culture of never-ending innovation. The system fit into our company culture so well that with ATN's assistance, we decided to bring Innovation Engineering in-house and maintain the system to both encourage and manage meaningfully unique ideas into implementation. Two years into the program, IEMS became the catalyst for shifting our entire organizational structure to remain competitive in a changing market and better serve our property owners. The changes enabled Meyer to manage like a small property management company while also leveraging the tremendous resources and expertise of a large property management company."

The growth and innovation aren't slowing down for Starr and SH Enterprises. Both Starr laundry facilities are nearing capacity, and the service is eyeing further expansion. "There's a continuing demand for professional, reliable laundry providers."

To Michelle, it's been thrilling to have a secondary business outgrow Meyer Vacation Rentals. "We know the ups and downs, and when you build a successful business, it's something to be proud of," she said.

<!-comments-button-->