Cart abandonment. Such an ominous term. No company can really and truly get in the mind of consumers during their shopping experience. Amazon isn't completely sure why a new cooking spatula was left in a consumer's shopping cart, nor do they know whether the consumer plans on purchasing it in the future. They also don't know if the consumer purchased it elsewhere for a better price. All they know is that it wasn't purchased from them at that time.
One thing is certain: they try unbelievably hard to get the consumer back to buy, no matter the reason for leaving.
Understanding the Property Management "Cart"
Let's be clear. Our websites do not have a cart. A website visitor can't add multiple items and check out in bulk like they can with a normal shopping cart. It's one vacation for each transaction. A single "checkout" process.
All vacation rental websites have two key pages for booking a reservation online:
1) Property Display Page
The property display page has all the photos, availability calendars, and guest reviews as well as that giant (it better be giant if you want a good conversion rate) BOOK NOW button for each individual property.
2) Checkout Page
The checkout page is where personal info and credit card information is collected. This is also the page that gives the breakdown of rates and options for travel insurance. This page (even if it is broken down into "steps") is the closest we get to a shopping cart.
How Do You Measure the Booking Abandonment Rate?
Let's be blunt. You can't. All we have is the checkout page. So really, the only metric you can measure would be the number of visitors to your website who have visited your checkout page but did not visit your booking confirmation/thank you page. You can look at this in Google Analytics by creating a custom segment with a sequence. It's pretty technical, so get your marketing company to help you out with this.

In this example, over the course of a few months, only 309 users navigated to the checkout page and followed through to the final booking confirmation page. That's .56 percent of all users.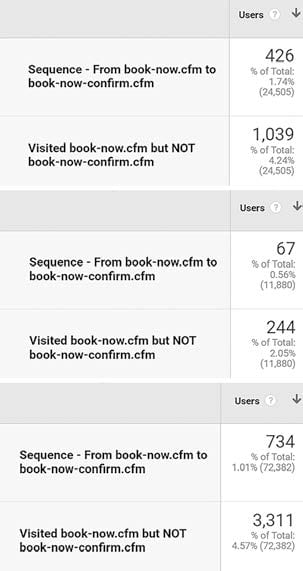 However, we also want to compute the number of users who visited the checkout page but not the booking confirmation page. This number will be our cart abandonment rate. Let's look at a few examples:
Without even worrying about the percentage math, we can immediately see that cart abandonment is indeed real. With this being the norm, however, we are stuck in the Amazon spatula situation, asking ourselves the age-old question of why.
Why They Abandon the Booking
Let the laundry list begin! Ok, it's not all bad. However, you first have to dissect human behavior during the booking process before we can assume that they don't like your product or website.
The facts we know as a constant:
Your property detail page never tells the full story.
Potential guests visit multiple websites (four or five) before booking, including OTAs.
Cell phone use has exceeded desktop use for total number of users (traffic, not online bookings).
Users are easily confused, especially with special deals and rates.
Shorter duration stays are becoming the norm (maybe).
Your Property Detail Page Never Tells the Full Story
Regarding our clients who have a site search bar (a box you can type keywords in to quickly search the website content), take a guess on the top keywords searched on most vacation rental websites.
"Cancellation policy"
Where is your cancellation policy posted on your website? Do you have it in your FAQs, or do you have a page dedicated to rental policies that's easily accessible? If not, then the only place your cancellation policy resides on your website is the checkout page. Potential guests are hungry for that information.
Total Cost
Another pitfall is where you display your final rate. It's always up to the property management company to decide where on the website they want to display their final price (including taxes, fees, travel insurance, etc.).
Some companies display the total amount with taxes and fees in the search results.
Others want to be upfront and show the full pricing breakdown on the property display page.
Some just show the base rate (before taxes/fees) on the property display page thus forcing a user to visit the checkout page to see the final price.
The latter is where abandonment metrics become diluted. This could mean that your "cart," which is the checkout page, is abandoned at a high rate because potential guests don't want any surprises. If your checkout page is the only page on your website that displays the final rate, then that page is no longer your checkout page. It is now your price check page—and it's ruining your cart abandonment rate.
This is the nature of the game when someone forks out $2,500 for a week. They could be considering whether the luxuries of a well-stocked condo or home are worth a stricter cancellation policy than that of a hotel room. We may never know.
Potential guests on your website also know that by just clicking Book Now on your property detail page, they aren't actually booking now. They know they are going to that final page to get the full picture. They are going to see if you are tacking on any additional fees or even checking the price of your travel insurance.
Guests Shop Around
Just as you could be competing with surrounding hotel-like accommodations, you could also be up against other VR inventory. Renters are looking at your site, your competitions' sites, Airbnb, VRBO, and other sources to find the best rental at the best price that fits their needs. That's why the average conversion rate of a website is anywhere between .3 percent and .5 percent. To keep visitors on your site, consider promoting the best-price guarantee as well as highlighting the benefits of booking directly right in your booking funnel.
Mobile Devices = Higher Abandonments
Nobody books on a cell phone. When I say nobody, I mean a small percentage. However, most of your traffic comes from mobile. According to the stats below (which are pretty normal for a vacation rental company), 54 percent of users are on their phones, but they also have the highest bounce rates (where they leave the site immediately), the lowest number of pages per visit, and the shortest time visiting your site. And finally, look at the horrible conversion rate in that last column.

Overall takeaway from this? There are plenty of lookers on cell phones, so they are important, but very few are bookers. We're just not there yet for various reasons. But more on that later.
User Confusion
If your website is hard to follow, hard to use, slow, and doesn't instill trust or a potential relationship in the guest, they won't book. Transparency is key in this day and age. Everybody is on high alert for potential scams, pitfalls, loopholes, and anything else that may ruin their vacation. (Another reason they are concerned about your cancellation policy.)
Another great example would be poor use of specials and deals. If a user can't book your special rate online or can't see the discount at checkout, and you force them to call, you could have potentially lost that guest. They could be shopping after calling hours when your office is closed. They could be at work. They could be just browsing. They could have other things to do than sit on the phone for 15 minutes just to get a price from you when your competitor's website gives it to them immediately. Instant gratification is the name of the game, and property managers need to provide that.
Do you know that most online bookings happen between 8 and 10 p.m.? Your office is closed. Your live chat is down. The guest leaves and finds another company that displays their special rates in an easy format.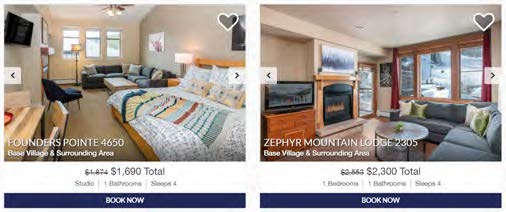 Moreover, those special rates should be apparent while browsing too! That's why we employ a WAS/NOW price, not only to show the guest the potential savings (since we all hate math), but also to make sure it's upfront and easy to follow.
Shorter Stays Are Becoming the Norm
Or are they? We hear this quite a bit in the VR industry, but a study on page 58 suggests otherwise with real-life data to back up their findings. We can blame the millennials all day long, but those millennials are getting older and are quickly becoming your target demographic. Other studies have shown that people are taking more but shorter vacations each year. It's important to know what's popular in your market in each season.
Gone are the days where we all load up in the family station wagon, beg Dad to turn on the air conditioning, and get away for a full week. Yes, it still happens, but length of stay is completely market dependent. Property managers are reacting to the demand by modifying their minimum stay policies and offering flexible date searches to broaden the search criteria. It's the norm now. If that's not something you offer and your competition does, add another tick to the causes of the abandoned cart.
What Can We Do to Reduce Booking Abandonment?
Roll with the times, keep it simple, and adjust as necessary using the points above.
I've shown you that users don't book on their mobile devices as much as on desktops. Even Google Analytics has a very difficult time tracking users as they navigate between devices. We also know from the stats above that mobile users aren't as engaged as desktop or tablet users.
That doesn't mean we should abandon them. Users will start on their phone and research you. Then, when it comes down to that final decision, they book on their desktop. The problem, though, is that there is a very large gap in synergy between the two devices. It's just plain difficult to find that same property on your computer after you looked at it on your phone. This again hinders the checkout process.
Remind Me to Book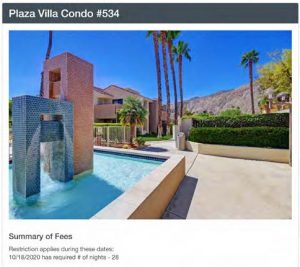 A simple button on your checkout page that reads "Remind Me to Book This Later" offers a quick and simple way for users on mobile devices to email themselves the property information so they can book it on their desktop.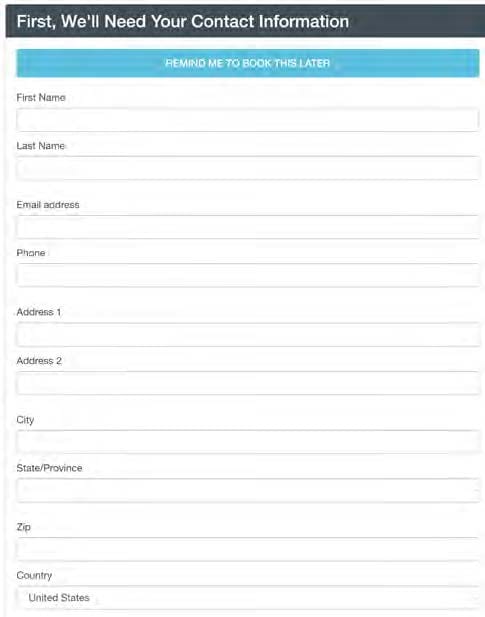 BOOKING Abandonment Emails
Plenty of times, a user will start to fill out the checkout form and get distracted, on either their phone or desktop. Just as it does for Amazon, a follow-up email works wonders. When you capture the email address, you can easily send a quick automated email reminding the client to come back and finish booking. This tool has been invaluable for many of our clients. A couple of our clients using the cart abandonment email have earned $15,000+ and $9,400+ from guests who have returned to book from the email, and that is just from Dec. 1 to 15, 2019, during the off-season.
BOOKING Abandonment Footers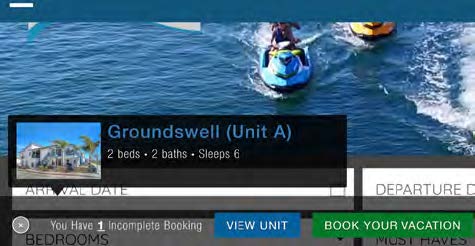 What if the guest doesn't fill anything out on the checkout page? Maybe they leave the checkout page to look for a special. Maybe they leave the site but come back a week later. A footer notification that saves the property for them with an easy link back in a floating footer bar makes it very fast and simple to return to what they viewed and to ultimately go back to book.
The Final Word on Abandoned Bookings
It's going to happen on any e-commerce website. Cart abandonment is normal, especially in our industry, with high-dollar transactions and when all the final information is located only on the checkout page.

However, each abandoned booking is a potential lead source— leads much more qualified than someone who visited a popular blog post on your website to let slip through the cracks.

Do everything you can to get them back. Take the time to examine your website in light of the helpful hints above and see where you can help get them off the fence and ready to book. Whether it's the tools above, a strategically placed "Wait, don't go" popup, or remarketing ads, there is always something more you can do to improve your online conversions.

<!-comments-button-->