A recnt Rutgers University study — based on more than 3,800 Airbnb lodging requests sent by the researchers — suggests travelers with disabilities are more likely to be rejected and less likely to receive preapproval, or temporary clearance, for a potential stay with Airbnb's hosts.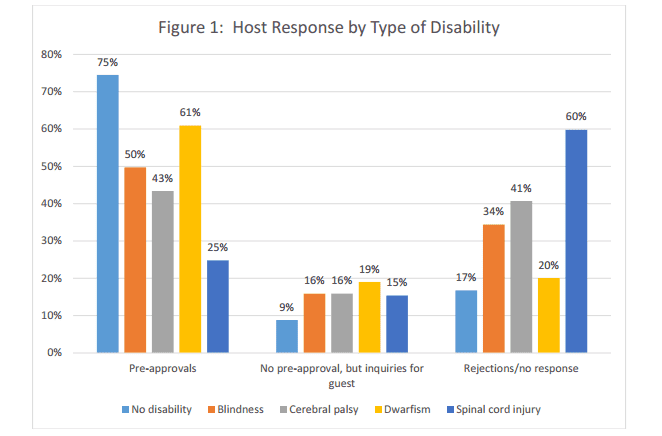 "Physical inaccessibility may represent a deeper form of discrimination in the built environment, as posited by the social model of disability," according to the study. "This raises the larger issue of whether Internet-based platforms like Airbnb are expanding services in a way that contributes to or even increases the social exclusion of people with disabilities. Airbnb's business model, like that of most peer-to-peer ventures, is not to act like a hotel operator capable of handing down mandates to its subsidiaries. It is instead a platform on which a free network of independent contracting homeowners can connect with customers in need of a place to stay. This structure enables Airbnb to avoid laws that would apply to other businesses in the hospitality industry."
The study suggested the following changes that also apply to the entire vacation rental industry:
Airbnb should ensure that hosts who are covered by the ADA know and follow the ADA standards.
Hosts who list their units as "wheelchair accessible" should be required to follow ADA guidelines on accessibility, and it would be valuable to give hosts more information and the opportunity to list their units as meeting other ADA accessibility standards, such as for blindness.
Enforcement of the new nondiscrimination policy should include specific outreach totravelers who identify as having disabilities to learn about their experiences, and possibly "mystery shoppers" who have been used in hotels to monitor service quality (Ford and Bach 1997; Wilson 1998).
Airbnb should consider on-going partnerships with disability organizations to ensure that the needs of travelers with disabilities are well reflected in their policies, and provide links to disability organizations for these travelers. A set of principles could be developed as has been done with the "Good Work Code" for companies that provide jobs through on-line platforms.
There is a need for further research and robust discussion on how the ADA and other public policies can increase lodging options for travelers with disabilities.
As Airbnb's practices continue to direct attention from government officials toward the need for more regulation in the vacation rental industry, it becomes more critical for vacation rental professionals to take proactive steps to comply with ADA standards.

<!-comments-button-->