As the vacation rental industry faces challenges related to the spread of COVID-19, managers on the Gulf Coast are remembering another unanticipated, debilitating event that began 10 years ago today — the BP-Deep Horizon Oil Spill.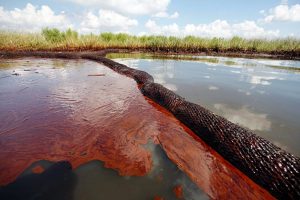 On April 20, 2010, high-pressure methane gas ignited and exploded on the Deep Water Horizon drilling rig, engulfing the platform. Eleven missing workers were never found and are believed to have died in the explosion. 94 crew members were rescued by lifeboat or helicopter, and the Deepwater Horizon sank on April 22.
The oil leak was discovered on the afternoon of April 22, when a large oil slick began to spread at the Deepwater Horizon site. For months, CNN displayed ongoing footage from an underwater camera showing oil gushing into the Gulf waters (in the same way the network is now showing coronavirus cases and deaths).
The oil flowed for 87 days, leaking approximately 4.9 million barrels of oil directly into the Gulf of Mexico, until the well was capped on July 15 and was finally declared sealed on September 19, 2010. BP promised to make individuals and businesses "whole" and created processes through which businesses and individuals applied for and received money from the company for lost revenue and wages.
Estimates of lost tourism dollars were projected to cost the Gulf coastal economy up to 22.7 billion.
As we seek to learn from the past, there are a few parallels between 2010's BP Oil Spill and the current pandemic crisis as it affects leisure vacation rental destinations.
1. Unanticipated Shock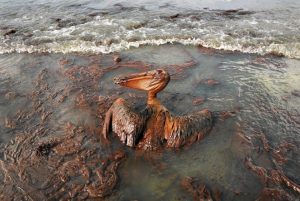 In 2010, travel was rebounding from the 2008 recession, and vacation rental managers located in Gulf states were anticipating their strongest summer on record. In the same way, in 2020, booking activity was up approximately 15 percent, and the vacation rental industry was looking forward to an exceptional year before shutdowns related to the spread of COVID-19 began. And, like the 2010 BP Oil Spill, no vacation rental business had listed "global pandemic" on their 2020 SWOT analysis.
"They were both unexpected," said Michelle Hodges, COO, Meyer Vacation Rentals. "We, being on the coast, were accustomed to handing emergencies; and our definition of that, up until 2010, was a tropical event. We had become experts in these. You know when they are coming, You can anticipate how strong they are going to be, and you know about what your recovery time is going to be. But in 2010, we were taken aback by the first man-made disaster we had to get through. It was frustrating . . . I don't think six months or even six weeks ago, we could have anticipated something so unknown disrupting our businesses to this degree, In terms of shock factor, they are similar."
An unanticipated event, such as the oil spill or this coronavirus, is not easily or quickly processed.
2. Public Health vs Economic Interests
Another parallel between the BP Oil Spill and COVID-19 is the difficulty in reconciling responses to a health crisis with responses to an economic crisis.
While full-time residents along the Gulf Coast were concerned about the health issues, businesses — epecially vacation rental companies — were focused on preserving summer revenue. The inaugural Hangout Beach Festival was held directly on the beach on May 14–16, 2010, with headliners John Legend and Zac Brown, but health concerns were mounting.
By July 2010, symptoms were being reported, primarily by those involved in the cleanup effort, as chemicals from the oil and dispersants were believed to be the cause, a claim that proved to be true years after the event.
Two years after the spill, a 2012 survey of the health effects of the spill on cleanup workers reported "eye, nose and throat irritation; respiratory problems; blood in urine, vomit and rectal bleeding; seizures; nausea and violent vomiting episodes that last for hours; skin irritation, burning and lesions; short-term memory loss and confusion; liver and kidney damage; central nervous system effects and nervous system damage; hypertension; and miscarriages." Dr. James Diaz, writing for the American Journal of Disaster Medicine, said these ailments appearing in the Gulf reflected those reported after previous oil spills, like the Exxon Valdez. Diaz warned that "chronic adverse health effects, including cancers, liver and kidney disease, mental health disorders, birth defects and developmental disorders should be anticipated among sensitive populations and those most heavily exposed". Diaz also believed neurological disorders should be expected.
3. The locals weren't having it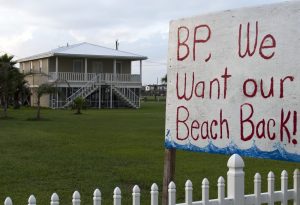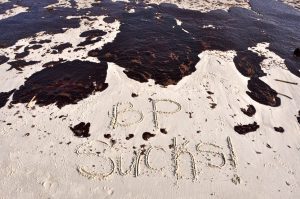 While vacation rental companies and destination marketers were trying to keep guests coming, the locals protested that conditions were not safe and states were not doing enough to protect the beaches, seafood, ecology, and the environment.
In 2010, social networks were not as prevalent as they are today, but they did exist, And these platforms were widely used, as full-time residents took to forums on Facebook, LinkedIn, Reddit, Twitter, and even TripAdvisor to alert potential guests about health and safety and to raise awareness among politicians.
Simultaneously, tourism promoters stepped up efforts to keep guests coming, even as officials prohibited people from entering the Gulf of Mexico to swim, surf, or fish. Alabama Gulf Coast destination marketers placed anchor Rebecca Wilson front and center. Wilson walked the beach every day telling guests that beaches were open (even though the water was not), and the daily videos outraged locals.



One Gulf Shores resident, David Crosby, began creating spoofs of the CVB videos, mocking the area's attempts to bring visitors into a situation that many felt was unhealthy.
The animosity between the locals and destination promoters lasted through 2011, although long-lasting consequences to residents' health and to the environment remained a concern through 2013.
4. Financial Assistance
For both the oil spill and COVID, travel insurance did not pay out for cancellations. However, during the oil spill, BP eventually took responsibility for the situation, and on June 16, BP established the Gulf Coast Claims Facility (GCCF), a $20 billion fund to settle claims for "natural resource damages, state and local response costs, and individual compensation." The GCCF was administrated by attorney Ken Feinberg. The facility began accepting claims on August 23, and a new profession was born on the Gulf Coast: getting money from BP. More than one million claims of 220,000 individual and business claimants were processed and more than $6.2 billion was paid out from the fund. The GCCF and Feinberg were heavily criticized about the amount and speed of payments as well as a lack of transparency. Eric Holder announced an independent audit of the GCCF, which found that 7,300 claimants were wrongly denied or underpaid. As a result, about $64 million of additional payments was made.
Comparing the event to today's COVID-related economic response, the US government is in the early stages of compensating individuals and small business owners for lost wages and revenue, as it took four months for individuals and businesses to receive cash to help offset losses due to the oil spill.
5. Heavy Discounting
If there is a prediction about future pricing, we are likely to see vacation rental managers and owners get aggressive on pricing. Through the remainder of 2010 and in 2011, vacation rentals on the Gulf Coast were heavily discounted for guests. Development of new condominium complexes came to a halt, and many planned building developments never came to be. Others took years to break ground and be completed.
BP-funded PR campaigns and events were created in additional efforts to bring guests back including concerts performed by Jimmy Buffet, Brad Paisley and Bon Jovi. The following video was released by BP in December 2011, sixteen months after the oil spill began.
6. The vacation rental industry will survive
As we take a moment to look back ten years to the BP Oil Spill, we know the vacation rental industry will survive this pandemic and will eventually thrive. People will travel again; and today, few remember (or have chosen to block out) how difficult this time was along the Gulf Coast. Today's anniversary provides a brief reminder of the devastation from the oil spill and the challenges our destinations faced. People have short memories, and by 2012, vacation rental activity began to rebound and then began to exceed tourism levels pre-oil spill.

With Hurricane Ivan in 2004, Hurricane Katrina in 2005, the recession in 2008, and the oil spill of 2010, things were not easy for Gulf Coast vacation rental managers.

However, the companies and small business owners who were committed to their businesses and to the destination found a way to make it through, and they were rewarded for their perseverance.

This too shall pass . . . eventually.

<!-comments-button-->