Amilcar is a sweet, intelligent sixth grader who loves technology and math. He wants to be a dentist when he grows up and has dreams of visiting Mount Everest. He lives in San Salvador, El Salvador, in one of the deadliest neighborhoods in the country, among the MS-13 and 18th Street gangs. Amilcar's father is a shoe repairman but doesn't have much work. He walks Amilcar to school every day to make sure he is safe. Amilcar is one of the children that our company, Coconut Condos, sponsors in partnership with Compassion International. Our family had the opportunity to meet Amilcar this summer as part of Compassion's custom visit program.
By sponsoring Amilcar through Compassion, he has access to his local Compassion center, which provides a safe haven from the deadly gangs. He receives after-school tutoring, a daily meal, home visits to ensure his family has enough food and resources, and workshop trainings to teach him functional skills to help him get a job. Compassion will help facilitate a path for Amilcar to higher education to help him break the cycle of poverty. This, to me, is the power of giving.
Why Give?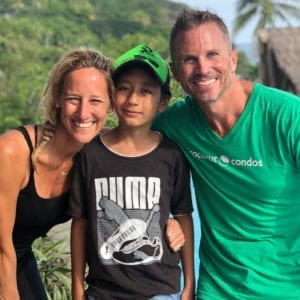 Giving is what we're called to do as humans: to use what we've been given to help others in need. Making giving a core part of our mission at Coconut Condos has made all the difference in terms of employee motivation and job satisfaction, our reputation in our community, and, most of all, knowing that what we're doing day in and day out has more meaning beyond our daily grind.
At Coconut Condos, our business giving plan evolved over time to include three main tenets of giving. We started giving locally to our Habitat for Humanity chapter as a percentage of proceeds. But after a couple years of just writing checks at the end of the year, I realized there was more I wanted to do and began to strategically set up our plan to include local, national, and international giving.
Local Giving
Local giving campaigns can be the easiest place to start because the needs are generally right in front of you. Look around your local community, and you'll see needs. In Maui, we've found that homelessness and the cost of living go hand in hand, so we've chosen to focus on those issues in particular. These are some specific ways we've found to help our community.
National Giving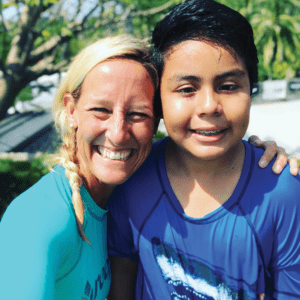 Once you've established your local giving plan, it's time to look nationally. What are the needs in your country that you're drawn to or passionate about?
The national organization we've partnered with is Dream Foundation; it's similar to Make-A-Wish but for terminally ill adults wanting to take one last vacation with their family. It's such an honor to be part of these Dreamers' lives when their days on earth are numbered. We receive a request for a dream and then reach out to our owners for a condo donation. Our team then finds out what the Dreamer is interested in doing here on Maui, and we contact fellow business owners to plan the trip of a lifetime. I require one of my staff members to personally meet each of the Dreamers so he or she has a personal connection here on Maui and because of the profound impact these meetings have had on each of us. We keep the donor information in a spreadsheet for easy tracking. We hang photos of our Dreamers on canvas prints in the entrance to our office as a beautiful reminder of their lives and how they intersect with ours.
International Giving
In his book, Start Something That Matters, Blake Mycoskie, founder of Toms Shoes, challenges businesses to consider what their One for One® is, to follow his business model that helps a person in need with every product purchased. In January 2017, Coconut Condos embarked on the international tenet of our giving plan with Compassion International. We committed to supporting one child in poverty for every property we manage. We currently sponsor 60 children in 24 countries. Each employee has six children whom they write to, and we have quarterly catered letter-writing parties following our staff meetings. We provide information in each vacation rental about the sponsored child so guests know that their stay is helping support a child in need; the information is also on the Mission page on our website. We have a world map hanging in our office with all our children's photos pinned to their home country.
In the summer of 2017, my family and I had the opportunity to go to Ecuador and meet two of our Compassion families. After that amazing experience, we committed to meeting all our sponsored children. Last summer we traveled to El Salvador and Honduras to meet six of our sponsored children, including Amilcar. This summer we'll be visiting ten children in Thailand, the Philippines, and Indonesia. We've also committed to taking our staff on child visits, so this summer we'll be taking our COO with us to Thailand.
Giving Challenge?
Wouldn't it be amazing if we, as vacation rental managers and small business owners, could pledge to be world changers and make using our businesses as social enterprises a best practice? It is my hope and dream that this would become a growing movement in our profession and part of what we do as an industry. I encourage you to start with a commitment to one cause or organization in each of three areas: locally, nationally, and internationally. To get started, answer the following questions:

1) Where is the need in your world?
2) What are you passionate about?
3) Where do need and passion meet?
4) What will you commit to?

I'd love to hear your stories. Please contact me if you have any questions or would like additional information on any of the organizations listed here. If you'd like to follow our travels to visit our sponsored children, follow me on Instagram at @msangieleone.

<!-comments-button-->