Virtual tours, 360's, Panoramas, floor plan tours…the terminology used to describe ways to showcase properties online can be unclear and confusing. VRM Intel decided to investigate the options, figure out the differences and look at examples so you can decide which option works for your vacation rental or real estate listings.
What is a Virtual Tour?
Technically, a virtual tour is any simulation of an existing location, usually composed of a sequence of videos or still images. It may also use other multimedia elements such as floor plans, sound effects, music, narration, and text. To simplify the definition for accommodations and real estate industries: a virtual tour is an online tour of a property. There are several types of virtual tours which are popular ways to showcase properties:
360/Panoramic Tours
Video Tours
Floor Plan Tours
Still Photo Tours
360 or Panoramic Tours
Panorama indicates an unbroken view, since a panorama can be either a series of photographs or panning video footage. However, the phrases "panoramic tour" and "360 virtual tour" have mostly been associated with virtual tours created using still cameras. The Panoramic virtual tours are made up of a number of shots taken from a single vantage point. The camera and lens are rotated around what is referred to as a no parallax point (the exact point at the back of the lens where the light converges). Key Advantages: Shows the entire 360 view of the area Key Disadvantages: Slow load time, ineffective on mobile devices, lack of viewing control The following example added music overlay which can also be distracting to the visitor.  
Interactive Floor Plan Tour
An interactive floor plan tour combines still photography with an architectural floor plan of the entire property so that the visitor can have a high level view and navigate through the home. Key advantages: Fast load time, viewer control, gives visitor overall feel for size and layout of the property, mobile friendly Key disadvantages: Doesn't give a 360 view of each room The following is a link to examples of interactive floor plan tours.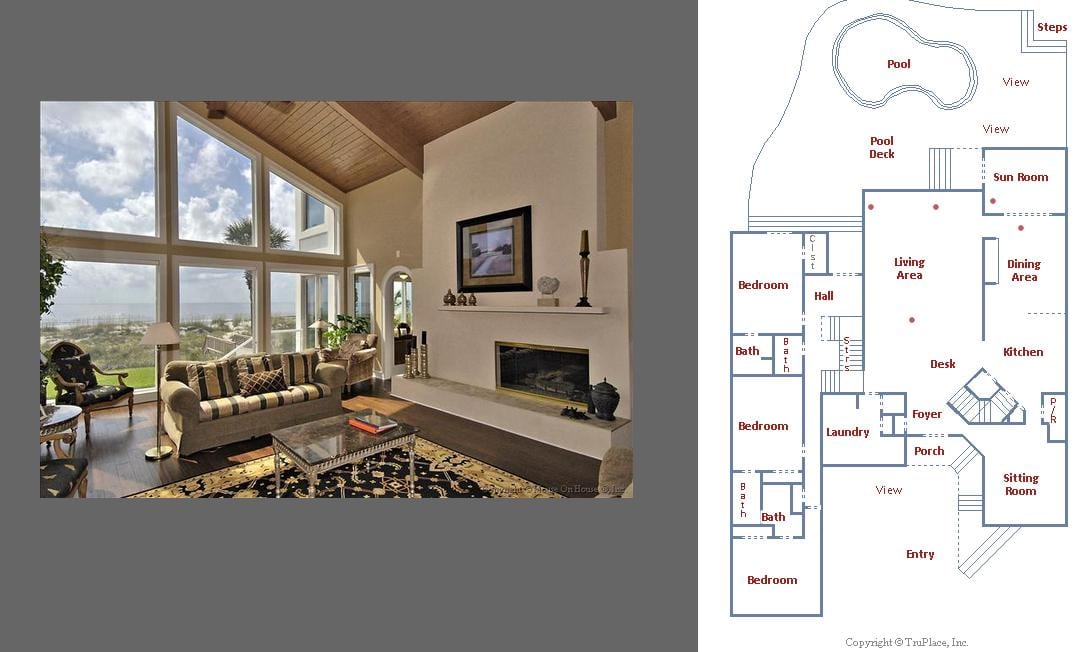 Video Tours
A video tour is a full motion video of a location. Unlike the 360 virtual tour's static wrap-around feel, a video tour is as if you were walking through a location. Using a video camera, the location is filmed while moving from place to place. Video tours are continuous movement taken at a walking pace. Most video tours also include music, narration, and/or text overlay. Key advantages: Mobile friendly Key disadvantages: Load time, lack of viewing control Here is example of a video tour.
Still Photo Tour, aka Photo Gallery
The most common way people choose to display their properties is through a Still Photo Tour or a Photo Gallery like those used on VRBO.com. Key advantages: Fast load time, viewer control Key disadvantages: One dimensional view, doesn't give the visitor a feel of the property, lacks an overall view of room size and layout Here is a link to a VRBO.com photo gallery.
Conclusion
To optimize your rental or real estate listings it is important to provide a way for your customers to tour your properties online. When making a decision about how to best display your homes, here are a few considerations.
What information does your customer need to make a faster decision about buying from you?
What are common questions your agents get via phone calls which could be answered by an online tour?
Which type of tour works best on your website?
Is your customer likely to use a mobile device in their search?
Related articles: Do Interactive Floor Plan Tour Increase Bookings Surf or Sound Realty Launches New Vacation Rental Website   By Amy Hinote

<!-comments-button-->