Vacation Rental Pros, LLC, one of the fastest growing vacation rental management companies in North America, reached an agreement to acquire Waterfront Vacation Rentals, based in St Petersburg, Florida.
The move adds an additional 185 St Petersburg Beach-area vacation rental properties to the management portfolio of Vacation Rental Pros, giving the company over 1,650 total properties under exclusive management contract.
"We are thrilled to expand our existing presence in the Tampa/St Petersburg market, which plays host to more than 21 million travelers per year," said Steve Milo, founder and owner of Vacation Rental Pros. "In addition to Waterfront's existing client base, their top-notch management team brings a wealth of experience in new and growing markets of St Petersburg Beach, Clearwater Beach, Madiera Beach and Indian Shores, and puts us in an excellent position for even more growth in the near future in Southwest Florida."
Prior to the acquisition of Waterfront, Vacation Rental Pros had expanded into Gatlinburg, Tennessee in the Smoky Mountains with the acquisition Jackson Mountain Homes in March 2016, and into Hilton Head Island, South Carolina with the purchase of Hilton Head Rentals and Golf in December 2015.
Vacation Rental Pros is a growing and innovative property management and rental reservation system which leverages a proprietary technology platform to maximize occupancy and revenue. As a result of the Company's integration platform and marketing expertise, the company is successfully expanding through both acquisition and organic growth into its new markets. The Waterfront Vacation Rental deal is the fourth major acquisition in 12 months for Milo's company which forecast's growth of 60% in 2016.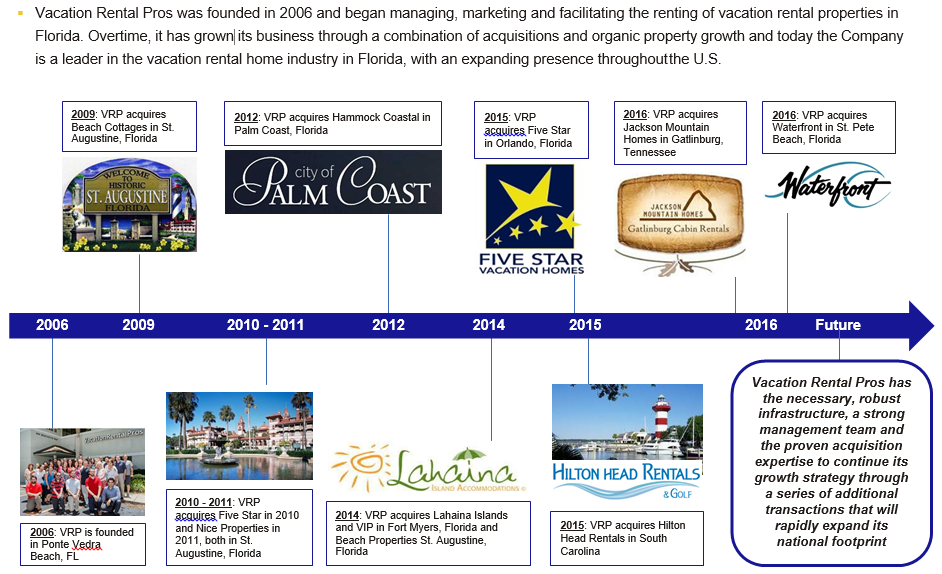 According to Steve Milo, there will be several additional acquisitions in 2016 with more in the 4th quarter which is the off season for many property management companies in North America.

"Vacation Rental Pros is getting approached by more and more sellers as the vacation rental market gets more and more complex due to technology and the significant changing business models with online travel sites," said Milo. "The recent major changes at HomeAway with their business model as well as ongoing negative performance with TripAdvisor's/Flipkey's vacation rental platform have caused severe disruption in traditional relied upon marketing channels. A growing segment of vacation rental management companies and owners are becoming concerned that they are unable to navigate this disruption which has caused traditional revenue sources to decline, and which many fear will only continue to change at a pace that will be difficult for them to keep up. Many of the sellers we talk to started out when there was little technology, and advertising channels did not change their business models on the fly with little or no notice to their client."

"Sellers are approaching Vacation Rental Pros because we have an exceptional reputation in understanding how to manage a vacation rental business that business owners worked so hard to build," said Milo. "We know how to keep the property owners happy, and we are keeping their brands active in each market. Plus, we know how to leverage our technology platform in each market to increase revenue."

Milo added, "And, when they talk to me, they are talking to the principle. I have built this business without venture capital partners or other outside equity partners. I am the decision maker."

According to Milo, "Vacation Rental Pros has built the best technology platform model in the industry to expand in both a scaleable and sustainable manner. We have built this platform through a focus on technical efficiency which translates nicely to expanding incremental profitability. We have a powerful mix of robust growth, profit and no dilution of equity."

<!-comments-button-->