Vacasa announced that it will acquire Seattle-based Sea to Sky Rentals and take over the management of its 85 properties in Seattle, Stevens Pass, and Leavenworth, Washington.
The company was founded by Michelle Acquavella in 2003.
"Sea to Sky Rentals was started out of the basement of my home in Seattle with the little mother in law apartment in my home," said Acquavella. "The idea was the grandparents could stay there when visiting our kids, and we'd rent it as a vacation rental when they weren't there. That little apartment was the second listing in Seattle on Vrbo.com, and it brought in enough to pay the mortgage on the whole house. So having been a business major and seeing a wide open market niche, I wrote a business plan and officially opened Sea to Sky in 2003."
Since founding the company, Acquavella has become a vacation rental industry leader as a vocal supporter for short-term rentals in Seattle and serving on industry boards and committees for the international Vacation Rental Management Association (VRMA) and the regional Northwest Vacation Rental Professionals.
In 2013, she brought in Heidi Stuber as the company's strategic director; and with its strong performance, news of Vacasa's purchase of Sea to Sky came as a surprise to many.
"In business you find yourself at different crossroads, or inflection points, where you have to change to keep up with business and/or market changes," said Acquavella. "Sea to Sky found itself at that point again; and we decided that Sea to Sky's homeowners, employees, and guests would be best served by a business with more resources, technology, and structure. We sent out 12 confidential offering memorandums, spoke in depth with five potential buyers, and chose Vacasa because they have the resources, technology, and structure we believe will best serve our homeowners, staff, and guests."
We asked Stuber and Acquavella if they worked with an M&A firm or consultant to help with selling the company.
"Having been involved in a few deals now we felt confident enough to negotiate for ourselves," said Acquavella. "We have a fantastic M&A attorney locally who assists, but Heidi and I did the negotiations ourselves. The acquisition process is multifaceted and a lot of fun! It is now something I'd consider assisting others with!"
What advice does Acquavella have for PMs thinking about selling their companies? "Don't wait until you are desperate or so burnt out that you just want to throw up your hands and walk away," she said. "Make the decision on a timeline range in your head—say one to three years—and then wait for the time that feels right, whether that's a market change you aren't ready to pivot for, really great revenue last year, or just feeling like it's running so well it would be easy to hand off to the next owner. Operate your business today like you are going to sell tomorrow. Clean up your financials, write down the policies and procedures that are all in your head, and consult with a business broker."
She continued, "At Sea to Sky we hired a general manager and have been training her over the last year. With Louisa staying on in that role, Heidi and I could walk away without further commitment beyond the 60-day transition period. I LOVE the vacation rental industry, it's the day-to day-grind of the business and re-organizing every few years to respond to a rapidly changing market that has worn me out. It is my hope to find some way to stay connected to the vacation rental industry and the amazing women and men who are in it, but especially the women! Go VRWS (Vacation Rental Women's Summit)!!
"I will miss the people and the relationships I have built over the years," she added. "The vacation rental industry is unique! The people in this industry are entrepreneurs and business people for sure, but they have the biggest hearts and are the most generous and kind people I have ever met. I count most of them as friends and many as family."
What is next for Acquavella? "In the very short term I am going to take a breather," she said. "My little family is expanding at the end of this month. We will be a household of five humans and six animals! So I want to take some time to get everyone settled and make sure my teens are on a good path. But before winter I anticipate deciding what's next for me. I have no idea what that looks like which feels so good right now!"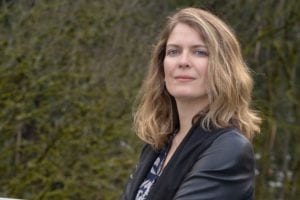 Heidi Stuber, will focus on running for Seattle City Council. At VRM Intel we have been supporting her campaign, which you can read more about here.

"It has been an honor to work alongside Michelle and run Sea to Sky on her behalf for the last 5 years," said Stuber. "Michelle has been a mentor, a cheerleader, and has become a great friend. I will miss all the friends I've made across the country and the employees who keep me going every day. We've built a successful business because we've had the best team members to work with and knowing them has been an absolute privilege. We wish our homeowners and employees all the best in the transition. Michelle and I will be off on our own adventures, and we can't wait!"

<!-comments-button-->