Commissions from selling travel insurance products provide a significant source of ancillary revenue for vacation rental managers.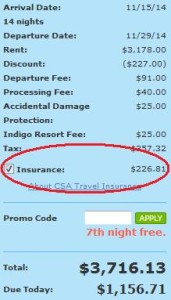 Over the last decade, travel insurance representatives taught the vacation rental marketplace that they could make more money by having guests opt-out of travel insurance in the online booking process rather than opt in, leading to a 40 percent  increase in insurance sales.
As a result, professional vacation rental management companies moved to an opt-out model on their booking pages. In this model, there is typically a check box next to the travel insurance line item which is pre-checked. Guests can un-check the box to decline the insurance. Vacation rental managers were able to increase revenue from travel insurance by 30-40 percent by switching to the opt-out model.
However, CSA Travel Insurance, one of the leading travel insurance providers in the vacation rental industry, recently notified clients -including HomeAway and Wyndham Vacation Rentals -they would no longer be allowed to use an opt-out model on their websites.
CSA's decision has precipitated a robust discussion about why the change is being made, if the deadline to implement the change makes sense, and if this is an inevitable industry standard.
Total buy-in of opt-out model
Switching to the opt-out model proved to be a win-win situation in the vacation rental industry. In the example below, a property manager with 8,000 annual reservations and an average stay value of $2,000 could add over $112k to their bottom line simply by pre-checking the travel insurance box.
| | | |
| --- | --- | --- |
| | Opt-in | Opt-out |
| Average Stay Value | $2,000 | $2,000 |
| Number of Reservations | 8,000 | 8,000 |
| Typical Travel Insurance Fee: | 7% | 7% |
| Percentage of stays which include travel insurance | 25% | 35% |
| Commission from travel insurance sale -35% | $280,000 | $392,000 |
In addition, travel insurance provides enormous protection for the homeowner, the guest and the vacation rental company.
This is especially beneficial for hurricane-prone destinations like North Carolina where the North Carolina Real Estate Commission legislated that in a hurricane event, guests are not entitled to a refund if, "prior to the tenant taking possession of the property, the tenant refused insurance offered by the landlord or real estate broker that would have compensated the tenant for losses or damages resulting from loss of use of the property due to a mandatory evacuation order." For North Carolina property managers, the best way to comply with rental regulations is through an opt-out model.
Why it is a problem
CSA's notification letter to clients in July 2014 states:
"the purchase of our insurance plans must include an affirmative selection made by the guest, and these insurance plans should not be presented in an 'opt-out' or mandatory fashion."
Since CSA was a proponent of opt-out offerings, what triggered the change in direction?
In 2012, as a result of complaints about Travelocity's hidden fees, insurance provider TravelGuard and underwriter National Union Fire Insurance (NUFIC) came under review.
Minnesota
The Minnesota Department of Commerce alleged in 2012 that TravelGuard had violated state law by automatically enrolling consumers in travel insurance without their express consent when they booked on Travelocity.com.
Unless they specifically opted out of the insurance, customers were buying policies that cost $25 to $45 per traveler, according to the state. The companies agreed to issue nearly $2.5 million in refunds and pay a $250,000 civil penalty.
Missouri
Last year the Missouri Department of Insurance announced that Missouri consumers who purchased travel insurance policies offered on Travelocity websites would be entitled to a refund of nearly $2 million.
The department alleged NUFIC violated state law by requiring consumers to affirmatively "opt-out" of buying travel insurance policies. The settlement says NUFIC will refund $2 million to Missourians who purchased travel insurance policies from the company through Travelocity and other websites powered by Travelocity from June 1, 2009 to January 24, 2012. NUFIC sold nearly 70,000 policies of its Travel Guard Protection Plan to Missourians during that time period.
"Missourians who may have been misled into purchasing unwanted travel insurance policies will be entitled to refunds," said John M. Huff, director of the Missouri Department of Insurance. "Protecting consumer rights is essential and holding companies accountable for questionable business practices will remain at the forefront of our department's mission.
Department of Transportation
The Transportation Department's full-fare advertising regulations for airfares went into effect in 2012. They include a rule that prohibits opt-out provisions in ads, further closing a loophole that had "cost consumers millions and generated thousands of complaints."
Since each state has its own Department of Insurance, it is up to each state how they regulate this. Minnesota, Washington and Missouri have increased regulation and have imposed fines on companies using pre-checked boxes, but it is not known if other states are reviewing opt-out booking models.
After assessing the Travelocity/Travel Guard fallout, CSA underwriter Italian-based Generali has made the interpretive decision that the risk of being reviewed and fined is greater than the reward of higher travel insurance sales.
To opt-in or opt-out
As a result of the change, an unnamed source, recently ended his contract with CSA and chose a different travel insurance provider. "From what we understand, this decision is not based on any pending regulations, changing industry standards or threat of fines. It is is just an arbitrary decision by CSA's underwriter. We are a laid-back, loyal company, and we don't like to rock the boat. But we don't like it done to us either."
CSA underwriter Generali believes eliminating pre-checked boxes for travel insurance is part of instituting best practices going forward in the vacation rental industry, and that the best way to protect their company and their clients' interests is to be proactive in implementing opt-in standards.
Software companies who make a percentage of vacation rental travel insurance sales from their partnership with CSA are making changes in their system to eliminate the automatic calculation of travel insurance. For web companies, the change means the discontinued use of pre-checked boxes for adding travel insurance for CSA clients, but there are different ways to display the option, including the use of un-checked boxes and inclusive subtotals.
However, the example below still does not include an "affirmative selection made by the guest."
(VRM Intel is searching for an example of an opt-in model which is in compliance.) 
After news of TravelGuard's troubles, along with this recent move by CSA, it appears that the opt-out model is being examined, but the elimination of an opt-out model is not currently mandatory.
It will be a difficult decision for CSA customers who wish to continue using pre-checked boxes to either change providers or comply with new underwriter policies.
Additional Info:
HomeAway and Wyndham are continuing their relationship with CSA and complying with policies.
LiveRez is making changes to comply with the new format.
Airbnb does not offer travel insurance on its website.
TripAdvisor's FlipKey offers insurance in a process which is separate from the booking process.
Priceline has a check yes or no format (guest must check one or the other) with a second chance opt it.
By Amy Hinote

<!-comments-button-->