I'm ashamed (or maybe proud?) to admit it, but I've been around the property management industry long enough to remember the magic of "ONLV"—the keyboard shortcut to the change log in First Resort Software (FRS), a DOS-based program that was so reliable, so useful, and so extensive that it spent 30 years dominating the marketplace and had to be pried out of the hands of most property managers by the time HomeAway Software stopped supporting it a few years ago.
The basis of FRS—and the loyalty from decades-old customers—did not come from blazing fast innovation and shiny new features but rather from a consistent and reliable software platform that provided reporting that could be trusted and peace of mind to accountants. Over the years, online booking and other functionality were added, but the platform lasted well beyond anyone's expectation.
Although the needs of property managers have changed drastically since FRS was launched in 1984, there are always lessons from history that, if embraced, become a hallmark for greater success. Today's property managers still need accounting functionality and data they can trust, and most of them are not willing to forgo those two pillars of doing business for new shiny features.
In the last decade, a plethora of companies calling themselves property management software (PMS) providers have entered the market. Yet, if you were to compare them side by side, you would notice that many of them have more in common with web marketing agencies and channel managers than with traditional PMS systems.
Almost every PMS uses a version of a tagline that reads "All-In-One Vacation Rental Software," but there are basically two categories of PMS systems: traditional (PMS), and a new breed more accurately defined as property management marketing systems (PMMS). Ironically, both categories will check many of the same features boxes—but they diverge greatly in terms of how they started, how data is treated, and how their product road maps continue to evolve.
It is important to evaluate more than just the cost of the property management software and consider the costs of the additional platforms you will need to run your business. Both PMS and PMMS systems require integration with third parties to solve different, specialized problems as the needs of your business grow or the competition in your market tightens.
Traditional PMS platforms began as operationally centric software systems and provide extensive native functionality to run the day-to-day vacation rental business. Property setup, traditional booking flows, accounting, housekeeping, and maintenance were the core functionality at launch, with smaller feature sets in regard to guests and marketing tools. These systems are incredible at handling booking details, cash flow, and room-cleaning prioritization without third-party integration. The APIs for these systems typically are tightly held and available only to carefully chosen strategic partners.
Traditional PMS platforms have been around longer than PMMS systems and are generally stable technology, with fewer bugs and headaches. But because they focus on building everything natively, their development and support costs are higher and they are slower to innovate.
Using a traditional PMS system means you have to clean up your guest data, find a solution for lead management and marketing automation, and choose a channel manager to automate bookings from different online travel agencies like HomeAway, Airbnb, and Booking.com, and you need a web agency to build your website to drive direct bookings.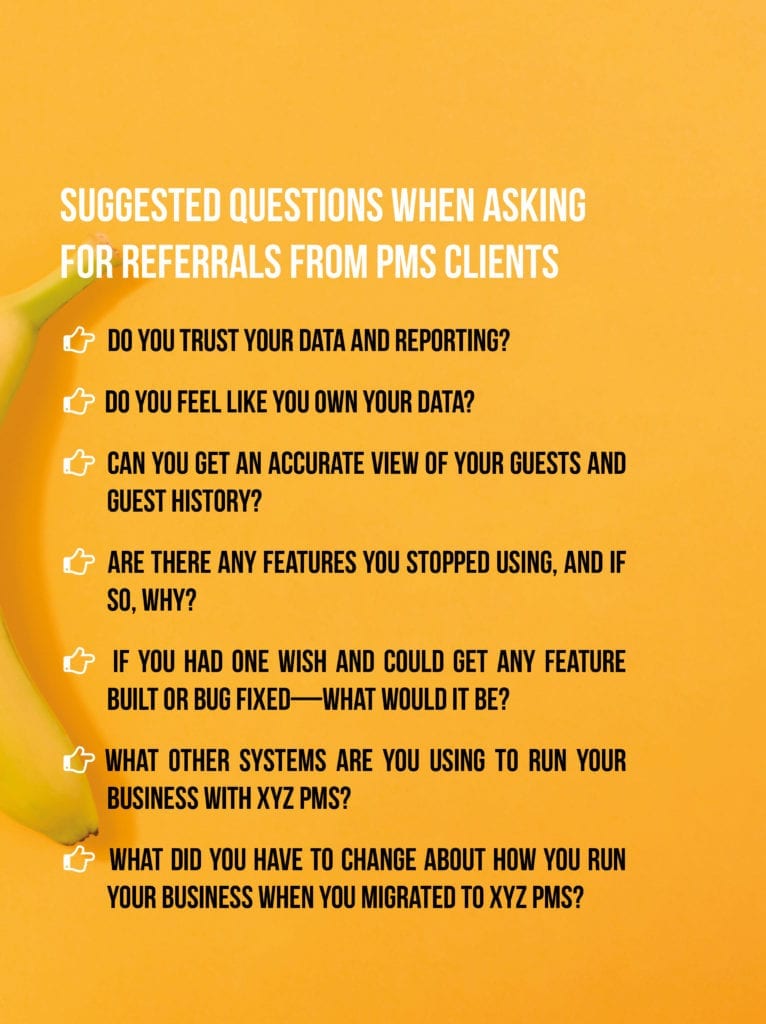 There are many options in the marketplace to solve for the lack of direct channel integrations, and there are many different flavors in that space as well.

"Channel management requires significant continuous investments to keep up with all the ongoing channel innovations. It is very synergistic for PMS providers to leverage the investments and development that channel managers are making in supporting the major players as well as the long tail of distribution channels," said Alex Aydin, CEO and founder of BookingPal.

Marketing automation and website development have stagnated over the past few years because of consolidation or a lack of clear opportunity for new players in the space, but there are established companies that can help. As more property managers recognize the value of their guest databases and direct marketing channel opportunities, this space will flourish again.

PMMS turned this software category on its head. It started with a marketing-first approach, and natively included robust and modern booking flows, lead management systems, CRM functionality, marketing automation, integrated channel management, modern website development tools, and an open API to connect to third-party marketing channels, as well as specialized operations applications to solve accounting, housekeeping, maintenance, home automation, and revenue management. These software companies have product road maps that focus on features that drive additional revenue and enable more sophisticated marketing strategies while leveraging integration with best-in-class technology partners for back-of-the-house needs.

PMMS systems are generally newer platforms that offer a more modern user experience that resembles online booking engines rather than the tape charts of the past, minimizing the learning curve for new staff. However, new functionality breeds new bugs, and these systems are in the early stages of evolution. Finding the right balance of innovation and bringing new features to market while spending the right amount of time getting a feature to completion is a constant battle for any company trying to win market share.

Amiad Soto, co-founder and CEO of the short-term rental property management platform Guesty, said, "The fast-moving short-term rental ecosystem is incredibly fragmented, which makes it harder to be efficient and grow. This is why we'll see increased consolidation of software tools into platforms in the next year. Many platforms are trying to be the jack-of-all-trades, which requires a lot of capital in order to successfully create an end-to-end solution where property managers can manage all aspects of their business in one environment."

Jonathan Murray, CEO and co-founder of MyVR, believes that a sales- and marketing-centric PMS solution is the wave of the future for the short-term rental space. "Property managers want to grow, and that starts with being incredible marketers with powerful websites and direct booking strategies as well as a balanced and integrated approach to leveraging the OTAs and booking channels to gain market share. In order to do that effectively, the PMS needs to be the source of truth for prospect, guest, and booking data."

Of course, there are a few hybrids in the marketplace that are trying to do it all. It's an aggressive approach to the market that has had growing pains but has pushed providers in all categories to play at the top of their game.

"It is very exciting to see how much automation remains to be done in the vacation rental industry. We will see more intelligent revenue management techniques built into the PMS, automated occupancy maximizing techniques, faster mobile websites, and more focus on accounting. Home automation will be taken to a whole new level," said Carlos Corzo, founder and CEO of Streamline Software.

Choosing the right solution for your company really depends on your pain points. If your primary goal is to grow and drive more revenue, a PMMS might be the right place to start. If your marketing and channel management strategy is solid but you are struggling operationally, then a traditional PMS might be your best solution.

Remember, there is no such thing as bug-free software, so before you choose a new platform for your business, make sure you are setting realistic expectations and clear goals. Software transitions are disruptive regardless of which platform you choose, so take your time and evaluate each vendor for features and cost as well as for reputation and support. Ask to speak with both happy and less-than-thrilled current clients, or use social media to talk to former clients before you are wooed by flashy marketing and stellar sales techniques. Almost every company will check off all the features on your requirements list, either natively or via integration. It is the context in which the features work (or whether they only work in certain scenarios) that will be the key to choosing the right partner.

<!-comments-button-->