Taylor-Made Deep Creek Vacations & Sales, today announced the acquisition of Long & Foster Vacation Rentals & Real Estate at Deep Creek Lake. This will increase the number of professionally managed vacation rentals they represent to over 350 along with an increased number of real estate listings.
Long & Foster Deep Creek Lake has a long history in the Deep Creek Lake area and has an excellent reputation in all aspects of their business in the area as well as their service to the local community. Those characteristics make them an excellent fit with the Taylor-Made family.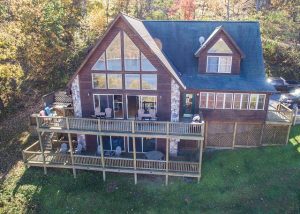 "It is an exciting time at Taylor-Made! We now have a larger selection of vacation homes to offer our guests, and this is also a great boost for our growing real estate division," stated Jodi Taylor Refosco, Owner of Taylor-Made Deep Creek Vacations & Sales. "Our team looks forward to welcoming new home owners, employees, and guests to the Taylor-Made family."
Taylor-Made is owned by Jodi Taylor Refosco, her husband, Joe Refosco, and her brother Chad Taylor. They are hands-on owners who are involved in the day-to-day aspects of running the company. Betsy Spiker Holcomb and Jay Ferguson are co-owners of the real estate agency.
Starting with just 1 property in 2008, Taylor-Made quickly earned notoriety for their rapid growth. By harnessing technology and combining it with exceptional customer service and years of vacation rental industry experience, they built a platform that proved successful in an area where real estate and family vacation rentals are a vital part of the economy. Adding the strengths of the knowledgeable Long & Foster team puts Taylor-Made in an excellent position for future growth.
"The acquisition gives us the inventory and resources to better serve all of our customers – homeowners and guests alike," stated Joe Refosco, Owner.
<!-comments-button-->