HomeAway, TripAdvisor, and Wyndham Worldwide report on Q3 earnings and give vacation rental companies insight into future plans.
As third quarter reports began to surface nationwide, eyes looked toward to double-digit-growth subset of the travel sector: vacation rentals. In third quarter earnings calls, HomeAway, Inc. (NASDAQ: AWAY), TripAdvisor Inc. (NASDAQ: TRIP) and Wyndham Worldwide Corporation (NYSE: WYN) executives shared insights related to the vacation rental industry.
HomeAway, Inc.
With a 19.6% increase in year-over-year total revenue, HomeAway CEO Brian Sharples reported, "In short, pricing strategy in our base business has been successful, and positions us very well for 2013 and beyond."
1. Bundled Subscriptions
With the migration of VRBO to their common platform, HomeAway was able to put VRBO on their tiered pricing system and began offering bundled subscriptions in the marketplace.
"The property managers are actually adopting (tier pricing) at higher rates and pretty significantly higher rates. So I think, in general, the way to think about it is the people who are more serious about their vacation rental businesses will invest more money if you give them the opportunity to do so. And of course, the property managers, this is all they do for a living and they can very quickly and easily calculate ROI across a set of properties, and so they seem to be equally satisfied as far as we can tell with the owners and adopting it at slightly higher sort of percentage penetration rates.
Well, I mean, there's certainly a discount if you buy both sites. And we actually have not had sort of a massive amount of kind of forced consolidations yet. But our teams here, as those consolidations occur, are going to be very focused on making sure that those customers, who were spending, let's say, $1,300 with us in the past for buying both sites individually, will spend that, if not more, when they consolidate their listing. So we're — the research we did on this prior to launching the bundles suggested to us that these customers have budgets to spend, and when we give them additional tiers to buy up in, our hope is they're going to spend that budget and more. So really what it comes down to is how successful are we going to be at getting them to spend more money on a bundled subscription rather than less."
2. Online Booking
It is official. Online booking has made its way to both HomeAway.com and VRBO.com, and the adoption rate by owners was already topping 22% at the end of Q3.
3. Pay-per-booking Pricing
HomeAway will be introducing a performance based pricing model in 2013. According to Sharples, customers will be able to "list for free and pay a commission at the time of booking." HomeAway expects to "launch pay-per-booking in the U.S. during the summer of 2013 for individual owners, and the second half of 2013 for our property management customers."
4. Flat Revenue from Software
HomeAway CFO Lynn Atchinson said, "Software was roughly 20% of other revenue, and was flat with last year."
TripAdvisor Inc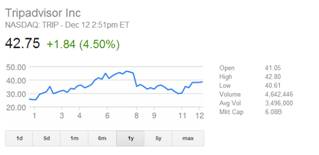 After exceeding third quarter expectations, the TripAdvisor team had much growth to report, including a 9% jump in profits and a 70% increase in the number of marketable members. With no mention of vacation rentals or FlipKey, Co-founder and CEO Steve Kaufer was looking to the future of the TripAdvisor brand and focusing on the user experience across platforms.
1. Social and personalization initiatives
These initiatives include an acquisition of the social personalization platform Wanderfly and leveraging the Facebook platform. Kaufer said, "While Facebook remains a meaningful channel to grow our brand awareness and to grow our membership. I've tried to be reasonably clear that we don't view it as a very large traffic acquisition channel, certainly not compared to a channel like search…And then the longer-term question is and through that mechanism, will they be converted to the more domain-direct, the more branded association. We see positive signs, but the jury is still out by several quarters, in our opinion, as to whether that's going to move the needle as much as we hope going forward."
2. Mobile innovation
"A key area of focus," Kaufer says, TripAdvisor's mobile unique visits are "up over 130%, more than 35 million, according to our own log files." They launched a new tablet interface which more closely resembles the desktop. Kaufer also said, "smartphone monetization isn't growing as quickly as tablet monetization, which is not surprising to us given the use case and form factor of that device."
3. Increase in vacation rental business
CFO Julie M.B. Bradley briefly mentioned the vacation rental space in her comments about revenue growth, "Subscription, transaction and other revenue, which includes business listings, vacation rentals and our transaction businesses, had a solid Q3, growing 53% to $21.1 million. In business listings, new sales reps are ramping globally, and we expect to see continued productivity improvements as we enter 2013."
Third quarter total revenue up 18% to $212.7 million
Click-based revenue up 15% to $168 million.
Display-based advertising revenue up 12% year-over-yea to $23.6 million,
Subscription, transaction and other revenue, which includes business listings, vacation rentals and our transaction businesses, up 53% to $21.1 million.
4. Ranking Old Reviews
Kaufer said: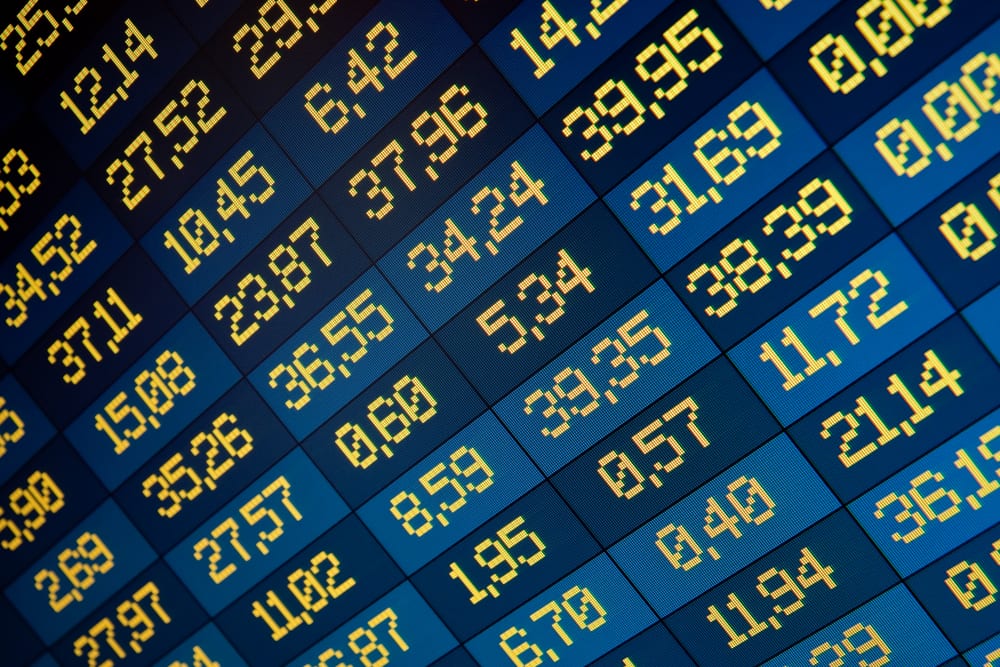 "We heartily agree that the 6-year-old review is perhaps nice to have on the site because it mentions something that's unique to that review, a tip in the neighborhood or something like that, climbed on top of the hill to watch a beautiful sunset. The 6-year-old review really isn't part of our popularity index calculation anymore either, because it's so old and so much can change in the 6 years. Similarly, we have some hotels north of 8,000 reviews. And they may be all current, but you still don't need 8,000 to have a lot of liquidity of opinion for that property.
The beauty of what we're able to do with generating so many more reviews is sort of provide fantastic coverage on not only the top properties in the city, but kind of all the properties in the city, in the country, all the restaurants. So it's getting to the point where it's tough to find a hotel with less than 50 reviews. And that's what we're getting pretty excited about because everyone can look at 5 reviews on a property and say, "What's the big deal?" With 50, you start to really understand what you're going to get when you stay there."
Wyndham Worldwide Corporation
While most of Wyndham's earnings call addressed the hotel group and international growth, there were a few points of interest for vacation rental managers.

1. Branding

CEO Stephen Holmes was clear about the Wyndham brand as it relates to rentals:

"Here's how our service rental model works. All of our properties are backed by the Wyndham service commitment, giving both owners and consumers peace of mind in their rental experience. We provide our owners and guests with a high level of service, from marketing to managing their calendar, handling the booking and payment process, providing check-in and checkout services and maintaining quality standards through property inspections.

This is very different from the listings model, which typically provides only online marketing, leaving it to the owner to field inquiries from prospective guests; update and maintain their availability calendars; provide key holding, check-in and checkout services to guests; address service and property issues for guests during their stay; and ultimately, handle the collection process. We have over 40 years' experience in vacation rental and follow a disciplined approach to developing new markets."

2. Wyndham Home Exchange

Wyndham Vacation Rentals recently announced the launch of Wyndham Home Exchange(SM), a program allowing homeowners of vacation rental properties to trade weeks at their rental property for access to accommodations at more than 4,000 RCI affiliated resorts around the world.

3. Vacation Rental Revenue

While overall revenues were up for Wyndham (EPS up 20%, total revenue up 4%), vacation rental revenue declined 5% year-over-year. According to CFO Tom Conforti, excluding acquisitions and accounting for currency challenges, "vacation rental revenues were flat, reflecting a 3% increase in transaction volume offset by a 2% decrease in the average net price per vacation rental."

By Amy Hinote

<!-comments-button-->