Average Daily Rates Are Up, But Overall Occupancy Rates Are Down
At VRM Intel, we have been a long-time strong advocate for comparative data in the vacation rental industry and believe that having access to objective, reliable market data is critical to making informed business decisions for the vacation rental management company (VRMC) of the future—and these business decisions don't just include using data for revenue management. Comparative market data sets allow VRMCs to authoritatively communicate with homeowners, help in targeting new inventory, reveal opportunities VRMCs may not have seen otherwise, and equip destinations with ammunition to compete more effectively with other markets.
The data sets in the article were provided by Key Data Dashboard.
There are two types of data being offered by comparative vacation rental data companies: source data and scraped data. Source data sets originate directly from VRMCs' property management systems and represent real performance by professional management companies. In contrast, scraped data sets are extracted from readable pricing and calendar information on OTA websites and listing websites (i.e., Vrbo, Airbnb, Booking.com). Scraped data sets are broader and include homeowner performance, but they are less accurate. Key Data Dashboard is a source data provider.
The information below represents aggregated information from the following markets: the Alabama Gulf Coast, the Florida Panhandle, North Carolina's Outer Banks, South Carolina's Coastal Areas, and Tennessee's Sevier County (Gatlinburg/Pigeon Forge area). The key performance indicators (KPIs) we are examining below are as follows: Average Daily Rate, Occupancy Rate, Average Length of Stay, and Average Booking Window.
Note: Click on each table to view in larger scale.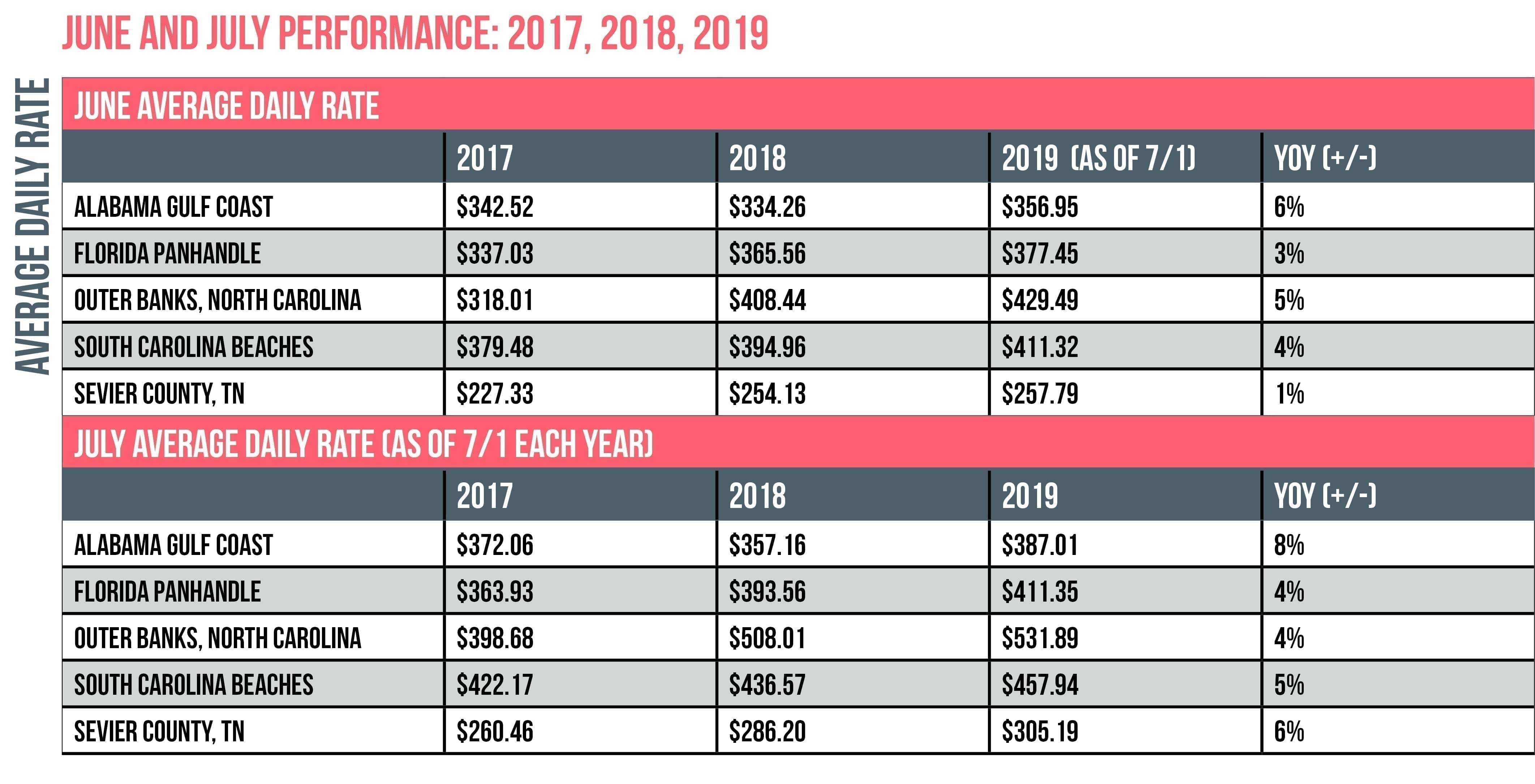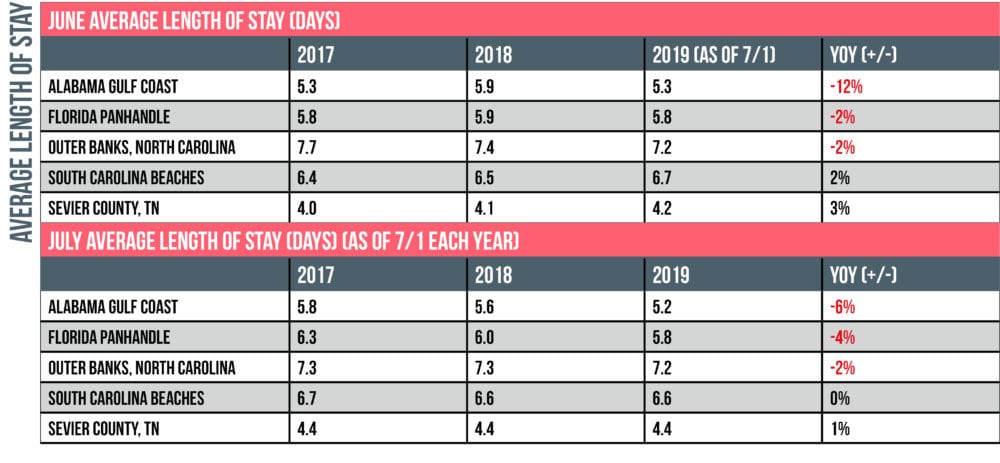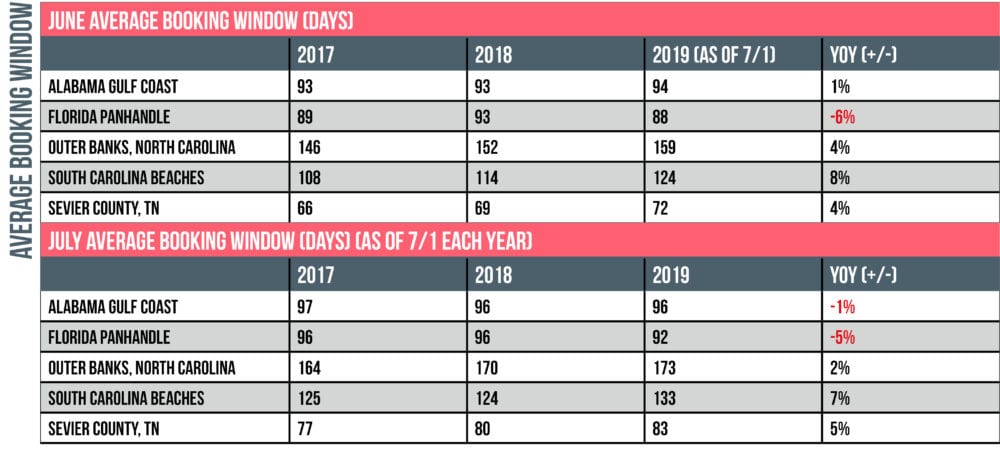 Year-over-Year (YOY) Performance, Summer 2019 (Source: Key Data Dashboard)

In June 2019, across these markets, ADR increased while occupancy rates declined. Additionally, in most of the markets, guests booked sooner, not later. As a result, VRMCs may have seen an overall increase in revenue, but individual home performance may have suffered.
Full disclosure: At VRM Intel, we are not revenue managers. However, at first glance, the data sets suggest that prices were too high at the time of booking, and last-minute bookings didn't fill in the gaps. For markets that rely heavily on OTAs, keep in mind that sites like Airbnb and Vrbo were charging guest fees, and consumers may have seen an even greater increase in the total booking amount.
The decrease in 2019 occupancy rates is a cause for concern, but a bright spot in the data is the booking window. We have been hearing that consumers are booking more last minute. However, Key Data's data sets indicate that this assumption may not be accurate; alternatively, if consumers are booking later, they are not choosing properties from independent VRMCs. There could also be a trend of more owners staying in their own properties during the summer.
Now that the industry is getting accurate source data, VRMCs are able to take a deeper dive into their company performance versus the market. For example, more insight would be gained by examining the following:
KPIs for guests coming from core feeder markets
Performance by property type (houses vs condos)
Performance by property size (number of bedrooms, sleeping capacity)
Performance by property location and amenities (beachfront, pools, hot tubs, etc.)
YOY booking pace
Note: These KPIs are available in the Key Data Dashboard.

Local VRMs are also considering market conditions such as weather, traffic patterns, regulatory issues, and construction activity as factors in performance. Working with destination marketing organizations such as convention and visitors bureaus will help in identifying market conditions that could be affecting occupancy.

For VRMs wanting to learn more about data sources and pricing strategies, VRM Intel is hosting a Vacation Rental Data and Revenue Management Conference in Atlanta on August 6–7. While the conference is sold out, video packages are available. The objectives behind the conference are to take a deeper dive into comparative data products and pricing tools, get on the same page in regard to identifying common industry terms and KPIs, examine revenue management practices, and find new uses for both internal and market data.

<!-comments-button-->