Today, Stay Alfred announced it has raised $47 million in a Series B round led by Nine Four Ventures, bringing the total funding to $62 million.
Founded in 2012, Spokane-based Stay Alfred manages just under 2,000 short-term rentals in 28 markets, with 230 employees. The full-service management company leases individual units and entire buildings in cities and then rents them out on a short-term basis to travelers, handling the furnishing, cleaning, booking, and customer service for each rental.
Urban short-term rentals are getting a lot of interest from VCs, OTAs, hoteliers, private equity, and VRMs; and the more control over the inventory, the more attractive the investment. Just weeks ago, leading competitor Sonder announced it had added $85 million in Series C funding led by Greenoaks Capital, bringing its total to $135 million. Sonder manages 2,200 units in 11 cities in four countries.
With nearly $200 million raised by these two companies, the numbers may appear inflated, but looking at recent acquisitions and in light of recent discussions with hotel CEOs at Skift Global Forum, both Stay Alfred and Sonder founders are on track for healthy exits.
Recent Acquisitions
Luxury Retreats by Airbnb, $200 million
Onefinestay by AccorHotels, $170 million
Oasis Collections by Vacasa, undisclosed
Get the fall issue of VRM Intel Magazine to read more information on how these recent acquisitions are performing and how hoteliers are looking at the space. Subscribe here.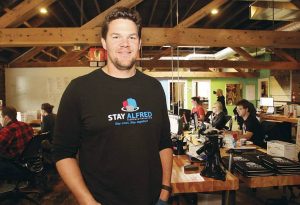 "The round will primarily fund our ongoing rapid expansion," said Stay Alfred CEO, Jordan Allen. "Currently, we're in 28 major US cities with a primary focus in 2019 on expanding within our current cities, plus plans to expand into a handful of Tier-1 travel destinations, all domestic. We expect to continue on our current trajectory of doubling our unit count each year, with a target unit count of 4,000 by the end of 2019. We'll also continue to build our brand presence, improve our tech-enabled customer experience, and deepen our strategic relationships with multi-family developers."

"Stay Alfred is leading the emerging wave of companies driving the evolution of the real estate industry and defining a new hospitality segment. Combine that with a tenacious, always-do-better culture and we believe they're building something special," said Nine Four General Partner Kurt Ramirez.

Stay Alfred projects a $110 million run rate for 2018.

<!-comments-button-->