"The Tech-Enabled Vacation Rental Manager" examined the increase of technology functionality utilized by property managers (PMs) to meet and scale needs throughout the company. In this second part of the series, we take a deeper dive into the features that have been released in property management systems (PMS) in 2017, new functionality that is on the horizon, and software challenges facing PMS providers in today's fast-evolving technology landscape. 
Executives at Barefoot, CiiRUS, LiveRez, Maxxton, RealTimeRental, Streamline, and Virtual Resort Manager (VRM) let us in on their recent developments and provided insight into what vacation rental managers can expect to see from the software industry in the coming year. We also asked these technology leaders about the future of all in one solutions vs. plug and play, and whether the industry can expect to see consolidation in the VR software sector.
HomeAway Software, Kigo, and RNS had not responded by the time this article was published. 
Features and Functionality Released over the Last Year
It is clear that these PMS providers are not coasting on existing functionality (see chart). Over the last few months, we noticed some similarities in tech progress in the industry in advancements in API communications, lead management, housekeeping and maintenance workflows, and revenue management. 
The industry is also seeing widespread adoption of eSignatures, enhanced reporting, inventory "sharing" among users, and more user-friendly interface design. 
In addition, all the companies are completing more direct connections to OTAs and third-party channels. It will be interesting to see how this affects the channel management companies whose model relies on the present lack of this functionality in software companies. 
It is important to note that newer software companies are developing features that already exist in other systems. In the following feature list, keep in mind that some systems already offer features that have recently been created in others. 
Features and Functionality in Development for 2018
Although the PMS executives were hesitant to give away all their development secrets for 2018, they provided us with a glimpse into new functionality that is in development for 2018 (click to enlarge).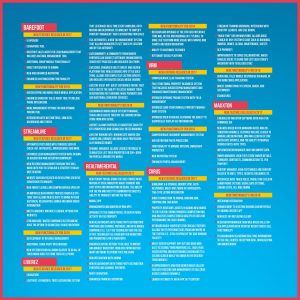 Where the Software Industry Is Heading in the Future
We asked these innovators about the challenges they face, their take on the all-in-one solution versus plug-and-play models, and the future of consolidation in technology. 
What are the biggest challenges that software providers face today?
Ed Ulmer, Barefoot: Many clients are struggling to understand technology overall—it has so many complexities that without a full-time IT person on staff, even getting a grasp on what is needed or mission critical can be a challenge. So, it is important for the software provider to bridge the gap in many instances, breaking down the technology to "bite-sized pieces" to make a complete picture.  
An additional challenge is that many consumers start with the question, "What is this going to cost me?" instead of taking the time to understand the value being provided. Price is important, but do the work to understand that by spending $1,000 you might save $50,000 in staff time or lost opportunity costs. The market comprises many players, and that causes a lot of "noise." The noise and saturation will end as this market begins to consolidate. 
Josh Parry, CiiRUS: The industry has ever-changing needs and expectations, both in terms of legislation and technology. A big focus of our system is channel management, which requires us to work within the parameters of over thirty directly connected channels, each of which has different needs and technology with which we must make our system work. There is also the difficulty that property managers are becoming more discerning. This is fantastic because it means that managers are asking the right questions and are picky about the systems they're going to be using, but it also keeps us on our toes. As managers become more tech enabled and more aware of essential tools and trends, we need to constantly be on the leading edge of that. It's a very fun challenge. 
Tina Upson, LiveRez: One of the biggest challenges we face is building software that accommodates managers with a wide variety of business practices. It requires building a lot of flexibility into our software while at the same time making sure it's is still intuitive and easy to use. Our job is made a lot easier, though, because we leverage our partners throughout the entire development process, from deciding what to build to assessing if what we built is solving the problem we set out to tackle to having real managers test the software before it's released. Every time we build a new feature, we try to leverage the latest technology. This means our developers must not only stay in the know about the latest advancements but also quickly learn how to utilize them. Lucky for us, we have a team that totally thrives on this challenge. 
Joe Testa, RealTimeRental: [The challenge facing the industry is] the ability to monetize all the new developments we add to our platform; the fear that we are developing a platform or solution that might be a bit too sophisticated for our user base; and understanding what the PM wants, needs, and is willing to pay for. 
Carlos Corzo, Streamline: TIME. Ideally, you want to build and execute on all of your ideas. Due to the complexity of the system, there is a very long learning curve for new developers. Luckily, our developer retention rate is outstanding. We also strive to create an environment where companies can thrive and build their forward-thinking ideas. Streamline is one of the few companies that make a commitment to building custom solutions designed and engineered by our very own property managers. Regardless, we want to be at the forefront of technology. New companies with new techniques are always coming into the market. Ingenuity and staying the course, while listening to the needs of our PMs, have been the key to success. 
Pete Wenk, VRM: [The challenges facing the industry are] third-party distribution, third-party integrations (including housekeeping/maintenance, smart homes), and yield management and pricing. 
In the future, do you think we will see movement to all-in-one tech solutions or plug-and-play solutions?
Ed Ulmer, Barefoot: We will see providers try to offer all-in-one solutions primarily as a mechanism for driving more profitability from customers. This is also a good way to make sure customers invest in the value of the entire system. However, plug-and-play solutions will still have a significant role to play as new technology and innovation tends to come from start-ups.  
Barefoot is an enterprise resource planning (ERP) system, and as a result, we straddle both options. We continue to add new functionality to provide end-to-end software. But we also develop our API, which allows new-to-market technology to be integrated rapidly. 
Josh Parry, CiiRUS: The CiiRUS model, a turnkey solution with custom development options, will become more popular. The backbone of the PMS usually fits all customers like a glove, but each may require some bespoke customization. This is a great middle ground because it allows us to implement the standard PMS immediately to begin fulfilling the client's needs while we work on any bespoke functionality they need. 
Tina Upson, LiveRez: Managers want three things when it comes to technology: something with good functionality, something that is convenient, and something that is well supported. Early on, professional managers were forced to use third-party solutions because their own software systems didn't offer the features they needed (or their software system's features didn't meet their needs). This created an ecosystem where niche, third-party software providers flourished. But, as software systems have evolved to include more features, we've seen property managers make the switch to all-in-one software systems such as LiveRez. The convenience of an all-in-one system is hard to beat. You log into one system, get support from one provider, and get one bill a month. The features all work together flawlessly because they're developed and supported by a single company. 
Of course, some circumstances exist where you need your software to connect to other pieces of technology, such as channel management, credit card processing, travel insurance, or smart home automation, for example. These connections require that both your software provider and the third-party vendor maintain the connection and keep it up to date (and some providers do a better job at this than others). Sure, having hundreds of these API connections allows you to offer your customers a lot of options, but there's also a big cost to maintaining them. The time and money spent focusing on these external connections could often be used to improve your own software instead.  
At LiveRez, our philosophy is to assess our partners' needs in a particular area, determine if we can meet these needs internally, and if we can't (or if it doesn't make sense for us to do so), then we will develop strong connections to one or two vendors that we carefully vet. This allows us to establish close relationships with these vendors and ensure that we can maintain the highest levels of functionality. It's really a tradeoff between quality and quantity, and we always strive for quality first.  
Joe Testa, RealTimeRental: [We will see movement to] plug-and-play systems. Companies are offering very specific technology, and it would be very expensive to replicate that. Plug-and-play models eliminate that. 
Carlos Corzo, Streamline: Over time, Streamline will be an all-in-one solution; we are looking to create a one-stop shop. You can look at this in different ways. We want to optimize our pricing core and its flexibility to our clients. However, I still feel that third-party vendors can be a critical piece to the success of a property manager. As I mentioned earlier, I have been privy to some ingenious solutions. We don't believe in taking any tools to success away from our clients. Ultimately, we want to seamlessly integrate third-party vendors into our menu structure. One login, one URL, one username, one password. Streamline will always offer solutions for different types of users, whether you're new, small, intermediate, or power users. We give you the ability to run your entire company by just using Streamline as the main engine. So, I do see an all-in-one solution. However, you always want to integrate with third-party vendors because they can be essential to your success in specific locations.  
Pete Wenk, VRM: In our opinion, both are viable solutions, depending on the needs of the individual company. The plug-and-play systems generally offer sophisticated solutions to simple problems that can, in many cases, be solved in the all-in-one (AIO) solution. Larger companies often need more than the AIO solutions can provide. 
Do you predict that we will see consolidation in the software space?
 

Ed Ulmer, Barefoot: Of course, there will be winners and those who are less successful. Acquisitions will certainly be made, and many of the small players, who do not operate in a niche, will be out of business. 

Josh Parry, Ciirus: Perhaps not separate software like Streamline and CiiRUS consolidating, but it is certainly possible that major channels and companies such as HomeAway and Airbnb will acquire software. While the separate software services generally compete very respectfully, the technologies just have such different foundations, competencies, and focuses. If they were to consolidate, it would be to liquidate the purchasing systems, not to merge their systems and work together. That would just be such a huge undertaking, and I don't think it would benefit the property managers at all. Take, for example, the acquisition of two systems that turned into Kigo. When the legacy system was retired, hundreds of property managers were given an ultimatum to leave the system or pay a huge premium to upgrade. That sort of stuff doesn't go down so well. 

Tina Upson, LiveRez: We're already seeing some consolidation in the space. RealPage bought both Kigo and InstaManager in 2014 and announced that it had integrated the two in 2015. HomeAway seems to be actively moving customers off its non-cloud-based platforms to its two cloud-based systems, Escapia and V12.net. And we've seen a number of niche software services and listing sites close their doors and/or get bought by other providers.  

We also have consolidation of the software market share as a result of large-scale managers such as Vacasa, TurnKey, and Wyndham acquiring smaller companies and moving them onto their systems.  

On the flip side, new software companies are entering the market every year. Just on the Capterra review site alone, 118 software systems are listed. Unfortunately, a number of these companies probably won't have the longevity to remain viable for the long term, so they'll either shut their doors or sell to other providers.  

Consolidation doesn't necessarily make sense from a purely functional standpoint unless you can easily combine the systems into a single software platform that is far superior. I can see how it may make sense for a property management software system to acquire a niche software company that focuses on a different, more specialized subset of problems facing managers to expand its offerings. From a business perspective, it may make more sense if you hope to transition users from one system to another. But we feel that if you just focus on building the very best software on the market, managers will organically switch to your solution (no consolidation necessary).  

Another line of thought is that it's worth acquiring another company just to gain access to data that could be used to enhance its solution. This is one of the reasons why it's so important for property managers to really investigate the software company with which they partner. Looking beyond just software functionality, you must consider the company's values, its financial stability, and the leadership team. 

Joe Testa, RealTimeRental: Yes. We are in acquisition mode. 

Carlos Corzo, Streamline: Definitely. I don't know if it will be through acquisition. I am starting to see less focus on new features and development. PMs know they need an edge, and they are looking for the systems that offer that edge. In time, I only see a few systems surviving the continuing demands. Revenue management and guest/owner retention are constantly changing. We are going to be getting into the social media vacation goers, and they will have different needs and expectations. This will be a technological movement that will require new and creative strategies. Traditional methods will simply not work, and this will lead to the necessity to switch software.  

Pete Wenk, VRM: We have not seen any indication of movement in that arena. 

<!-comments-button-->