Startups in the vacation rental sector raised $639 million in disclosed funding in 2017, down from $1.85 billion in 2016.
With the size and opportunity of the market and the fragmentation of the industry, angel investors and venture capitalists (VCs) have been searching for attractive opportunities with innovative companies in the vacation rental sector. In the United States alone, the percentage of people over 18 who have stayed in a vacation rental has quadrupled from 8 percent to 32 percent since 2012. The United States is now estimated to have approximately 1.4 million vacation rental properties, whereas Europe has 4.3 million. 
Since 2011, startups in the vacation rental industry have seen an injection of over $5.96 billion in capital. Of that investment, 93 percent was used to build up online marketplaces including Airbnb, which has raised $4.4 billion since 2011 and is currently valued at $31 billion.  
However, when Airbnb is removed from the equation, the story of investment into the vacation rental industry begins to take on a new perspective.
Slowing Growth
 in Traditional Vacation Markets
A Phocuswright study conducted in 2016, titled A Market Transformed: Private Accommodation in the U.S., found that the vacation rental market generated $29 billion in revenue in 2015, up from $23 billion in 2012. Yet 9 percent (approximately $2.61 billion) of the $29 billion was revenue generated from owner-occupied rentals, a segment of the "private accommodations" market that was not represented in 2012, leaving only a 14.7 percent growth in revenue ($3.4 billion) from non-owner-occupied rentals. 
Furthermore, the industry has seen a significant increase in urban rentals since 2012. According to Phocuswright, "urban rentals accounted for 18 percent of the total U.S. private accommodation market in 2015, or more than $5 billion in rental revenue."
Without owner-occupied rentals and urban rentals, growth in the traditional vacation rental market between 2012 and 2015 remains stagnant.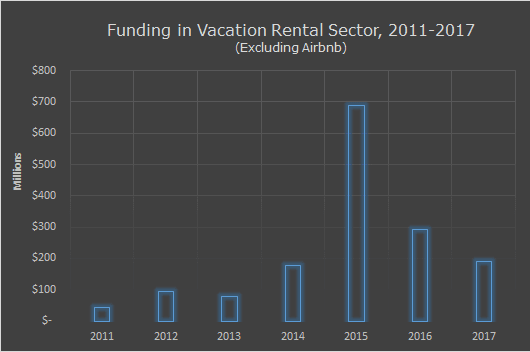 Outside investment in the sector is also seeing a decline. In 2016, the vacation rental sector raised $1.85 billion in funding. To date, $639.1 million has been raised in 2017.
Chart: Funding excluding Airbnb: The dollars begin to look very different when Airbnb is excluded as an outlier. Without Airbnb's sizeable funding, the industry has raised $1.57 billion since 2011. The remainder of the data presented in this article excludes Airbnb.
Funding Lost
As a result, the overall growth in the vacation rental sector has not translated into sustainable business models for all recipients. Ten companies that received funding prior to 2017 shut down operations, including LeisureLink, SmartHost, Stayzilla, Tansler, and TripRental. In addition, nine companies were forced to pivot by rebranding or shifting their business models.  
 

Number of Companies 
Capital Received

 

Rebranded or Pivoted Model

 

9

 

$94,182,500

 

Suspended Operations 

 

10

 

$78,177,500

 
Funding by Type of Business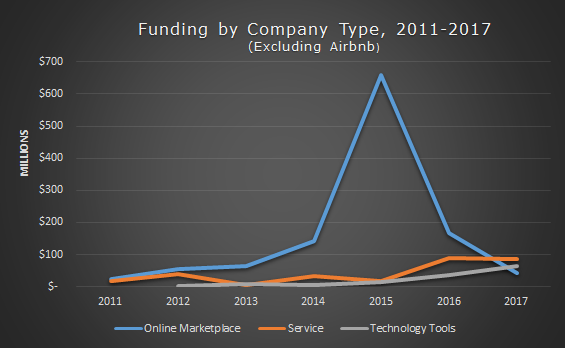 Excluding Airbnb, investment in online marketplaces or "distribution sites" represented 43 percent of the funding between 2016 and 2017, down from 92 percent between 2011 and 2015. One reason for the decline is consolidation among online marketplaces with Airbnb, HomeAway, Booking.com, and TripAdvisor taking the lead. In addition, differentiation is becoming increasingly challenging and expensive. With new and varied types of inventory being introduced to consumers—from someone's futon to an Eastern European castle—aggregated marketplaces are struggling with the decision to represent all property types or to focus on the most lucrative pieces of the short-term rental accommodations pie. 
Capital Injected by Company Type (Excluding Airbnb) 

 

 2011–2015 
2016–2017 
Online Marketplace

 

$865,040,000

 

92%

 

$209,960,000

 

43%

 

Service

 

$53,785,000

 

6%

 

$174,770,000

 

36%

 

Technology Tools

 

$26,481,460

 

3%

 

$100,030,000

 

21%

 
In contrast, the industry is seeing a higher proportion of investment into services and technology tools in 2016 and 2017 than in the previous five years.
Capital Raised by Vacation Rental Management Companies, 2016–2017
The vacation rental industry is beginning to see a notable increase in funding for property management companies. Although Wyndham remains the largest vacation rental management provider, several companies are raising funds to challenge its dominance and innovate processes to scale management services across destinations.   
 

Total Funding

 

TurnKey Vacation Rentals

 

$41,000,000

 

Vacasa

 

$40,000,000

 

Vacation Rental Pros

 

$27,000,000

 

Stay Alfred

 

$15,000,000

 

Hostmaker

 

$7,230,000

 

Airsorted

 

$3,140,000

 
Vacation Rental Industry Funding By Company, 2016 – 2017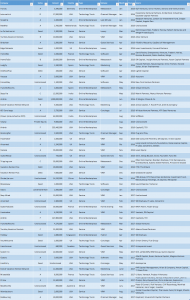 More: See the full list of companies who raised capital along with the VCs who led the funding from 2011-2015.

<!-comments-button-->