HomeAway made several announcements in yesterday's Q1 2015 earnings call that turned the heads of industry observers.
First, CEO Brian Sharples announced that Co-founder and Chief Strategy Officer Carl Shepherd is retiring in the second half of 2015 and that Brent Bellm is stepping down as President and COO.
Next, HomeAway announced an internal moving around of the C-team:
Brian Sharples is remaining as CEO and resuming the role as President.
Tom Hale is moving into the COO role and expanding his role to include product marketing and customer service.
Jon Gray moves to Chief Revenue Officer.
Jeff Hurst joins the C-suite as Chief Strategy Officer.
Jeff Mosler moves to Chief Service Officer.
Here are some additional key takeaways regarding HomeAway's direction with their business model:
Listings that have online booking enabled are ranking higher in search results.
"One of the advantages of online booking is that it's considered in sort. And so even though it's not tied so you will get X number of bookings to be online bookable you will definitely be higher in store within your Tier and category," said Jen Ford.
"What we're really trying with this strategy by 2016 is get as much of it (online booking enabled properties) naturally if you will between now and the second half of the 2015. And then by the end of 2015, it won't be that big deal for us to enforce in certain ways. And so we will have much tougher penalties for people who don't play in the online booking roles, towards the end of 2016," said Sharples.
HomeAway is looking to increase the take-rate per booking.
"Probably the one disadvantage we have versus competitors who are pure bookings base in take rate because there is a segment of our listings -and it happens to be the biggest segment of our other listings -that has a lower take rate than 10% or 15% that other people drive through that. So it is still very much the strategic objective of this team to get that take rate up…If we were earning 10% on all the listings in this company we'll be doing about $1.2 billion in revenue I mean that's just the reality of it. And so there is a big-big opportunity so far to the company, and again, pricing is heading in the right direction. Maybe there are other things that we can do to have that happen quicker, and obviously the team will be looking at that as we go forward," said Sharples.
How is HomeAway driving traffic to their sites?
"60% all of our traffic comes from a combination of SEO and Direct (traffic) … The rest of our traffic comes from a combination of SEM, display, e-mail marketing, affiliate programs, a lot of other things that we do. So we've got a great base to work from as we grow. And we know that will change over the years, and we're adapting our muscles and marketing, the things that we're doing in CRM and all that should adapt to the changing marketplace," said Lynn Atchison.
An update on the relationship with Expedia and other channels
Sharples said, "There is not a lot of new news since last quarter. It's fairly still status quo. We're not exposed on the majority of the searches on Expedia still…Relative to others we call EEN  -or electronic distribution network -deals we don't have anything announce able today on this call. But we continue to work on that."
by Amy Hinote


Snapshot of searchable listings on HomeAway by online booking status: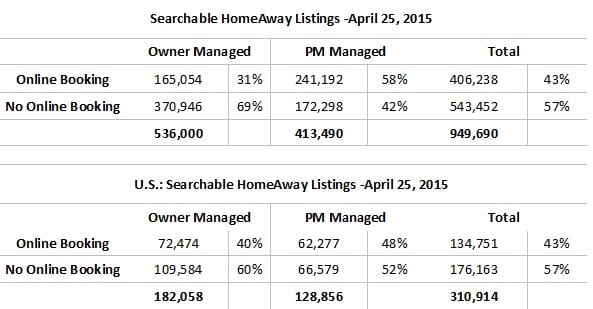 <!-comments-button-->