Anytime NBC's Jeff Rossen does a news report on vacation rentals, rental managers around the country shudder at the effect his report could have on their business. However, this past spring, the most recent, big story on protecting vacation homes from carbon monoxide poisoning and fire shouldn't have been a wake-up call but a call for the vacation rental industry to unite worldwide to ensure basic safety codes are addressed in vacation rental homes. Now is the time for managers to offer safe rental homes, and it's time to use that as an advantage and promote their business using safety as a selling point.
In 2008, the US vacation rental industry was shocked by the death of a family of four from carbon monoxide poisoning in a vacation rental home in Aspen, Colorado. Colorado quickly became the first state to require carbon monoxide detectors in vacation rental homes, and now almost every state in the United States requires them. Unfortunately, Mexico didn't follow their lead. This past March, in Tao, Mexico, a family of four was found dead inside a professionally managed vacation rental condo. Authorities linked the cause of their deaths to carbon monoxide poisoning from a faulty hot water heater. There were no carbon monoxide detectors on the rental property—forty-dollar devices that likely would have saved their lives. Why is something like this still happening in our industry ten years after the Aspen incident?
At the end of Rossen's report following the death of the family in Mexico, NBC's Carson Daly muttered aloud that the solution to the problem was to stay in a hotel instead. Rossen suggested that vacation renters travel with their own carbon monoxide detectors. Neither of these solutions address the problem.
All around the United States, vacation managers have slowly worked to address safety for their vacation rental homes over the past couple of years. Unfortunately, this has been mostly reactive to all of the deck collapses, fires, and drownings in pools that have caused renter injuries and deaths. However, these incidents should serve as wake-up calls to vacation managers that they need to protect their guests and do all that is necessary to ensure they have a safe stay. Some credit is due to managers who are making a great effort to care more. In Big Sky, Montana, Kirsten King, owner of Book Big Sky, joined in when the Kidde Fire Extinguisher recall came out last November and has been leading her agency through the difficult process of swapping out recalled fire extinguishers in all of its rental homes. Lori Smith, general manager at Seaside Vacation Rentals in the Outer Banks, North Carolina, has led her team in creating safety inspections to ensure all their rental homes meet basic safety standards. Others are following their example after attending safety presentations at VRMA and VRM Intel Conferences.
Still, accidents keep happening. Julie Gilbert lost her son and boyfriend while she was badly burned in a professionally managed Boothbay, Maine vacation rental house fire a year ago last October.
All three had been sleeping upstairs when the fire started in the vacation rental. Gilbert's niece and nephew, then eight and four, were sleeping downstairs and woke up before the rest of the family. They discovered some matches and started playing with them. Investigators later determined that the couch caught on fire while one of the children was playing with the matches. The kids didn't have access to matches in their own home, and family members had never really reviewed the dangers of matches with the kids. This is why matches or real, flame-burning candles should never be permitted in any vacation rental.
After starting the fire, the eight-year-old niece ran upstairs to Gilbert's room, pounded on the doors, and said, "Everybody get out! There's a fire! Get out! Bart, Lucas, Julie, get out!"
When Gilbert got up from the bed, the room was full of black smoke. Her niece ran back downstairs. The three of them reached the top of the stairs to follow her niece, but the stairs were already engulfed in flames.
Gilbert was able to escape out of a second-floor window, but her son and boyfriend were overcome with smoke and didn't make it. Their bodies were discovered inches from the window.
Gilbert estimates that only fifteen to twenty seconds passed from the moment she woke up to the moment she jumped out of the window. "Twenty seconds and they died," she said.
What Gilbert said next is something every vacation manager should read slowly and absorb. "There was no way to get through the smoke and the fire," she said. "It comes at you like a black, crawling monster. It makes noise. It's hot, and you feel it, but your adrenaline is going so much that I believe they did not really feel the pain."
Gilbert was in a home she had only spent one night in and her surroundings were unfamiliar. This is how it is for all vacationers in a rented vacation home. Everything worked against her and her family to get out of the house quickly in an emergency. In addition, recently published studies show that newer homes, with more modern contents, burn faster and with more toxicity than ever before.
If you've ever attended one of my safety presentations, you know I begin by asking attendees to close their eyes and envision arriving at a rental home at 11:00 p.m., in the dark, after a full day of travel, with kids fighting, traffic, and wrong directions. Then imagine climbing into bed exhausted. Suddenly, you wake to smoke in your bedroom at 2:00 a.m. Open your eyes. Did you as a vacation manager do everything in your power to ensure that these guests, who trusted you to alert them to danger and guide them on what to do to get out alive?  This is the most powerful message a vacation manager must absorb when deciding to offer a vacation rental to generate income. Ultimately, the vacation manager is responsible for ensuring guests have a safe vacation rental experience.
While investigators from the Maine Department of Public Safety said there had been three functioning smoke detectors in the house, Julie remembered hearing only one from a distance in the kitchen or somewhere downstairs. Why weren't all the smoke detectors interconnected so they would all go off, regardless of the source? While laws don't yet require this functionality, managers should make sure all of their homes have interconnected alarms. Shouldn't your guests have the best?
The last thing Gilbert expressed when she discussed the events of the fire, which was also published in news stories across the northeast, is frustration. Gilbert said she "isn't likely to rent another home through [name of website removed] or similar websites due to the rentals' relative lack of regulations and safety features, like fire alarms and sprinkler systems, in comparison to hotels."
Address the Problem. Make Them Feel Safe.
OTAs are improving their vacation rental safety outreach, but they have a long way to go. Unfortunately, professional managers have even further to go. RBO properties on Airbnb, VRBO, and FlipKey still show safety flaws, such as deck railings that are not up to code, pools without lockable gates, and bedrooms and hallways with no visible smoke detectors in marketing photos. Anyone can list a home on an OTA site without providing proof that the home is safe (there is no excuse for a professional rental agency to list homes that don't meet national building code standards). Still, many of the big OTAs have web pages dedicated to safety. This is one area where the OTAs and RBOs are leading the professionally managed industry—they are starting to embrace safety and promote it. The deaths in Maine and the recent deaths in Mexico should be a call to action for universal safety standards in all vacation rentals, regardless of location or management.
As the vacation rental industry continues to grow, it's inevitable that regulations will be passed requiring managers to have safety features similar to a hotel's in rental homes. In fact, it's already happening. Many localities around the United States already require vacation rentals to have smoke and carbon monoxide detectors, emergency exit lighting, and fire extinguishers in place. One popular vacation rental destination in Maine, the town of Cape Elizabeth, requires posted exit plans in the bedrooms of vacation rentals, much like a hotel.
So why not embrace safety? Instead of offering a 10 percent discount on a week at a rental property, why not sell the fact that your rental homes are inspected and will provide a much safer vacation experience for a family than one offered through an OTA or by a competitor? Volvo has been selling safety for years, and it works!
How about this slogan on your website homepage instead of announcing specials: "Our homes are thoroughly inspected for safety annually and prior to each arrival."
Maybe have this conversation with a guest who wants a discount.
Potential renter: "I see the property is being offered for $2,000 a week. Is there any way you could rent it for $1,800?"
Reservationist: "That's a great question, and I appreciate your asking it. We thoroughly inspect the homes annually to ensure our homes meet the highest quality and safety standards. Additionally, we provide some incentive to our cleaning and maintenance teams to make sure nothing is overlooked safety-wise prior to your arrival. Ensuring you and your family are safe in a home that you aren't used to living in is our top priority. Now, let's make sure you and your family are in a safe place on vacation and not let a few dollars keep us from doing business together."
How about the following notes in picture captions?
Highlighting safety items in property descriptions should be something that managers consider doing. HomeAway and Airbnb have sections in each web listing where RBOs can post safety features. Yet, a scan of most professional manager websites shows none are doing this yet. If it's not easy to add a table to your property descriptions for safety, then find ways to include safety features in the property advertising and description. Here is an example.
"Surf's Up" Rental House Description
Impeccable Interior Design, Safe Home within Walking Distance of the Beach
Exceptional style, spacious bedrooms, and a convenient location just steps away from both the beach and an array of local restaurants and attractions makes "Surf's Up" a fabulous and safe choice for your family's next vacation. This home is inspected annually for safety and features the top, Consumer Reports rated dual ionization/photoelectric interconnected smoke detectors throughout the home. Digital readout carbon monoxide detectors are located near all sleeping spaces.
Boasting three large bedrooms, each with its own deck and emergency escape ladders, this oceanside vacation rental home in Kitty Hawk offers something for everyone to enjoy. The large open-concept kitchen with ample dining space features a loud protective smoke detector, sharp cooking knives, and a fire extinguisher. 
Access to the main deck is just off the kitchen. Inspected annually, the pressure-treated deck boards and support beams are all fastened using the best screw fasteners, and the deck is strong enough to support more than twice the occupancy of the home. Views over the railings, which are up to code and will ensure none of the little ones in your party can slip through, are of the distant lighthouses in the area.
The main level features sliding glass doors with alarms that will let you know if anyone too young to access the pool has entered the pool deck area. Just outside, the pool has a fence around it with a secure pool gate. Additionally, the pool has a floating alarm. The nearby hot tub faces the ocean and features locking snaps to keep the cover on.
Finally, the lower level features a bunk bedroom. There are two points of egress for your basement guests, and although the laundry and utility systems are located on the lower level, both have alarm systems in place to monitor for smoke and carbon monoxide.
While this description may seem a bit overboard, some of it can be used as an example to get started.
Create a Web Page Devoted to Safety.
As noted earlier, many OTAs are already devoting webpages to safety, and Airbnb is leading the way: https://www.airbnb.com/home-safety.
So, why aren't professional managers focusing on safety? Vacation managers can do some things, like create a page that links off the main menu and list the safety items in each rental. Promote the inspections! Make and post a short, one-minute YouTube video for the page, and show the agency owner walking through a vacation home in its inventory and pointing out their dedication to safety. Here are some things a vacation rental agency should promote about safety.
Ocean Waves Vacation Rental Safety Commitment
Here at Ocean Waves Vacation Rental Agency, we are committed to ensuring you and your family have a safe and satisfying stay in our rental homes. If at any time during your stay you see something that isn't safe in one of our homes, please call us immediately at 800-555-5555, so we can address the issue.
As part of our commitment to the safety of our vacationing guests, we ensure that each home in our rental inventory receives an inspection by a professional building inspector to ensure it meets national building code standards. After that, our maintenance team inspects each home annually. We require all of our homes to follow the recommendations of the National Fire Protection Association and only use smoke detectors that are less than ten years old and carbon monoxide detectors that are less than seven years old. In most cases, we go above and beyond to install more detectors than required by law. Finally, our cleaners are educated on how to identify new safety issues that need to be addressed before each stay. Here are some of the many things we check for in each home:
The decks and deck railings are securely fastened and designed to stand up to maximum weight loads.
Two options for egress are available from every bedroom in the home. The rooms preferred for use by children have easier egress options established.
Barbecue grills are located a safe distance from dwelling structures with proper instructions on their use.
Outside lighting is properly aimed to ensure access around the property is properly lit at night.
Property accessories, such as exterior chairs, hammocks, kayaks, hot tubs, pools, swings, and more, are checked for quality and to ensure they are safe for use. We place an emphasis on making sure pools are properly gated and hot tub covers are secure.
Appliances are all inspected to ensure they are clean and safe to operate, and this includes laundry dryer vents.
Electrical systems, including ground fault interrupters, are checked for proper operation.
Get the Guest Involved.
On the Water in Maine Inc. Vacation Rentals has posted preprinted post-it notes on mirrors in all of the bathrooms in its rental properties for several years now. This simple and inexpensive way to grab the guest's attention prompts them to think about safety just for a moment and may save lives. These custom post-it notes can be made online and ordered from companies like Vistaprint for less than a hundred dollars to cover the whole season for any agency.
It Isn't Just the Rental Home.
The summer of 2018 immediately started off with the death of a vacation home renter in Michigan, but the death didn't happen at the property. This highlights an opportunity for vacation managers to share safety guidelines that guests should practice—even when guests are not in residence.
According to a Michigan Department of Natural Resources press release, "At about 3:30 p.m. Monday, June 5, 2018, regional dispatchers received a call from a man who said his son and a friend had taken kayaks from their vacation rental property out into Lake Michigan."
The temperature of the water was fifty degrees and the wind was blowing hard, but the renters chose not to wear life jackets. The son's deceased body was found near the kayak, in eight to ten feet of water.
Could a sign near the kayak or a message in the listing description have prevented this tragedy? What about a note from the rental agency stating that, although kayaks were provided, caution was needed regarding their use until lake temperatures warmed?
Caption on the listing photo: Two kayaks are included with the rental along with life jackets.  Guests are required to wear life jackets when using the watercraft.
Sign by the kayaks: The provided life jackets must be worn when using the kayaks. Children, sixteen years and younger, should not go out unsupervised in the kayaks. All guests should review safety procedures and proper kayak operation.
Other items to address include advising guests against renting scooters from a local business, a source of injury for many tourists; informing them of dangerous rip currents in the ocean; and sharing which ski trails are best to begin skiing and avoid injury.
Finally…Befriend the Local Fire Chief.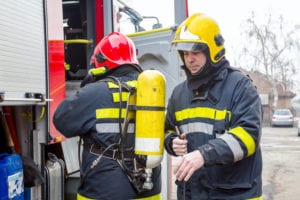 As you begin the journey to ensure your vacation rental agency embraces safety and uses it as a tool to help your guests have a good rental experience, get your local fire department involved.  Around the country, the fire chief is always at the table when it comes to creating local regulations for vacation rentals. Get your fire chief involved and take him or her on tours of your vacation homes. Show your fire chief that you are committed to good business with a strong commitment toward safety, it will benefit you. Later, when your local government tries to create regulations that may adversely affect your business, you'll have an ally at the table who will hopefully speak up and point out that the professional managers in your town are already working to exceed any regulations that may be proposed.

<!-comments-button-->