This is the short version of how the Outer Banks—a small and isolated string of barrier islands on North Carolina's East Coast—grew from a collection of remote sand dunes and sleepy fishing villages to become a world-famous vacation destination in a relatively small amount of time.
Whether you're new to the area, considering your first trip to the area, or are a long-time visitor, this is your story in many ways. If you visited many years ago but haven't been back recently, it's hard to conceive of the landscape changes but part of the magic of the place is that many of the same things remain equally as accessible as they were in the past while consumers have derived—through purchasing power—unparalleled value by sheer entrepreneurial competition and pro-consumer regulatory environment within the local economy.
What happened along the way that was so unique?
The short version is that a rare combination (not unlike Silicon Valley) of natural beauty, regional economic growth, improved regional transportation, highly competitive entrepreneurship, and government support created an environment that balanced nature, commerce, and capitalism in an remarkable way.
Before we take a look at the Outer Banks, it's worth pointing out that three places really emerged at the same relative time across North Carolina. While the stories are different, the ingredients are remarkably similar. The Raleigh Research Triangle—at its inception a rural long-term bet on our education system at center of the State—and the arrival of Charlotte in the West as a global banking hub all occurred at a time that parallels the evolution of the East's tourism mecca.
1975-1990: A Clear Groundswell
Nationally as the 1973 recession began to fade and millions of baby boomers began to come of age, the sense of economic growth linked to the post-war booms of the 1950s was still palpable in the minds of many vacationers seeking vibrant places to share with their families. As cars become more common, roads improved, and travel became affordable with increases in wages and consumer credit, the idea of a family vacation by car become an institution.
At a much more regional economic level, the Outer Banks had, thanks to a few small groups of people, begun to be publicized as a vacation destination outside of the historically regional vacation markets of Eastern North Carolina. Places like the Hampton Roads area, the Richmond market, and with better roads even as far as DC and Philadelphia started to see clips in local papers about investment opportunities along the Outer Banks.
Those small groups of people mentioned earlier were a unique mix of proud individualists with enough gumption to do something—they came from different backgrounds of course but what made them unique was a combination of risk-taking, an agreement that commerce was good, and a shared inclination to act. Some were marketers, some had financial backgrounds, some were hardcore entrepreneurs, and some went to Raleigh as elected officials. They all knew each other and all shared a vision for an Outer Banks that could and should grow.
With Ronald Reagan's election nationally and Marc Basnight's rise to power in Raleigh, economic vitality fueled with improved access options to the Outer Banks contributed to early booms in visitation, investments, and then as an outcome new home construction.  Most new construction homes started as second homes that could be rented for small amounts in between Memorial Day and Labor Day.
The introduction by Dick Brindley of Corolla Light–the resort community in formerly remote Corolla–marked a turning point.  As it began to take shape in 1986, Duck and Corolla were discovered in bigger numbers and in bigger markets–while the idea of an exact moment for the tipping point remains unclear, suffice it to say that all of a sudden the place was hot. There was a whiff of popularity in the salt air and economic conditions made access to capital, friendly interest rates, and the attractiveness of a growth market in real estate an enjoyable and in some cases speculative topic for locals and visitors alike.
1992-2007: Emergence as a Major Market—The Wave Crests
Another short-lived recession that followed the first Gulf War gave way to several years of encouraging economic growth in the region particularly for would-be investors familiar with the Outer Banks.
By this time, a small group of dedicated entrepreneurs had emerged—names like Joe Lamb, Jimbo Ward, Tim Cafferty, Doug Brindley, Paul Breaux, and Doug Twiddy all took risks and built companies focused on selling real estate, helping build homes, and renting those homes at ever higher sizes and price points as a reflection of the increasing popularity of the area.
Government emerged as an ally to business as well, with key national differentiators emerging in two ways.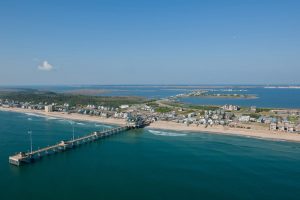 First, the North Carolina legislature took steps to develop a pro-consumer approach to reserving a vacation week by requiring companies to keep any funds involved for future reservations in a trust account. This is a distinct difference from other regional states like Florida. By doing so, the risks of boom-and-bust among local companies receded as evidenced today by so many long-standing family firms. Visitors and homeowners alike derived enormous value by increased competition among firms as firms were forced to innovate and compete quickly to maintain and grow market share.
Second, with State Senator Marc Basnight's pivotal leadership role in the state legislature, the Outer Banks began to see capital-level investment in transportation.  Things like new bridges, fast-four-lane roads connecting us to Virginia, capital investments for Outer Banks attractions (four of the state's Top 20 most visited public sites are on the Outer Banks), and general responsiveness to commerce in Raleigh all gave local entrepreneurs distinct regional advantages as continuing economic booms led to more and more demand for vacations and vacation homes in the area.
Third, the digital revolution brought visitors the internet and with it previously impossible abilities to compare, shop, and choose based on good information from among a myriad of vacation options. The internet in many ways removed any mystery to an Outer Banks stay and also elevated again the competitive atmosphere for local companies that in turns benefited so many visitors and investment homeowners alike.
The period of time leading up to 2007 saw a robust increase in local second home construction and increased traffic from Northern Virginia, New York, New Jersey, and Pennsylvania areas. The Great Recession, however, would put a temporary end to new construction but not, of remarkable note, the family vacation.
2008-2018:  Moving to a Mature Market—Shorebreak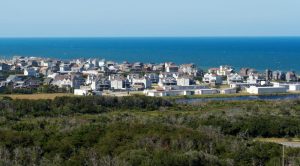 As the Great Recession of 2008 unfolded, new home construction virtually vanished and the sales market took a sharp dive as well. Many other emerging resort areas struggled with the new financial reality of consumer hesitancy but the Outer Banks, owing perhaps to its proximity as a well-known drive-to destination and also its head start in many ways as a vacation location, weathered the recession relatively well through still strong vacation rental markets.
From these still-strong rental segments, local companies interested in growth began to participate in ever-growing home complexity, luxury offerings, and scaleable rental experiences for ever-more discerning guests. With a decided drop in new home growth, local companies were again forced to excel simply with existing inventories and existing customers. In hindsight, the trends of boom-and-recession created a pendulum-effect based on a willing (or unwilling) environment for private sector innovation toward both growth (when possible) and efficiency (as needed).
While the 2008 recession was pronounced, the micro-market of the Outer Banks rebounded quickly especially in the vacation rental market that compliments so well the restaurant and retail markets. Home construction began to reappear (based in part on low-interest rates coming from quantitative easing) in good numbers around 2012 and with that emergence came a new focus on truly high-end and larger scale homes owned by sophisticated investors looking for alternative investments. These homes, targeted to an affluent and experienced vacationing public, announced the arrival of a bonafide luxury segment within the mature Outer Banks sales and rental community
This regional trend was reflective of larger national trends in rising incomes for groups of people for whom luxury travel became normal. Linked to larger national trends in rising incomes came a larger global awareness of vacation rentals as a viable travel option. As the vacationing public as a whole became more aware of internet-based vacation aggregators such as HomeAway, franchise options—both in sales and rentals—emerged in the competitive landscape on the Outer Banks.
Once again, things changed and local companies were forced to evolve to meet not only heightened guest expectations but also national competitors keen on luxury travel access.
2019 and Beyond: Sea Spray
As Morgan Housel points out in his remarkable piece about the larger post-war U.S. economy, economics is simply a story of cycles. The Outer Banks has seen several cycles in time over the past several decades but has emerged as competitive as ever based on a rare combination of nature, nurture, government, infrastructure, and proximity.

What made these beaches famous over the years—a great place to come with your family and an attractive investment return over time—remains intact.  As another cycle appears over the horizon, we know that things come and go and that optimism remains in the long-term.

As a barrier island linked delicately to the sea, we also know that even the ancient mariners cast a weary weather eye toward the horizon scanning for the sudden change. The only thing that's changed really is the size and the complexity of the boat as it's a much bigger boat now than it once was. The sea, however, remains as our visceral example of uncertainty toward the future.

<!-comments-button-->