By Vanessa Humes, ICND — You're probably tired of hearing about everything going mobile. It's all you've heard about since responsive web design came on the scene a few years ago.
Responsive website design is the approach of developing a site that responds to a user's behavior and environment based on the device, screen size, and orientation. As a result of the new device habits of your guests, they are booking with their mobile phones. If you are a vacation rental manager who is hesitant to make the investment into a new site or a marketing director who needs further ammunition to approve this expenditure on the next year's budget, then we've got the fact and figures to prove – responsive matters. Mobile matters.
Websites Analyzed
As a provider of custom vacation rental website development and marketing, we're fortunate to have a large sample size of website data (via Google Analytics) at our fingertips. For this article, we included data from 16 sites taken as a random sampling. We analyzed the data from January 1, 2015 to August 31, 2015, compared to the same time period in 2014. If you like what you are reading, head over to our website www.icnd.net/mobile-study for a full view of our data and more takeaways. Below are some statistics we put together for you:
Mobile visits to websites are up 73%.
Mobile reservations are up 153%. Some sites saw as much as 2100% increase in mobile reservations this year compared to last year.
Mobile reservations accounted for 3%-18% of total bookings in 2015 in comparison to <1%-10% in 2014. 
The number of desktop users was down across the board from <-1% to -32% and were down an average of -9% across the board.
Log into Google Analytics to take a look at your own data. On the left side menu, click on Audience, then click on Mobile, select your dates from January 1, 2015 to August 31, 2015, and compare the data against the previous year. This will show you desktop, mobile, and tablet usage. It will break it down by traffic and the number of transactions (if you have Google E-commerce tracking set up). Chances are you are going to see your mobile traffic increase, desktop traffic decrease, and mobile transactions up regardless if you have made the move to responsive or not.
Increased Mobile Users
Why are we seeing such a jump in mobile users? There's no denying that we use our phones more and more. As phones increase in size and capabilities, we are able to use them for more than just calling and emailing. Here are some statistics we gathered:
20% of Google searches are performed on mobile devices.
50% of local searches are performed on a mobile device.
25% of all internet access is done through a mobile device.
61% of people have a better opinion of a brand when they offer a mobile-friendly experience.
30% of emails are opened on a mobile phone or tablet.
55% of social media activity happens on mobile devices.
When you are looking to differentiate yourself from the competition, take a look at the behavioral actions of your customers. What percentage of users are accessing your site from a mobile device? What percentage of your marketing dollars lands in the hands of someone holding a mobile device? Is the user experience on a mobile device as good on your website as it is on your competitor's? Think about these questions when you are looking at when and how to update your Vacation Rental website.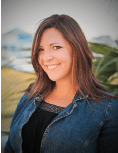 Written by: Vanessa Humes, ICND

Since 1999, InterCoastal Net Designs (ICND) has been serving a nationwide client base of vacation rental companies. ICND's ability to build custom designed websites, digital strategies, and offer a suite of business automation tools has pushed ICND to the forefront of providers in the industry. To ICND, the guest experience starts with your website and marketing. They make it easy for guests to find you, search your site, book online, sign digitally, and plan their vacation all through the suite of products they offer. This allows you to focus on what you are good at – providing a memorable vacation to last a lifetime.

<!-comments-button-->