Summary
Higher commissions charged by Priceline and other OTAs have been a grudging point for hotel chains since the beginning.
Hotel chains like Marriott and Hilton have stepped up their effort to increase the share of direct bookings, thus lowering the commissions paid.
Long-term impact on Priceline and other OTA stocks should not be underestimated.
By Rohit Chhatwal, Growth, tech, large-cap, research analyst via Seeking Alpha
Hotel chains have always felt that OTAs like Priceline Group (NASDAQ:PCLN) and Expedia (NASDAQ:EXPE) have charged them unreasonable commissions for bookings made through their platform. These commissions can easily be as high as 15 to 20%. On the other hand the marketing costs for other channels like bookings on the hotels' website or other offline channels rarely go above 4-5%. In the earlier stages of the evolution of the OTA platform, these higher costs were justified due to a higher cost of building the technology and platform. Also, the hotel chains were quite slow in adopting new technology which forced them to rely on OTAs.
However, for the past few quarters, more and more hotel chains, especially the bigger chains like Hilton (NYSE: HLT) and Marriott (NASDAQ:MAR), have started building their platforms much more aggressively. Both of them have pushed their direct booking platforms through heavy advertisement. Marriott started with "it pays to be direct" campaign in August 2015 and received close to 7 million views on YouTube. Similarly, Hilton Worldwide has launched its campaign of "Stop Clicking Around" a few weeks back and has garnered over 3 million views on YouTube. It also had 49 spots from February 15 to 17 in US, with an estimated budget of $1.3 million according to iSpot.tv.
These campaigns are launched on the back of two important factors. First is the easing of "rate parity" and "most favored clause." Rate parity clause requires the hotels to match the lowest rate they are offering across all channels on OTAs platform where similar rooms are available. Most favored clause requires the hotels to give the best terms to OTAs, of all other partners. Both these clauses came under increasing reviews from different investigators in Britain, France, Germany, Italy, Sweden, and more last year.
The second factor lies at the core of the technological evolution of these platforms. It was quite expensive for a single hotel chain to spend heavily on its digital platform when the technology was in its infancy, back in the late 90s. Now it has become much simpler for a big hotel chain to have a digital footprint and also pays a better return over the long term.
Starting from April 11, Marriott will be launching new hotel rates for Marriott Rewards loyalty members. One can see the future plans for the chain by the breadth of this program. It is going to be available for 4,200 hotels across the world. Furthermore, if a guest finds a lower rate on any other platform than the one available on Marriott site within 24 hours of booking, Marriott will match that rate and provide an additional 25% discount. Its CMO has gone on record to say that the reason for this aggressive marketing is that they wanted to remove the myth that one can get the lowest rates only through other travel websites (OTAs like PCLN and EXPE).
Hilton's CEO Chris Nassetta mentioned in the last quarterly results that they have secured three main concessions from OTAs in their negotiations. They are: getting rid of last room availability for OTAs, lowering margins to reasonable levels and having the ability to offer preferential treatment to Hilton's loyal customers. Hilton Honors deals now offer 10% off the published rate and additional points which can be used for free wifi, complimentary nights and digital room keys as well as concerts and weekend getaways.
The efforts by major hotel chains to increase their direct bookings and customer loyalty programs will only increase. It has already rattled both PCLN and EXPE management. Dara Khosrowshahi, Expedia's CEO mentioned in a recent investor day discussion on March 16th that if Marriott and Hilton do not provide their best prices and availability to Expedia then they will lose share on the platform. Priceline Group CEO Darren Huston also remarked at the ITB Berlin Convention in early March that he's annoyed by efforts made by bigger hotel chains to push direct bookings. Similar sentiments were shown by the CEO during the fourth quarter earnings call on February 17th when he remarked that he doesn't like some of the actions taken on chain levels.
There's a marked difference between independent and chain hotels in terms of online booking share done on OTA for both the US and European market. Major chains already have a higher percentage of online bookings through non-OTA channels and should be able to increase this share considerably.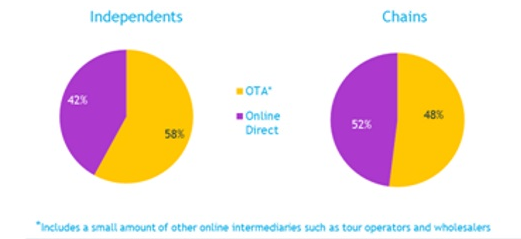 Fig: Difference in OTA and online direct share among independent and chain hotels in US for 2015. Source: Phocuswright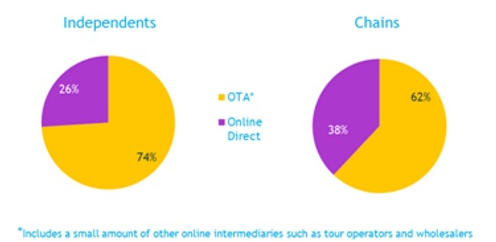 Fig: Difference in OTA and online direct share among independent and chain hotels in Europe for 2015. Source: Phocuswright
Conclusion
In the highly competitive lodging industry a major direct online booking push by big players like Hilton and Marriott will force other players to relook their marketing channels. Instead of considering only RevPAR metric, hotel chains would put a greater focus on NRevPAR which is RevPAR minus the cost of commissions. When this metric is looked, the direct booking model is more profitable. This might not be a death knell for OTAs but it would put downward pressure on their gross bookings and commission rate. In the end this will affect their topline and bottom line and eventually their stock levels.

Disclosure: I/we have no positions in any stocks mentioned, and no plans to initiate any positions within the next 72 hours.

I wrote this article myself, and it expresses my own opinions. I am not receiving compensation for it (other than from Seeking Alpha). I have no business relationship with any company whose stock is mentioned in this article.

<!-comments-button-->