This article is part of the Under the Hood Series in which we interviewed executives from on-the-grow vacation rental management companies to discuss everything from growth strategies to company culture, technology and marketing to future predictions for the industry.
By Amy Hinote

Resort Realty, Outer Banks
Michael Harrington, CEO
Resort Realty began in 1987 as a small independent real estate and rental management company. In 1999, Resort Realty joined the Prudential Real Estate network as a franchisee to grow the real estate side of the business. CEO Michael Harrington joined the Resort Realty team in 2007 and was instrumental in transforming Resort Realty's identity back into a thriving top Independent Real Estate firm. In 2008, Resort Realty was granted membership into the most prestigious independent Real Estate Network in the world, Leading Real Estate Companies of the World, allowing Resort Realty to expand their brand beyond the Outer Banks to fellow independents from all over the country.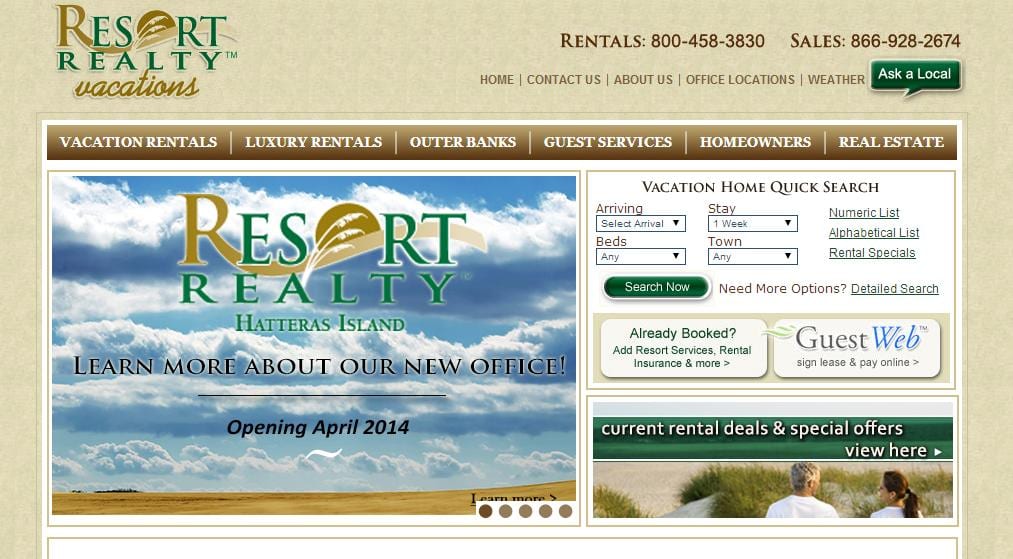 In addition, Harrington set out to rebuild and modernize Resort's Vacation Rental Management program from the ground up. This included processes for better overall owner and guest service, introducing new online and social media marketing strategies for the company's managed Vacation Rental inventory, and increasing Resort's market share of real estate assets under management.
As a result, Resort Realty was able to gain substantial market share in this highly competitive destination. With its recent expansion into Hatteras Island, Resort Realty currently operates five offices and manages more than 500 properties in Corolla, Duck, Kitty Hawk, Nags Head and Hatteras.
Owner-Centric Approach
Resort Realty puts an all-in focus on meeting the goals and objectives of each of its owners. "Our owners are the heart of what we do," said Harrington. "We are owner-centric. We design all of our programs with the owner at the center and are focused on increasing their short term –and long term –revenue and protecting their property value."
Resort Realty has a Rental Manager in each of its offices who serves as a personal point of contact for each of its owners. The Rental Managers report to the Director of Rental Management, who oversees owner relations, retention, and recruitment, and provides homeowners with management-level responsiveness.
In addition, Resort Realty provides bi-weekly email communications to homeowners, addresses owner requests immediately, and has created a web-based owner portal which allows owners to manage their accounts, view bookings, schedule personal time in their property, and track any maintenance issues.
"We want our homeowners to feel good about our services and confident that their investment is getting highly personalized attention," said Harrington. "We have seen a lot of vacation rental management companies moving towards a more guest-centric approach.  Guest are important, and we'll bend over backwards to make sure they have a great experience, but every program has a cost.  Who is paying for that? Ultimately, the homeowners are paying for it."
Company Culture
"We're a corporate company without acting corporate," said Harrington. "We try to operate in a professional, corporate way in structure, but we are a local, fun team who supports the community."
Resort Realty's vision statement is more than words to their management, part of which is to provide professional, innovative and friendly atmosphere that fosters admiration & respect among our peers and loyalty to our customers and employees.
"We are in the business of accumulating talent and have built an awesome team," said Harrington. "With our mission and vision, we have created a unique value proposition for our team members in that we are in it to grow, and here is how we grow together."
Marketing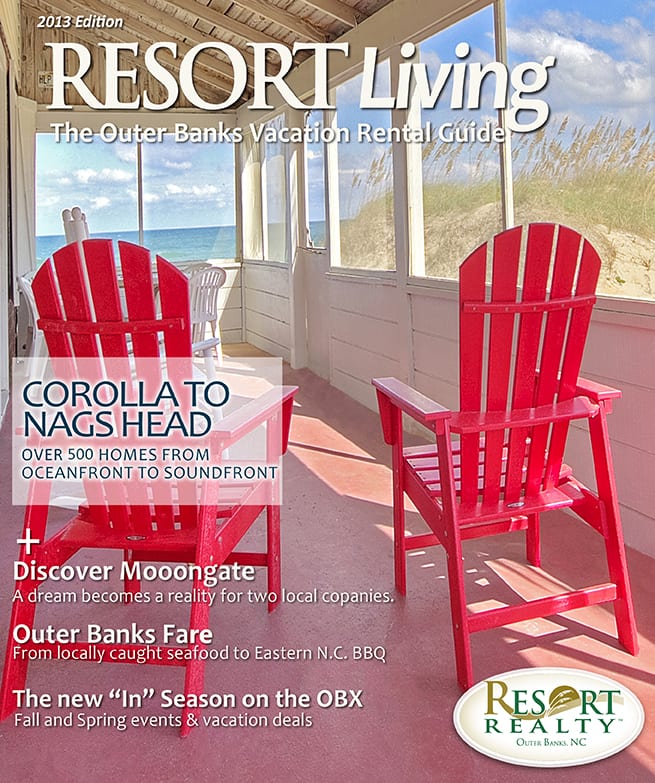 As part of their marketing strategy Resort Realty continues to create and print an annual vacation guide which displays property information and area activities. "We've crafted this piece as more Magazine in style.  It is hard to put a value on having a the coffee table book  effect this mailing piece has for our guests," said Harrington. "We mail it out by request only now and to immediate repeat guests."
Additionally, Resort Realty does not try to mass market their properties as if they were a commodity.  "That may be the case in other markets where there are thousands of the same types of condo units, but in our area, each home has its own distinct features," said Harrington. "We will market the brand of Resort Realty to get potential guests to our website via search, online, and social mediums, but from there each home is presented uniquely.  There are some basics like location, bedrooms, if it has a private pool, that are more heavily searched to filter down results, but our goal is to get the guests to the Property details pages of our website so we can highlight that particular homes best features.  Due to supply and demand we are normally booked up during the Summer season, but we have to remember each home that is open counts.  Our homeowners are not concerned with overall occupancy of the company, they are worried about their house, and only their house."
Operations and Technology
Since Harrington joined the company, Resort Realty has placed a significant focus on operational efficiency. "We latched on to newer technologies to make operations simpler for our team," said Harrington. "Using tools like those provided by LSI, we've automated email messaging, transactional emails and provided our guests a full lease management system. By automating the majority of our guest communications we have been able to go from ten full time reservation agents to five or six."
"We also look for tools and technology outside the vacation rental industry and see what we can pull from those to increase our efficiency," said Harrington. "My advice is, if you see a technology platform you think might work for your company, don't be afraid to ask if they will tweak it to accommodate the needs of vacation rentals. We are in a high-growth industry, and many technology companies are looking for a way to get into the industry."
As a result of using technology to implement automation and create operational efficiencies, Resort Realty is able to maintain a low ratio of employees to inventory. "It is a whole lot easier not to hire than to fire," said Harrington. "Sit back, see what your needs are, and use the tools that are currently available to you to their maximum capacity."
Expansion and Acquisition
Stuart Pack joined Resort Realty as COO in May 2011 and brought with him nearly ten years management experience in the vacation rental and real estate sales industry. As Resort continues to steadily grow and increase market share on the Outer Banks, the decision to open on Hatteras Island and offer property management services to Hatteras owners was inevitable. Harrington and Pack began their property management careers on Hatteras, and were eager to begin working in the area again.

Regarding future acquisitions, Harrington pointed to Wyndham's recent acquisition of Hatteras Realty. "Everyone wants to be in the Outer Banks," said Harrington. "And now we are starting to see national companies entering our market. We are not interested in being a national company, but we would like to be a North Carolina company."

"We are always looking to do deals, but we are more interested in establishing high standards in our homes and in our services."

By Amy Hinote

Part 1: A Look Under the Hood at Vacation Rental Pros

Part 2: A Look Under the Hood at Kokopelli Property Management

Part 3: A Look Under the Hood at Elliott Beach Rentals

Part 4: A Look Under the Hood at Winter Park Lodging Company

<!-comments-button-->