High-Energy Property Management: A Look Under the Hood at Vacation Rental Pros Property Management
This is part 1 in the Under the Hood Series in which we interviewed executives from seven on-the-grow vacation rental management companies to discuss everything from growth strategies to company culture, technology and marketing to future predictions for the industry.
 Part 2: A Look Under the Hood at Kokopelli Property Management
 Part 3: A Look Under the Hood at Elliott Beach Rentals
Part 4: A Look Under the Hood at Winter Park Lodging Company
A Look Under the Hood at Vacation Rental Pros Property Management
In 2002 Steve Milo, Managing Director and founder of Vacation Rental Pros Property Management LLC, purchased his first vacation rental and struggled to find a competent property management company in the area. He decided to self-manage and explore the opportunity in the market.
By 2006 M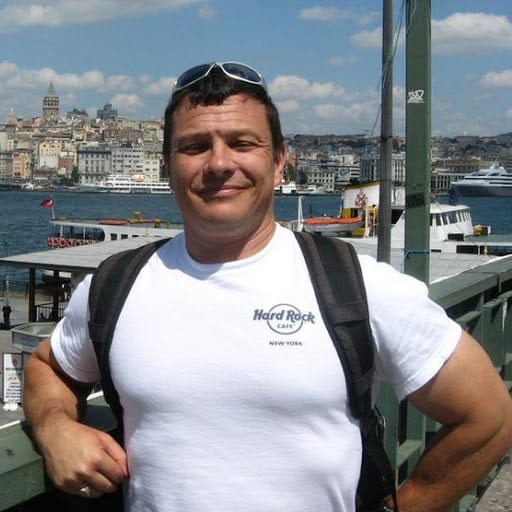 ilo owned or co-owned 10 vacation rentals, and was having great success renting his properties on his website. Seeing the opportunity in the marketplace, he decided to launch Vacation Rental Pros. By the end of 2006, he was managing 25 properties.
Milo's initial growth was organic. "I started the business in a recession. Many property managers had stopped taking new homes because they were having trouble getting bookings. In hindsight the recession was an opportunity. It allowed us to take advantage of a tougher playing field. By running a lean organization, we were able to be profitable, and we used that profit for marketing. We ended up having more bookings than units."
Only seven years later, Milo's company now manages over 635 properties in Northeast Florida and along the Southwest Gulf Coast.
Running a Tight Ship
Being an exceptionally high-energy property manager, Milo hired his first employee, a bookkeeper, in December 2007. At that time he was managing 125 properties.
"Managing 125 properties (without employees) wasn't sustainable, but it taught me I can do more for less," said Milo. "I learned many property managers have too much tied up in G&A Expenses. I learned not to waste money on things that don't drive revenue."
Now, the Vacation Rental Pros team puts enormous emphasis on doing everything in a prudent, thoughtful manner to control G&A expenses and profitability. Last year, Milo cut staff and increased sales 30% in 2013 over 2012. Vacation Rental Pros now has 47 employees and outsources cleaning, services, some marketing and photography.
"In general, I am a big fan of outsourcing," said Milo. "We run a tight G&A. This doesn't happen by accident. It happens because management buys into the philosophy of keeping expenses low and having productive employees."
A tight focus on the bottom line is a common thread throughout the company. "We have been mono-focused on property management and have been willing to partner with others for furniture, real estate, and construction," said Milo. "We also have been willing to stay away from ancillary revenue from these sources."
#1 –A Great Website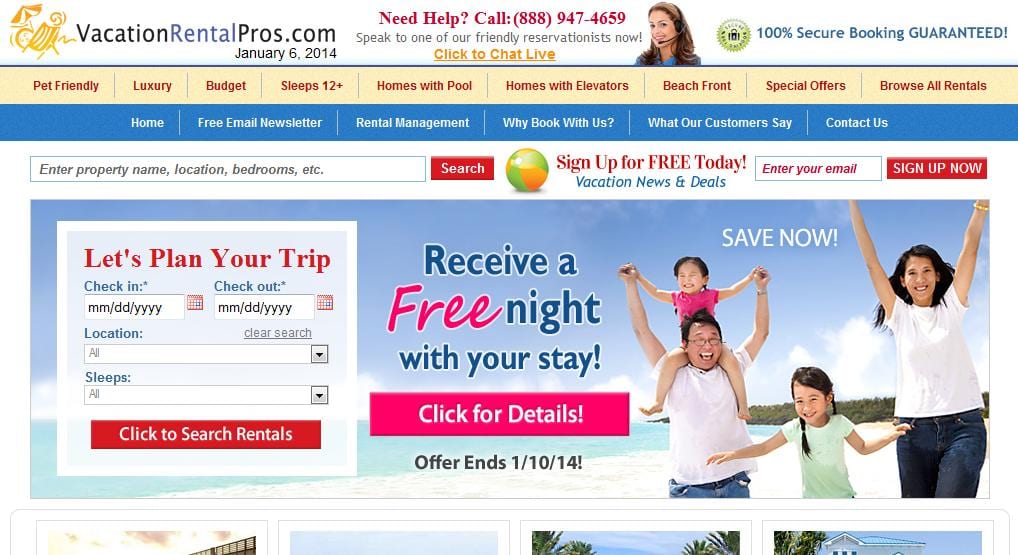 Steve Milo understood the many economic and market benefits of the internet 20 years ago, when he transitioned his consumer catalog business -first to email marketing -and then to ecommerce before successfully selling the business in 1999.
When he ventured into property management in 2006, Milo started out by investing in a user-friendly website, and he credits strategic use of the internet for his rapid expansion in vacation rental property management.
According to Milo, "Today it's different than it used to be. It is really dependent on original content. We have a lot of content, including 15,000 guest reviews, over 20,000 photos, vacation options and information. The search engines reward content-rich websites. Consumers can book online directly or can call us and talk to a sales agent about the rental property they are interested in. We also invested in an effective, user-friendly mobile site. "
And to make the business more profitable, he has outsourced website development overseas. "I have successfully utilized overseas programmers at a fraction of what it costs in the U.S. to do our web development," Milo said.
Milo and his staff have found that the key to having a successful online presence is to keep it simple for customers: "The first thing is it starts with your website, and having a website that is user-friendly and easy to navigate with content properly laid out and updated on a regular basis."
100% Online Marketing
Milo has been a student of marketing strategies implemented by successful competitors. "The easiest way to determine your marketing strategy is to look at the best in breed in your industry, those that are already established with strong marketing and internet sites. We look at Expedia, Travelocity and Bookings.com to see what they're doing," he said.
Vacation Rental Pros has a 100% online marketing strategy. "We never printed a vacation rental catalog, and we don't spend money on offline marketing," said Milo. "The fact is you can reach a global audience without the cost of postage."
One component of his strategy includes investment in pay per click advertising (PPC). With an ecommerce background, Milo learned to utilize PPC carefully and with a great deal of restraint. He works closely with a boutique company who specializes in ecommerce to manage his PPC budget.
Milo also places targeted portal advertising on VRBO.com and other distribution sites, and he has created and maintained a sophisticated database so Vacation Rental Pros is able to execute highly targeted and segmented email campaigns.
In regard to branding, "Branding is overrated in our industry," said Milo. "There are companies who are too obsessed with their brand and not focused on conversion. Our focus is on the market, conversions and the number of leads generated."
Technology: The Digital Divide
According to Milo, "The key to running a business in any industry is learning to get the best results from technology. In most industries there is a digital divide and a big difference between those who know how to utilize technology and those who don't."
He selected Escapia, a web-based property management system (PMS) to help in the management of his properties. "It was a really good choice for us in 2006. We may come to a point where we outgrow it," said Milo.
"The best thing is to work with your vacation rental software (or PMS) provider. For example, we worked with Escapia to open up our API to create an interface with Salesforce to have a better help desk. We also use NAVIS and Glad to Have You."
Owner Acquisition and Retention
"What separates us from other companies in our area is that our bookings are so much stronger and occupancy is higher, so we have happier owners," said Milo.
Vacation Rental Pros has a dedicated person for owner relations and the bulk of their correspondence is through email. "We also have a customer service department to answer any questions," adds Milo. "But owners still have my cell phone number."
Milo admits he does occasionally have to "fire an owner."
To attract new owners to the company, Milo targets by property type (e.g., large, oceanfront homes) and maintains a comprehensive database on every homeowner and property type they have targeted.
Acquisition and Consolidation
According to Milo, "It is irrefutable that there are economies of scale in the vacation rental industry, once you establish your G&A." Vacation Rental Pros has acquired four companies, one per year, since 2009, adding 225 properties to his inventory. "The first one was a smaller company that was struggling during the recession. We don't absorb the employees. We do what is known as an asset purchase. For us, expansion is about quality, not quantity."
As they look to the future, Milo adds, ""Consolidation is a given. We're in the beginning stages of consolidation, and Wyndham has demonstrated a big appetite for acquisition. It reminds me of the 90's with e-commerce sites. What evolved was that Yahoo and AOL attracted eyes, and then the consumer sites like Amazon came after. The consumer sites were able to grow because the eyeballs were there. Wall Street has funded some big portals in the vacation rental industry which are drawing eyeballs now, and there are opportunities for property managers to leverage the technology to allow for consolidation and efficiencies. The opportunity is there. No organization has been able to effectively manage vacation rentals on a large scale… yet."
High-Energy Company Culture
To preserve company culture in his energetic, bottom-line-focused business, Steve Milo leads by example and focuses on accountability.
"In our experience, company culture is incredibly important. Our company has a culture which is high-energy and doesn't mix with traditional models," said Milo. "I'm a high-energy owner. I get up early, and I don't have time for wasted effort. I task people in our company. I hold them accountable and expect them to meet deadlines. Once you start to build a like-minded team, if you bring someone in who's not a good fit, they typically won't last for the 90-day probationary period."
Advice to Growing Vacation Rental Management Companies
We asked Steve Milo if there was anything he wishes he had done differently during his rapid expansion, and he responded, "I wish I had stayed with my gut for the last 7 years. There were times I listened to 'industry experts' who offered advice which was not right for our market. For example, my gut was to outsource as much as possible, and I briefly listened to advice from a consultant to bring more in house. It resulted in fractured liaisons for groups of owners. We quickly repaired the mistake and centralized operations, chopped costs and eliminated one-point-of-contact for owners."

Regarding technology and marketing, Milo identified the following "must-haves" for rental mangers:

1. User-friendly website with online check-out/online booking
2. Web-based vacation rental software
3. Comprehensive database/contact strategy
4. CRM
5. Strong mobile presence

Milo also advises vacation rental managers to join organizations and to become politically aware of any government situations in your area which are unfriendly or becoming unfriendly to short-term rentals.

"Government restrictions are the biggest challenge we face as an industry. If you haven't faced it, consider yourself lucky, but don't think you won't," warns Milo. "In Florida, it has been frustrating to see how few property managers will help fund advocacy initiatives and political campaigns. To me, it would be like not paying for insurance. In our industry, it is a cost of doing business. The VRMA Eastern Regional Seminar is going to be on Orlando, and we hope to use this opportunity to raise awareness with our political leaders here in Florida."

By Amy Hinote

Related Articles

Part 2: A Look Under the Hood at Kokopelli Property Management

Part 3: A Look Under the Hood at Elliott Beach Rentals

Part 4: A Look Under the Hood at Winter Park Lodging Company

<!-comments-button-->