HDR Photography or, what's commonly referred to as 'Fusion' photography, is ranking very high on the popularity chart nowadays.
For those of you unfamiliar, HDR photography (High-Dynamic Range) represents the really cool things you can do to enhance you photos with digital imaging. It basically turns your realistic photos into graphic paintings – often, a misrepresentation of your property is the end result.
With an increase in tools and digital techniques, it is quite common to see  HDR photos in the MLS, on Trulia, Zillow, Realtor.com…the list goes on.  Not sure what we're talking about? These HDR photos look like cartoon renderings or video game stills, with extreme saturated color and heightened textural effects.
Customer Expectations
"With all of the new technology that has been brought into real estate photography, High Dynamic Range (HDR) brings a new excitement in home sales," says Duane Heaton, the Photography Training Manager with TruPlace. "It is important to understand the importance of the proper use of any tool, including HDR, while maintaining a realistic view of th e property. I have found that the "Fusion" services that are being offered, sometimes push the true and genuine views of the homes. The last thing that any company should do is create a false impression on where people would plan so many dreams and events within their lives."
HDR photography was developed so photographers could escape the difficulties of traditional photography; a blown-out sky or a dark, underexposed face, varying wall colors, etc.. With HDR, these obstacles can be overcome by shooting multiple frames and 'fusing' them together, or using a single image and adjusting it with photo-enhancing software.
You will most likely recognize the term HDR from your iPhone's camera, or, when you use certain filters on Instagram to completely enhance/distort your selfies 🙂
Whatever the method, the effect can be eye-popping, or can completely misrepresent the scene; for Realtors, it will most likely distort the way their listing looks in photos. HDR increases local contrast at the expense of overall contrast. Basically, when looking at fusion or HDR photographs that are 'overdone', there is nothing left to lead your eye around the frame.  If not done properly, all that remains is a big, scrambled omelette of exaggerated ingredients.
A Look at the Difference
Here is a photo Duane took, with normal adjustments to exposure and color. A typical example of a TruPlace photograph:
HDR or Fusion Photography
Now, here is the same exact photo, but, edited through an HDR-Scape filter: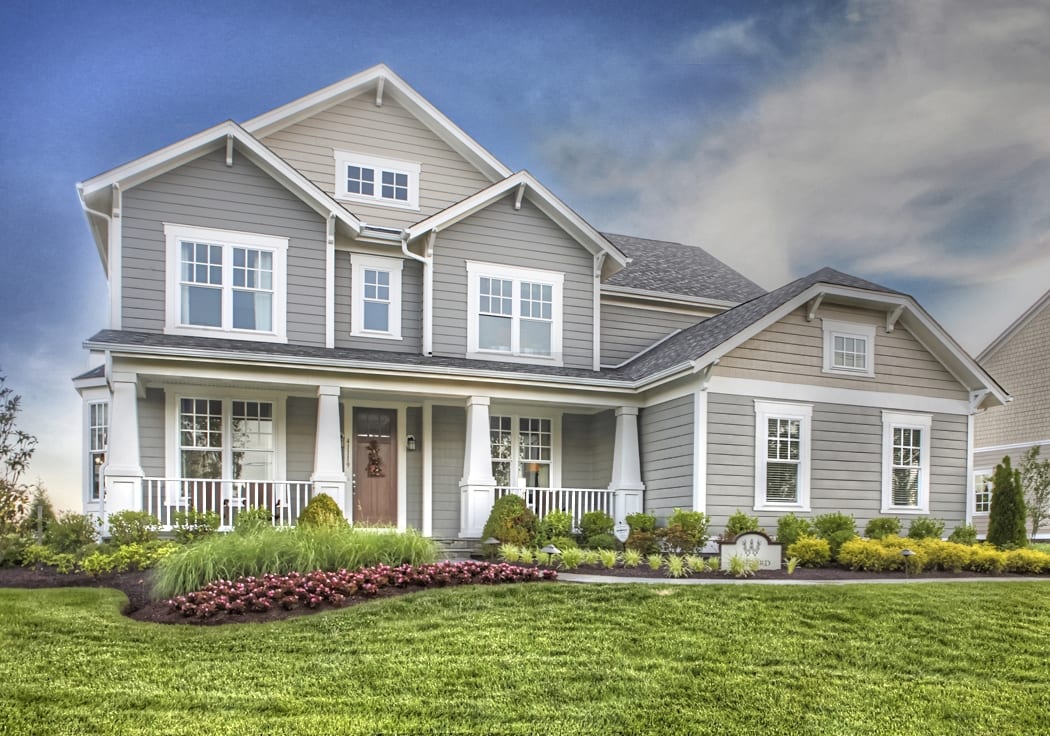 The HDR image above certainly has "pop," but it no longer looks like a 'real' front elevation of your listing in DC (or Maryland, or Virginia…or anywhere for that matter). The TruPlace photograph portrays a sunny, warm, blue-sky day. The latter image displays retina-searing contours, clouds that look like their from a scene rom 'The Perfect Storm" and landscape that looks plastic.

"In real estate work there is an expectation of reality so the more dramatically creative looks frequently see in HDR work is not appropriate for real estate work. The photography that TruPlace does fulfills that expectation," Heaton concludes.

Whether it's a wide-angle landscape, or the interior of a vacant property, HDR photos are all the same and all show off the same distorted vision of otherwise gorgeous real estate. As a Realtor, you focus on giving yourself the competitive edge and providing your sellers with unique marketing and photography services. If HDR photos are distorting your listings and doing them an 'injustice' of sorts, are your sellers going to be happy? Some people love HDR, and there is nothing wrong with that; but keep your reputation and marketing edge in mind when considering between true, professional photography and an expensive Instagram filter named 'Fusion'.

<!-comments-button-->