As President Trump continues to hand over decision-making power to individual states during the COVID-19 crisis, US governors find themselves with more executive control than they anticipated. And, as the saying goes, with great power comes great responsibility—along with a healthy dose of feedback, criticism, and protests from both residents and business owners. Consequently, governors are facing significant backlash for executive orders to open—or not open—parts of the economy.
For example, Florida Governor Ron DeSantis grabbed national headlines on April 14 after he declared professional wrestling an essential service, saying people are "starved" for new entertainment, and "we are watching reruns from like the early 2000s."
But greenlighting WWE wasn't DeSantis' only recent head-shaking executive action. When considering the travel industry's lodging sector, as the governor weighed opening/closing hotels, B&Bs, vacation rentals, and timeshares, DeSantis crafted an executive order (20-87) to prohibit stays in vacation rentals while keeping hotels, motels, inns, resorts, and timeshares open for business.
The order now has been twice extended, and the vacation rental industry is reacting with a spectrum of activity that, as of yesterday, escalated to vacation rental managers issuing a Demand Letter to the governor, a necessary first step toward a widespread legal challenge to the orders.
Timeline: DeSantis' Anti-Vacation Rental Actions
Governor DeSantis provided no explanation for the continued closure of vacation rentals, even though—as lodging options—vacation homes are more conducive to the state's social distancing recommendations than the other lodging types he has allowed to remain open, including hotels, inns, and timeshares.
Reaction from the vacation rental industry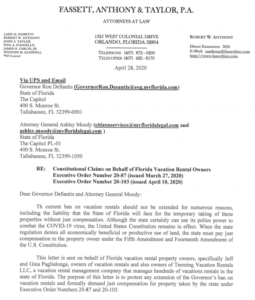 Vacation rental managers have expressed anger and frustration about DeSantis' decision to keep vacation rentals closed while allowing every other lodging type to remain open. With news of beach openings in neighboring states, Georgia and Alabama, pressure is mounting.
Yesterday, Orlando-based law firm Fasset, Anthony, and Taylor sent a Demand Letter to Governor DeSantis on behalf of Florida vacation rental property owners, saying, "The purpose of this letter is to protest any extension of the Governor's ban on vacation rentals and formally demand just compensation for property destroyed and taken by the state under Executive Order Numbers 20-87 and 20-103."
The letter, initiated by Jeff and Gina Paglialonga, vacation home owners and founders of Teeming Vacation Rentals, states: "These executive orders have forced vacation rental owners to refund all guests scheduled to check in during the banned period under the threat of vacation rental license forfeiture. The executive orders also require vacation rental owners to let their properties sit idle during the peak of the rental season in Florida. Together, these state actions constitute unprecedented and historic destruction and taking of private property held by vacation rental owners. The state's destruction and taking of private property necessitate just compensation under the Fifth Amendment to the U.S. Constitution (applied to the states through the Fourteenth Amendment), Article X, Section 6(a) of the Florida Constitution, and Section 252.43, Florida Statutes."
VRM Intel also obtained a brief on legal precendent and analysis related to moving forward with a legal challenge to DeSantis' order, which recommends, "To streamline the takings on behalf of all vacation rental owners in Florida, a representing entity, such as the VRMA should pursue a class action claim against the state on behalf of all vacation rental owners."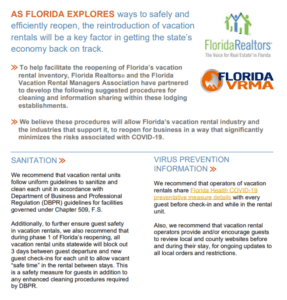 While some vacation rental managers are exploring legal options, the Florida Vacation Rental Management Association (FVRMA) and Florida Realtors joined forces to try to negotiate with the governor's office to open vacation rentals by proposing a three-day "safe time" between stays, a move that would reduce overall occupancy for Florida vacation rentals by 25 to 30 percent during the affected time period. To date there is no evidence that a three-day waiting period between stays leads to a lower rate of COVID-19 transmission.
In addition, there are other dangers in letting a rental property sit empty after a stay for three days before a cleaner, inspector, or manager enters the home (i.e. unlocked entry points, appliances left on, fireplaces or grills left on, spoiled food, mildewed towels, doors left open, unreported property damage, etc).
What is DeSantis' Motivation?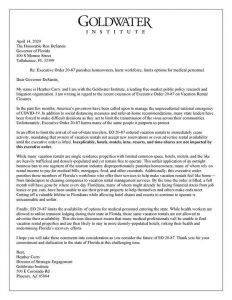 Why is DeSantis discriminating against vacation rental lodging while continuing to prop up hotels, inns, resorts, and timeshares? In talking to several vacation rental managers, no one seems to have a definitive answer. Most professional vacation rental companies believed DeSantis was reasonable in his approach to vacation rentals before COVID-19.
Some of the guesses about the "why" behind the governor's actions include:
Influence from the state's powerful hotel lobbying arm;
Embarrassment and negative feedback over images appearing in national media of overcrowded Florida beaches during shelter-in-place orders;
Lingering animosity with rental listing site Airbnb over the company's removal of listings on the West Bank and after DeSantis ordered state officials to refrain from using Airbnb when conducting state business (an order that was later rescinded);
A belief that local residents are more comfortable with travelers staying in hotels instead of vacation rentals;
Unsubstantiated fear that vacation rentals will be populated with "diseased New Yorkers" (which wouldn't explain why timeshares are still open);
Or simply that DeSantis is in over his head with the magnitude of reopening decisions.
According to Jeff Paglialonga, vacation home owner and founder of Teeming Vacation Rentals, "As a vacation rental manager managing hundreds of rental lodging options, I was appalled at the singling out of our industry for personal retribution by an Executive Order of Governor DeSantis."
In Florida, vacation rentals have been an established and popular lodging type in the state for a century.

As DeSantis knows, according to a recent UCF research study, "The 2018 economic impact of Florida's vacation home rental industry represents $16.6 billion in direct spending and $10.8 billion in indirect spending, totaling $27.4 billion."

In 2018, the total amount of tourists staying in vacation rental homes in Florida was 14,233,274, which equates to 11.2 percent of the total 127 million tourists that came to Florida in 2018.

The report adds that "The direct spending amounts to nearly $46 million a day and approximately $1.9 million every hour . . . and the direct spending supports roughly 115,000 jobs."

According to Palm Beach's WPTV, on April 20, "New numbers Monday show Florida has paid out only about 6.2 percent of the 1.5 million unemployment claims submitted since March 15."

The state's Department of Economic Opportunity dashboard says they have processed 162,039 of the claims but only 40,193 have been paid so far.

<!-comments-button-->