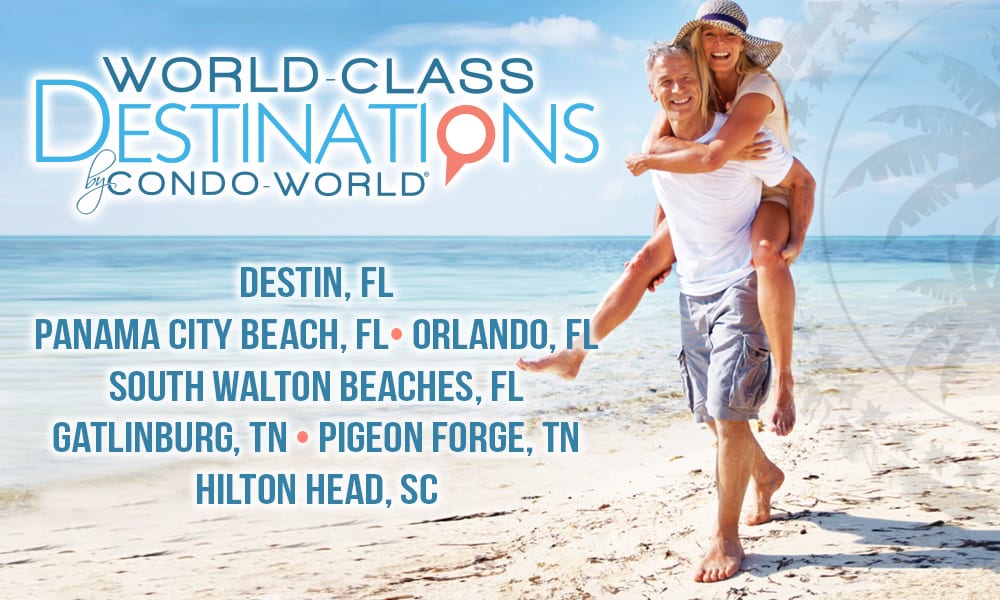 Founded in 1985, Condo-World has had the opportunity to serve both owners and guests in an evolving industry and has taken its thirty-three years of experience to build a model that caters to the needs of both. Here, Condo-World takes a closer look at what it means to be both a property manager and an online travel agent (OTA).
How is your model different from traditional OTAs?
As an accommodations provider, we have an in-depth understanding of the business that we believe other channels don't have. We've built a brand that has resonated with millions of vacationers over the past thirty-three years, and we've used our experience to build a model that caters to the needs of property managers and their guests. Seventy percent of our partner reservations are booked online, and 30 percent come through our call center. We learn about our partners' properties and their policies and create an exceptional online presence that converts at a higher level than industry standards.
Our model also allows guests to call and talk to someone who is knowledgeable about the property. Once booked, the guests' information is immediately passed through to our partners. They process the payment and continue the conversation with the guests just as if the booking was direct. We operate on a fair commission that's less than that of the major OTAs.
Do you rent other types of accommodation beside condos?
Yes. World-Class Destinations by Condo-World is the parent brand for our out-of-market partnerships that include resort, cabin, and beach home collections. The major OTAs have had a challenge trying to figure out how to organize vacation rental inventory in a way that makes sense to the consumer. Our model effectively markets various types of inventory at the same destination, which has been a unique advantage for us.
What insights have you gained being on both sides of the table as a company that uses OTAs to promote your properties while also acting as a hybrid OTA to promote your partners?
Choosing the right channels is critical. We've seen channels that produce high bookings but have cancellation rates of up to 60 percent. Some channels don't allow communication between guests and property managers, some restrict access to the guests' full contact information, and some act as the merchant of record.
We've built a model that is the opposite of all these things. The information gleaned using OTAs has helped us build a program that is mutually beneficial and protects the interests of both our partners and guests. If guests book through our website and want to return to the same property the following year, we want them to book directly with our partner. If they want to try a different destination, we want them to return to Condo-World.
How does Condo-World grow its technology-heavy infrastructure organically without relying on investment funding?
As a start-up within a profitable and established organization, we have the advantage of leveraging technology and resources that simultaneously grow both sides of the business. Instead of growing by acquisitions, we made the choice to build this program using our brand and technology. We've continuously achieved growth and profitability, even with a substantially higher marketing investment. This is a great sign for the future should we pursue additional funding opportunities.
How does Condo-World ensure its call center staff is knowledgeable enough about its partners' destinations and properties to provide a seamless experience for guests?
Infusing our industry knowledge into the customer service side of this model is a major competitive advantage. We train our agents on our partners' properties and policies so that guests are well informed upon arrival. We have recently partnered with TRACK Pulse to expand our call center operations, and we're building a new multi-destination training program to ensure new hires are prepared to take calls for all properties we market.
What encouraged homeowners and management to support Condo-World becoming an OTA as well as a property manager, and how does Condo-World balance serving its homeowners and OTA partners at the same time?
The decision to use our brand to market properties we don't manage was risky, and it was crucial that our internal team be on board. We had homeowners who didn't understand why we would want to rent properties in other locations, but once they saw the value of growing our brand beyond North Myrtle Beach, the benefits became clear. Our OTA partners are progressive companies that see the benefit of distributing to Condo-World to reach new audiences they wouldn't normally be exposed to. This collaborative nature has been a tremendous win-win for all stakeholders, homeowners, and partners involved.
Where are you focusing now, and where do you see the company expanding to in the future? Does Condo-World want to expand its property management into other markets?
Our current focus is on the Florida Panhandle, Gatlinburg, Pigeon Forge, Orlando, Hilton Head Island, and Gulf Shores. We're assessing interest in other destinations on the East and West Coasts for 2019. Our property management will remain limited to North Myrtle Beach, so both sides of the business can operate without conflicts of interest.

For more information, visit Condo-World.com/Partners.

<!-comments-button-->