As news circulated throughout the world about the highly contagious coronavirus, or COVID-19, the travel industry began to see increases in cancellations and decreases in future reservations. Travel concerns have spread faster than the actual virus, and business travel, group travel, and cruise travel have been the hardest hit.
As a result, we have been receiving a large number of emails about the effect of these concerns on the short-term vacation rental industry so we reached out to Key Data to examine actual forward-looking data to see how leisure vacation rental destinations are performing in 2020.
Summary: Compared to other travel sectors, short-term vacation rental booking activity in US leisure destinations appears to be a bright spot.
According to data sets provided by Key Data, while booking activity has slowed significantly in the last two weeks, occupancy and average stay value across key leisure-based US destinations remains strong, and the ever-so-important upcoming Spring Break appears to be holding.
We examined Hawaii, Oregon, California, Colorado, the Gulf Coast, and the Southeast Atlantic Coast to see if there was disruption to spring and summer occupancy due to fears and concerns about COVID-19.
The data sets compare adjusted occupancy, or paid occupancy, and average stay value for the next five months as of March 5, 2020 to the same year-over-year (YOY) time period as of March 5, 2019.
We have experienced a drop in booking activity over the last two weeks. However, because booking pace had increased over the first two months of the year, the number of reservations on the books remains healthy for both spring and summer.
Below, Key Data provided a more detailed chart which looks at booking activity by day.
As you can see reservation activity had increased as much as 27 percent in early January. We saw a spike right after the Book Direct messaging on Feb 5-6, and then travel concerns began to spread. Fortunately, with a head start on bookings, the number of reservations for spring and summer, as a whole, still appears to be healthy.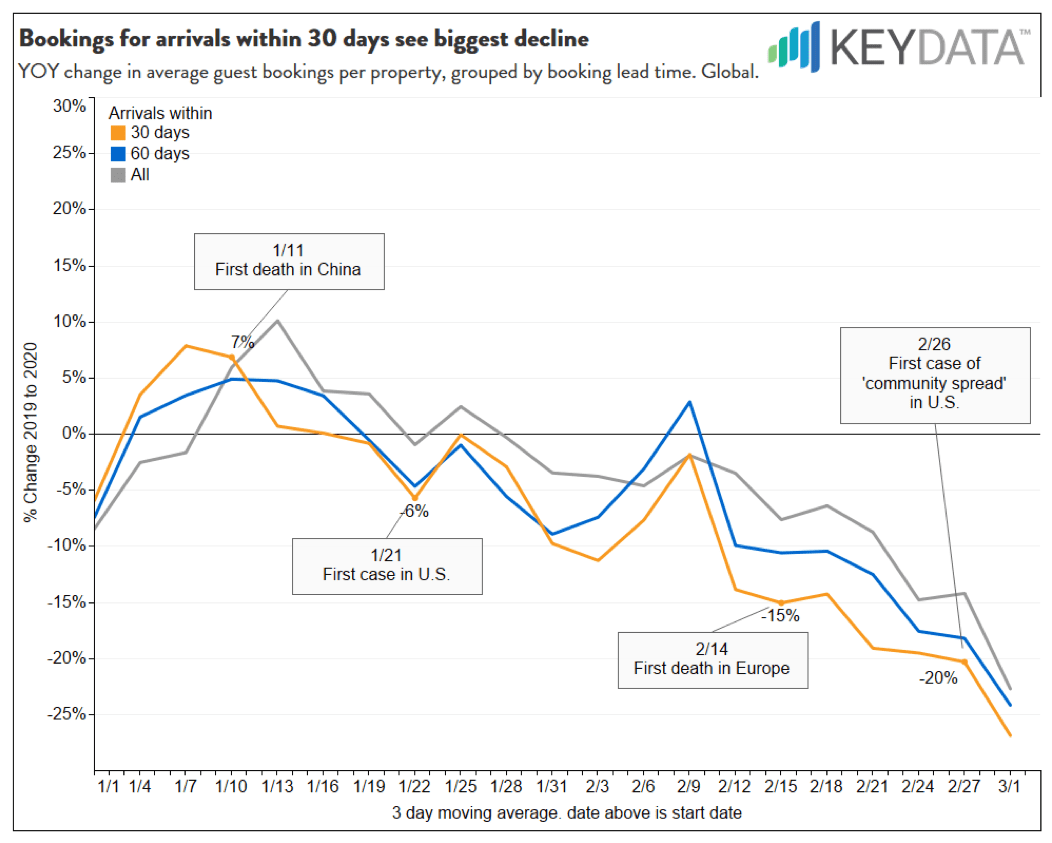 Friday, March 6 Webinar
<!-comments-button-->