As the vacation rental summer season heats up, so do many of the costs paid by owners and management companies. But before you have a meltdown, know this: PointCentral's property automation system has solutions that can reduce energy, equipment, and labor costs while at the same time increasing guest satisfaction.
Occupancy-Based Thermostat Rules (OBTR)
Guests want their vacation rental property cool and comfortable as soon as they walk in the door. Owners don't want to pay to cool vacant properties, nor do they want guests running the HVAC system too hard (i.e., keeping the property excessively warm or cold). Property managers also don't want owners controlling thermostats remotely and annoying guests. PointCentral's connected thermostat brings harmony to these three groups by utilizing our OBTR rules to coordinate with your property management system and enable every one of your properties to automatically begin the cooling cycle before the guest arrives, resulting in a comfortable temperature preset by you.
Once inside the property, guests have full control. As soon as the guest departs, PointCentral will automatically return the property to an energy-saving temperature. Guests love this attention to detail, and owners love the 10 to 15 percent energy savings and system preservation.
Heating, Ventilation, and Air Conditioning (HVAC) Health Check
One of the major vacation rental expenses, both in terms of capital and maintenance, is HVAC. When HVAC systems fail, it's all hands on deck to fix the problem as swiftly as possible, especially if the property is occupied by unhappy guests. But what if your HVAC could show you when it's not performing well? PointCentral Smart Home solutions can do just that—thanks to HVAC analytics.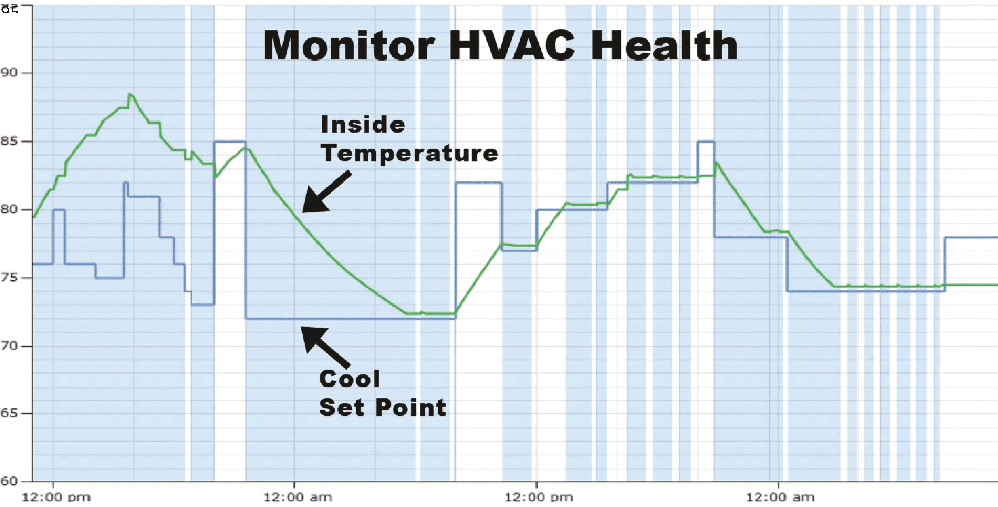 If a guest calls to complain that a unit is not cooling, your maintenance staff can analyze how the system is performing from any location before having to roll a truck to the property. Assuming the guest isn't setting a ridiculous temperature compared to the outside temperature (PointCentral temperature limits can help protect HVAC units from this abuse), your staff can determine if there is a problem and get the right person out to fix it before it becomes a more costly repair.
Later this year, in addition to the analytics data, you will start to see proactive notifications from the PointCentral system when we notice that a unit is not performing well—before the guest notices the problem. These proactive notifications are generated by our powerful AI system, which analyzes over twenty billion data points collected from the five million homes on our platform from the previous year. The system will help you get ahead of maintenance needs and take care of them at optimal cost points with minimal guest disruption (e.g., by scheduling maintenance when the property is vacant).
Refrigerator Blues
What do guests typically do when they first check in at a house? They stock the fridge with a week's supply of food that they either bring with them or that they purchase at the grocery store on the way to the property. Of course, when you fill an empty fridge with warm food, it can take some time for the refrigerator to cool everything down. In the meantime, your staff may get a call from the guest saying the refrigerator isn't working. You end up sending maintenance staff to check it out, only to find out there isn't anything wrong with the fridge.
With a sensor from PointCentral, you can see the refrigerator's temperature remotely and avoid having to send maintenance staff on a wild goose chase. When a guest calls about the fridge, you can access the sensor and assure them everything is working properly—except for their patience.
Open Doors Open Up Problems
When a guest leaves a door or window open, it can really cause your energy costs to spike. Sometimes the guest just wants to listen to the ocean. Other times, housekeeping or other staff forget to close a door or window. Either way, you and your owners pay dearly, not only with higher utility bills, but also with greater wear and tear on your HVAC system.
PointCentral door and window sensors are an economical solution to this problem. When the sensors detect an "open," the system will automatically shut off the air conditioning after a grace period (you get to set the grace period to balance the guest experience). Once the guest closes the door or window, the system will automatically restart the air conditioning. This results in significant energy and appliance wear and tear savings.
Don't Sweat the Humidity
Another common problem of many vacation rentals, especially in the South, is humidity. Excess humidity can cause mold and mildew problems, which can affect the health of your guests and result in damage to the property.

PointCentral smart thermostats end this problem by monitoring humidity levels in unoccupied homes. When levels approach a point that would invite mold growth, the system automatically activates the air conditioning for a short while to bring humidity levels down, saving your guests and owners from health concerns.

Smart home solutions from PointCentral help make hot summers less costly for you and your property owners and will give your guests a much cooler experience. To learn more about why we are the leading provider of property automation technology, please visit us at PointCentral.com.

<!-comments-button-->