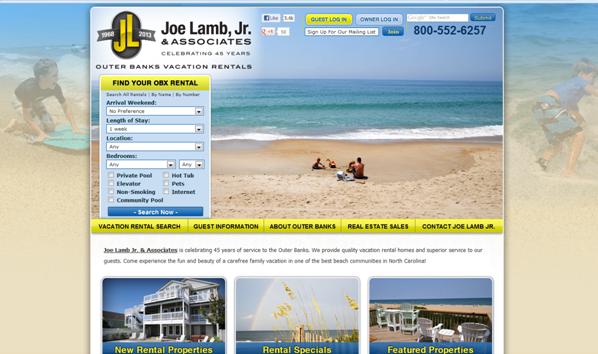 Kitty Hawk, NC – February 2013 — Joe Lamb Jr. & Associates, one of the original and most widely respected real estate sales and vacation rental companies on the Outer Banks of North Carolina is celebrating their 45th anniversary in 2013. Family owned and operated since 1968, Joe Lamb Jr. & Associates offers more than 550 vacation rentals as well as a full-service real estate agency in the Outer Banks through their office in Kitty Hawk, North Carolina.
Joe Lamb Jr., Founder of Joe Lamb Jr. & Associates, had this to say about the company he founded reaching this milestone, "My wife, Ann, and I started renting cottages in 1968 at the 11.5 milepost on the "Beach Road". During the last forty five years I have seen our company, the vacation rental business, and this beach change tremendously. The beach was one of the only attractions for visitors. The rental season was limited to the summer months of June, July and August. Today, with more travelers finding the off-season appealing, our rental season starts full swing by Memorial Day and now runs well into October. Our community too, has embraced the off-season traffic. Stores and restaurants are open and there are so many exciting events being held which support our community education foundations and support service groups. One of the things that being in the vacation business for years has taught me is that folks from all over the world think of our community as their own. They love to come here to participate in local events and show their support. They share an important part of their lives with us by coming back year after year and make us a small part of their family, we are extremely proud that they allow us to share in these special times."
Today, Joe Lamb Jr. and Associates professionally manages over 550 vacation homes, townhomes and condominiums in such popular areas of the Outer Banks such as Kitty Hawk, Kill Devil Hills, Nags Head, South Nags Head and north to Southern Shores and Duck. These rental properties range from oceanfront to soundfront on what is known as the Northern beaches of North Carolina. Their extensive selection allows for a satisfying and memorable vacation for any family.
Dan Hardy, President and General Manager of Joe Lamb Jr. and Associates, credits their success to the personal relationships they have formed over 45 years with homeowners and vacationers, "We have been a leader in the real estate industry for over 45 years, and have built a solid reputation by establishing great relationships with our clients and they appreciate the personal attention our staff offers."
While specializing in property management and vacation rentals, Joe Lamb Jr. & Associates also features a full service real estate agency dedicated to making the purchase or sale of Outer Banks property an efficient and professional experience. Their realtors, who are known for their personal touch, have experience and knowledge in residential, commercial and investment properties throughout the Outer Banks. Tim Moore, Broker-In-Charge is celebrating his 10th year with Joe Lamb Realty. He commented about his experience, "I began my career 30 years ago in a busy office with over 50 agents, in Fredericksburg, VA. Here at Joe Lamb I found an easy, relaxing, family–style business environment that I love. We are always accessible to address the needs of our clients and assist them in any way we can to make their real estate transactions pleasant, seamless and enjoyable."
After 45 years Joe Lamb Jr. and Associates is a cornerstone in the community and is proud of their home. It is very important that they give back to their community through sponsorship and volunteerism for local charity and fundraising efforts. This year, they are an accommodations sponsor for a variety of sporting events, community sports competitions and fishing tournaments, as well as supporting many community foundation programs and events.
Since 1968, Joe Lamb Jr. & Associates has built a solid reputation and has established many long and mutually beneficial relationships by providing their clients a friendly staff, hands-on service and management committed to excellence. Open seven days a week, Joe Lamb Jr. & Associates offer clients the ease of contacting the team at their convenience. They can be contacted toll-free at 800-552-6257 or locally at 252-261-4444. You can also visit their user-friendly website, which features real-time online bookings at www.JoeLambJr.com.
|
|
About Joe Lamb Jr. & Associates
Celebrating their 45th year, Joe Lamb Jr. & Associates is a family-owned and operated real estate and vacation rental management company founded in 1968 in Kitty Hawk, North Carolina. They feature over 550 vacation homes throughout the Outer Banks of North Carolina as well as a full service real estate agency. Joe Lamb Jr. and Associates is located at 4607N. Croatan Highway in Kitty Hawk, North Carolina. They can be reached via telephone: toll-free at 800-552-6257/locally at 252-261-4444; via email at info@JoeLambJr.com or via the web at www.JoeLambJr.com or www.JoeLambRealty.com. This press release was submitted by Visual Data Systems on behalf of Joe Lamb Jr. & Associates.
|
For More Information: 
Dan Hardy, President
Joe Lamb Jr. & Associates
252-261-4444

<!-comments-button-->