Last week's inaugural Vacation Rental Data and Revenue Management Conference provided a giant first step for the industry in utilizing comparative data, discussing optimal pricing strategies, and looking at new technology for this emerging discipline for vacation rental managers.
First, I want to say thank you to the conference sponsors for making this happen, to the speakers for bringing their A game, to the VRM Intel team (Kelly Mutual, Connie Carlisle, and Rebecca Chapman, you rock!), and to the attendees for showing up ready to share their experiences and engage with others to grow the industry. The event had an energy I wish I could bottle, and everyone there contributed to the dynamic.
If you were not able to attend the conference, we are offering a video package that includes all sessions.
The objective of this conference was to bring together the smartest minds in the vacation rental industry to 1) determine where we are as an industry regarding data and revenue/yield management, 2) differentiate technology offerings, 3) try to find common ground with KPI calculations and labels, and 4) discover opportunities for vacation rental managers to move the needle by using comparative data, pricing tools, and revenue management strategies.
Andrew McConnell did a great job of sharing his takeaways, and I would like to build on what he wrote.
Here are my additional takeaways from the conference:
Early Innings
We are clearly in early innings in implementing tried-and-true pricing and revenue management strategies, and we are even earlier in creating yield management strategies. We learned hoteliers have property-specific revenue managers who combine internal data with comparative data sources and established competitive (comp) sets to determine pricing strategies. These hotel revenue managers analyze third-party channels (i.e. OTAs), create yield rules, and utilize pricing tools in combination with their reservation software to implement these strategies. They evaluate performance and market conditions and adjust regularly. There is human touch required, and they do not rely solely on algorithms to meet objectives.
We learned that there will be no silver bullet for vacation rental managers.
Dynamic pricing and revenue management strategies are still in their infancy in the vacation rental industry, but tools and strategies are evolving at a more rapid pace than in the hotel industry. With Wyndham's sale of its vacation rental operations, all the companies in the industry are currently privately held. The vacation rental industry has a unique ability to pivot on a dime, while publicly-traded hotel companies move more slowly; and the vacation rental industry's relationship with OTAs is evolving. It was apparent at this conference that—even though the vacation rental industry may have been "behind" the hotel industry—technology and data sources are new-gen and adapting quickly. However, human guidance will continue to be necessary.
OTA Bookings vs Direct Bookings
There are marked differences between the strategies implemented by companies/destinations that are heavily (if not solely) reliant on OTAs and companies/destinations whose reservation activity is not dependent on OTAs. For vacation rental companies dependent on OTAs, price is everything, as they operate on an assumption that occupancy is the primary driver. For independent companies, preserving the value of the home, mitigating risk, controlling operational costs, and allowing for varying homeowner objectives are also factors that require consideration.
RevPAR and other KPIs
While we came to the conclusion that the popular hotel metric RevPAR (revenue per available room) can be translated to revenue per available unit/home, technology providers all offer additional variations of this metric.
Andrew McConnell, CEO at Rented.com, wrote, "The nuances of these KPIs are also important to recognize. Is it pure occupancy that matters, or 'normalized' occupancy, meaning only the occupancy rate for those nights that are truly rentable (e.g., excluding unbookable owner holds). Is it really RevPAR that is important for our industry, or rather than room should we be thinking about Revenue per Available Night (RevPAN) for that property and similar properties? And when you bring these together, is it pure RevPAN/RevPAR or 'normalized' RevPAN/RevPAR we should be tracking?"
As an industry, we took baby steps forward in establishing common KPIs, but we still have yards to go before getting to uniformity.
Related Link: Revenue Management Glossary for Vacation Rental Managers
Peaks and Valleys
As we looked at hotel performance against vacation rental performance, it was startling to see the peaks and valleys in occupancy in the vacation rental industry versus the more rounded-out reservation performance of hotels. There will be more to come on this, but the all-or-nothing approach of realizing 100 percent occupancy for 2 to 4 weeks out of the year—compared to under 10 percent occupancy in other weeks—is unique to our industry.
Ralf Garrison, Destimetrics founder and godfather of comparative data in our industry, introduced a philosophical discussion that is likely to gain attention in the coming years, if not months: Is 100 percent occupancy a good thing?
While many property managers in traditional leisure destinations feel the need to book all homes in peak periods, what are the consequences? For example, does 100 percent occupancy during a handful of weeks each year contribute to over-tourism, traffic difficulties, and hard-to-find temporary staff/contractor needs? Would owners, property managers, and destinations be better served pricing to reduce occupancy in peak weeks while working collectively to create more stays in off-peak times? This discussion led many attendees to initiate a broader conversation around the idea of pricing for profitability, a topic I'm not going to pretend to have my head around yet.
Technology for Comparative Data and Pricing Tools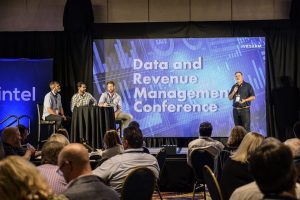 This conference was a who's who in data and pricing technology. It is safe to say that every company committed to providing solid data and pricing tools for US vacation rentals was represented here. These companies demonstrated to attendees how they are approaching solutions, and they were candid in discussing their business models, their strengths, and their limitations.
Property managers were able to look at all the leading tools available today and see what they do. While there is some overlap, each of these companies have a competitive advantage. On the data side, we were able to differentiate between source (or authoritative) data and scraped data. (Note: Source/authoritative data comes directly from actual reservation activity from property management software [PMS] systems. In contrast, "scraped" data is aggregated using tools that "scrape" data from OTAs such as Airbnb, Vrbo, and Booking.com.)
For pricing tools, we saw how PMs can use DIY tools or work with full-service providers.
Third-party predictive pricing recommendations (Airbnb's Smart Pricing, HomeAway's MarketMaker, etc.)
In looking at predictive rate suggestions from Airbnb's Smart Pricing, HomeAway's Market Maker, and others, there was discussion about how these tools are moving past human interaction using machine learning to provide better pricing recommendations. While there may be some useful information in these predictive tools, it is apparent that vacation rental revenue managers are not currently using these tools as guides for pricing. As Sarah Franzen from Natural Retreats summarized, "Anyone who is trying to tell me how to price my home—who has an interest elsewhere—I'm probably not going to take that recommendation."
There is Much More to Learn for Vacation Rental Professionals
To say we learned a lot last week is an understatement. The clouds cleared, and we now know the basic strategies PMs are using for pricing. In addition, we heard from the leading data and pricing technology providers and what their expertise is in the industry; we learned the differences between authoritative/source data and scraped data; and now we know the difference between a pricing tool and a revenue management service. But it was apparent that we still have a lot to learn. Here are some of the areas that are still murky for me:
End-User Pricing
One thing I hoped to learn—that we did not discuss—was how to optimize for the end price that the guest sees. As mentioned above, we finally got to a place that we can agree what RevPAR is for our industry (with variations specific to property managers in leisure markets), but we did not talk about how the vacation rental industry differs from the hotel industry in weighing the gap between rental rates and the end-user price. With the sliding scale of guest fees on Airbnb, Vrbo, and TripAdvisor, I still do not fully understand how property managers create solid pricing strategies when they don't know what price the end user is seeing.
In addition, rate parity requirements currently are unenforceable in the vacation rental industry. Should the end-user price be optimized on a "per channel" basis? If so, how?
Booking Window
At the conference, we took a deep dive into how other industries are accomplishing revenue management. In particular, we learned how hoteliers are integrating comparative data and pricing tools with their PMS, and how revenue managers are using the combination of the tools available. However, we did not discuss how the booking window influences these strategies. In markets that have a large booking window, how do these strategies apply?
For example, in the chart below, in destinations whose booking window in 90+ days, does adjusting pricing 7 to 14 days out move the needle?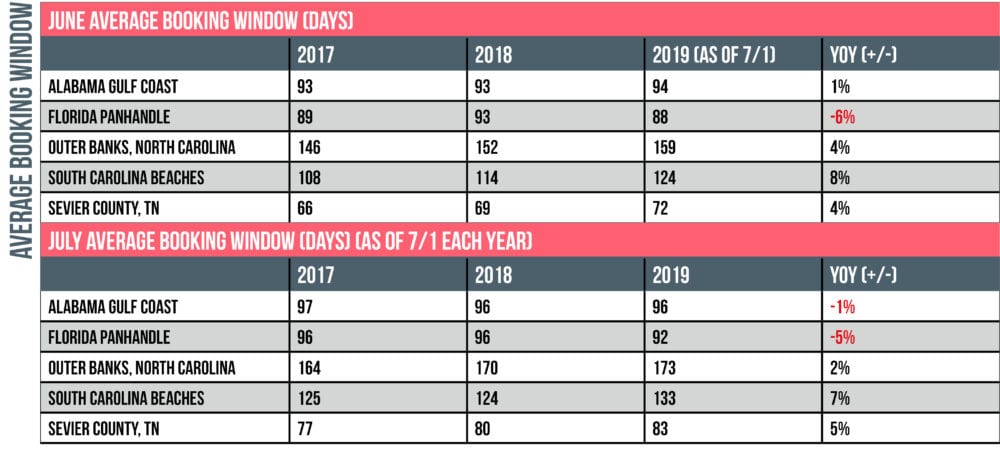 How-to?
We knew that this first Data and Revenue Management Conference would be an important first step in discussing the KPIs, looking at base strategies, comparing our industry to others, and finding some commonality. In early feedback, some property managers were hoping for more how-to instructions. The truth is that we don't have a how-to curriculum yet; and after this conference, I can say with confidence that it does not exist yet. There are a lot of theories, and a lot of strategies being vetted—but I would be very cautious of any company who says that that they fully understand revenue/yield management in traditional leisure markets. It was clear that we are in a test-and-learn phase in the vacation rental industry. The tech providers at this conference are actively and admittedly working hand-in-hand with property managers to build these algorithms; but even in the hotel space, human interaction is still necessary to optimize pricing strategies.
Summary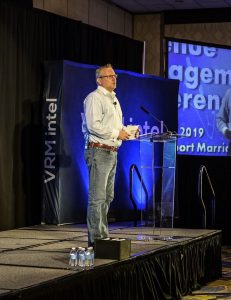 This event was an amazing learning experience, and being a part of the groundbreaking discussions that happened here was exciting. We wanted to get the smartest minds in VR data and revenue management together, and I think we came really close to having all of the best of the best.

If you were not able to make it, definitely get the videos.

The foundation was laid here, and it will be fascinating to see how quickly this discipline evolves.

For property managers, the vacation rental industry is in a unique place in time that we must come together in a few meaningful ways to preserve it for decades to come. Having accurate and collective benchmarking data is critical to the industry's growth, and your participation is important.

I need to give Simon Lehmann, founder at AJL Consulting, a huge shout out! As emcee of this conference, his knowledge and passion for the vacation rental industry carried us through, and he made the whole event more fun for all of us. Simon, this event wouldn't have been the same without you, and we are all grateful.

<!-comments-button-->