Tourist crowds wandering Burano, a quiet residential island off of Venice
Billed as an "ethical alternative to Airbnb," Fairbnb is gearing up for its 2019 launch. The Bologna-based organization is a "community-centered alternative that prioritizes people over profit and facilitates authentic, sustainable and intimate travel experiences," its manifesto states.
The idea arose out of the conflict around short-term rentals in today's marketplace, including what the co-founders view as a lack of transparency and accountability from platforms and negative impacts on some communities. Fairbnb aims to correct these issues.
"Fairbnb is based on a cooperative mindset, where we all – hosts and property managers, travelers, neighbors, concierge services, housekeepers, decision makers – are working together to address and solve the issues and create a better vacation rental experience together," said Indrė Leonavičiūtė, co-founder and product owner.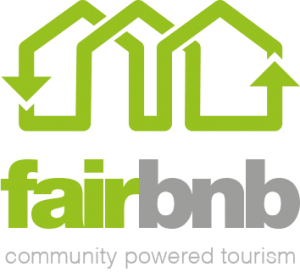 The organization is based on cooperative ownership by impacted stakeholders, including hosts, guests, local business owners, and members of the neighborhoods where short-term rentals operate. Those community members will work together on how short-term rentals coexist with the locality, including working with their municipal governments on regulations that foster sustainable tourism. They will also work with Fairbnb to reinvest profits from the platform back into social projects of their choice that counter the negative effects of tourism in their areas. Additionally, Fairbnb promises to operate with transparency and accountability to both local legislation and its members, including keeping staff salaries modest and making them public.

While the organization endorses the one-host, one-home philosophy, it will not prohibit for-profit rentals on its platform. When asked how these two often conflicting policies can work together, Leonavičiūtė said "The biggest problem in the vacation rental platforms is the grey area in which [particular hosts] start operating several listings, becoming actually a professional operator without paying taxes… What our platform will do is really differentiate between professional and non-professional users, helping them to comply with the existing rules."

Today, the organization announced its latest go-to-market timeline. Between now and March, the coop will finalize friends and family funding, complete its development team, begin onboarding hosts ("fair-hosts," as the organization calls them) and social projects, start alpha testing, and launch a crowdfunding campaign. Its beta version is expected to go live in April with expansion throughout the European Union and global markets through September.

Its first five test cities are Amsterdam, Barcelona, Bologna, Valencia, and Venice, chosen in part because they are home to the organization's co-founders. "Fairbnb was born organically, too. It started to pulse from European cities that were affected by mass tourism, encouraging activists and professionals like us to do something about it," said Leonavičiūtė. "Amsterdam, Barcelona, and Venice are on top of this list. The cities are extremely affected by mass tourism, and we see significant issues there, such as very high rent prices, crowded central areas, and the dominance of businesses focused only on tourists."

Fairbnb will evaluate the pilots on several factors, the first and foremost being that they send a message to the world, said Leonavičiūtė, and their success is the communities they empower.

Of course, success is also based on the numbers of hosts, travelers, and partners signed up, as well as the number of completed transactions and funded social projects, she said, but it is also about the learning process. "Fairbnb is a tool that will be given to everyone in these cities, and we will figure the proper techniques together."

Fairbnb did not share how many fair-hosts and social projects had pre-registered, but Leonavičiūtė said the group is happy with the amount of interest they've received. "Usually the hosts share a similar mindset: They want to contribute to bringing a change to their city. As we know, hosts can have intense relationships with their neighbors [when they have short-term rentals]. Neighbors can be frustrated with the amounts of tourists walking through their apartment buildings, creating noise or causing other issues. But if the neighbors see that the host brings added value to their neighborhood – community places are built, attractions are renovated, or even more affordable housing for the locals is constructed – the relation will improve significantly."

Leonavičiūtė said they receive messages daily from travelers and hosts asking when Fairbnb will be available in their areas. They've received several requests from North America, as well as some from Malaysia, India, Australia, and New Zealand. "Our vision is to have Fairbnb everywhere, not only in cities but in rural areas where we can increase tourism and give back to the social projects that preserve the beauty of nature and local culture." She acknowledged, though, that this won't be easy as they strive to be fair and make real change. They will launch in new cities only once they have insights on locals' concerns, taxes, policies on short-term rentals, and a community of what they call "fair starters" in place.

In the US, part of their insight-gathering comes from its partnership with Inside Airbnb, a relationship some short-term rental advocates may find controversial as the company has often supported anti-short-term rental legislation. When asked about this partnership, Leonavičiūtė said they have common interests and support each other.  "Fairbnb believes that awareness is where it all starts. We have to celebrate the freedom of sharing economy but also be aware of the effects that short-term vacation rental can bring to city housing and communities," she said. "And this is where the role of data comes to the debate. Having a user-centered approach, Fairbnb is analyzing quite a lot with the help of strong research-based institutions in Amsterdam and elsewhere. We try to understand the cities, their people, travelers and what could be done differently."

In its efforts to understand each community, Fairbnb encourages feedback from all stakeholders. It launched a social network component to its site for hosts and other community members to collaborate in forums. Leonavičiūtė also said they are also looking for input from property managers about their current short-term and vacation rental experiences and how they want them to change. "Fairbnb is unique because you actually can become part of the cooperative."

<!-comments-button-->