Over the last several years, four CEOs have led online travel agencies (OTAs) in feeding the top of the consumer funnel for alternative accommodations (a.k.a., vacation rentals, short-term rentals, private accommodations): Glenn Fogel, president and CEO, Booking Holdings, Mark Okerstrom, president and CEO, Expedia Group, Brian Chesky, cofounder and CEO, Airbnb, and Steve Kaufer, president and CEO, TripAdvisor.
As the third quarter came to an end—and Airbnb announced its intentions to go public in 2020—the recognition that short-term rentals are now a permanent, and still fast-growing, sector of travel has set in.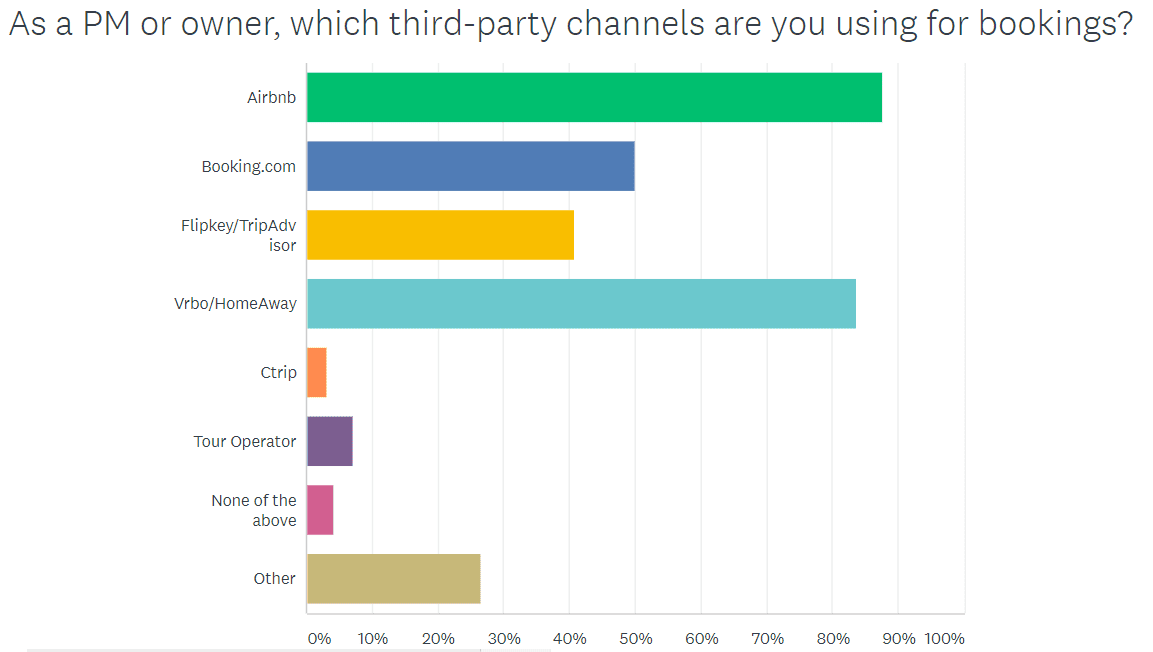 The market shift has put a spotlight on the four companies that have been most instrumental in aggregating home and apartment-type accommodations at a global scale.
In early results from a PM survey, the most utilized booking channels among vacation rental managers are—in order—Airbnb, Vrbo, Booking.com, and TripAdvisor.
One of the questions we will be looking to answer as move into 2020: Are these OTA CEOs the future of the industry or the past?
Glenn Fogel, President and CEO, Booking Holdings, and CEO, Booking.com
Glenn Fogel, president and CEO at Booking Holdings, took on the additional role of CEO at Booking.com, previously held by Gillian Tans, on July 1, saying that he had been with the company for 20 years and stepped into the position to "be more closely aligned" across brands.
At the recent Skift Global Forum, senior editor Dennis Schaal addressed Booking's recent decision to charge commissions on resort fees, and Fogel tied the decision to the way the company is handing its "alternative homes" business.
Fogel defended the decision to charge commissions of resort fees as the "right thing to do," saying, "One of the things that we think is a very bad customer experience is—when you go to buy something—and you think you know what the price is because [the site] tells you the price upfront, and you go all the way through all the effort to buy, and then—at the very end—when you are just ready to finish the transaction, you find out—oh—there is one more charge. And it is mandatory."
Fogel continued, "And this is one of the things that differentiates us from Airbnb—because when we do our alternative homes business, we always make sure the all-inclusive price is upfront, whereas Airbnb is putting in the back that fee at the end—the traveler fee. We thought that was a terrible way. Transparency is the way to do it . . . It's about the fundamental fairness of how you treat a customer in terms of what you are telling them about what it is going to cost and not hitting someone in the backside."
As Schaal asked about Airbnb's growth leaping over revenue pace at Booking, Fogel said, "Airbnb is a good company. We differ in how we do things. I mentioned the [traveler] fee at the end. Certainly, we believe it is better to have everything instantly bookable, they do not. I don't like to go back and forth with a host—back and forth—and when we are all done, I find out that the person doesn't want to actually rent it to me."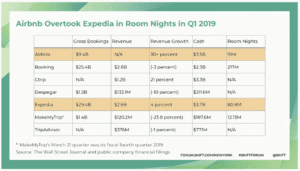 "I like our side, the Booking.com way, every single alternative accommodation that is on our site—every home, condo, treehouse, everything—[is] instantly bookable,"Fogel said. "When you press 'I want it,' you're done, all done. Go get your thing. That is the difference."
"We like the fact that on our site (Booking.com), you have all the different ways you can stay—you can stay in an alternative accommodation, you can stay in a hotel. The way we are displaying it, [they are] on the same page [with customers] being able to see them all together, being able to see the prices and the reviews. We think that makes is a better way to do alternative accommodations. That being said, Airbnb is a fine company. They are growing very rapidly. And more power to them for having built a-whole-nother industry for us."
Schaal pressed Fogel on the lower margins of alternative homes vs hotels, considering regulatory issues, lower commissions, and supply acquisition costs. Fogel responded, "The cost of dealing with it is significantly higher on both sides (supplier and guests). It is a less profitable business. The fact is people want to use it. That is why we are in it. It is growing faster than our standard hotel business. There is significant future ramp for this sector, and it is going to continue to grow."
Related: Booking.com rolls out global rating system for vacation rentals.
Mark Okerstrom, president and CEO, Expedia Group
News from Vrbo has been rapid and disruptive for its suppliers. The Expedia-held company has sunset its enterprise PMS V12 for property managers, it changed its payment policy with Yapstone, a large number of its homes suppliers are reporting a decrease in booking coming from Vrbo's sites, and PMs are finding alternative sources for bookings in Airbnb and Booking.com.
In early results from a recent VRM Intel survey, 72 percent of respondents believe bookings from Vrbo will either stagnate or drop over the next three years.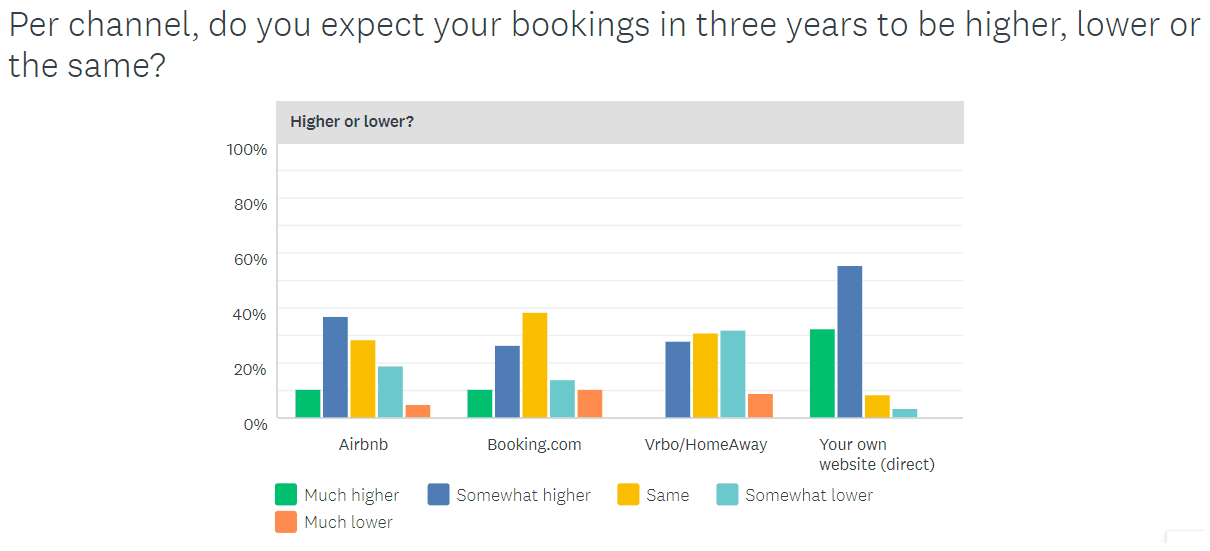 Expedia president and CEO Mark Okerstrom, however, is focusing on the bottom line. Wearing a Vrbo t-shirt at Skift's Global Forum, Okerstrom fielded questions from Dennis Schaal about the obstacles the company has faced, including rebranding issues with platform integrations, SEO setbacks, and challenges with international and urban growth.
"We have to look at this in the broader context," Okerstrom responded. "We acquired HomeAway/Vrbo in late 2015. At the time it was doing about $3 billion in online booking, about $500 million in revenue, and $120 million in EBITDA and profit. And trailing twelve months (TTM), those numbers are approaching $12 billion in [online bookings], over $1 billion in revenue, and close to $300 million in adjusted EBITDA. And if you look at where the product has come, the traveler experience is infinitely better than it was before; the partner-facing experience is infinitely better than it was before; we've integrated a lot of this inventory onto Expedia and Hotels.com; and the progress has been phenomenal."
Okerstrom added, "As we rebranded Vrbo, and as we consolidated platforms, there were some bumps in the road in terms of the SEO volume, a shifting marketing spend away from some of these legacy or regional brands towards Vrbo that did put some pressure on bookings growth across the whole portfolio. But the Vrbo brand is growing nicely in the double digits, and if we look back five years from now—and we say what was that—I think we will say it was a bump in the road—a blip—and Vrbo is continuing to thrive."
Schaal asked Okerstrom about Google's move into vacation rentals.
"As it relates to a certain aspect of our business—helping shoppers choose where they want to go—Google is competitive with us in that respect," Okerstrom explained. "As it relates to completing the booking and then helping customers with their trip along the way, that is what we do uniquely well; and that is not a space that Google is really participating. We are not a search engine in total. We are an online travel agent, and we are very focused on putting the A (agent) back in online travel agency, really helping travelers with their journey. But, yes, as it relates to search, Google is a competitor with us. And it is a call to arms to our team to make sure we can get out there and help customers find their perfect trip."
Brian Chesky, co-founder and CEO, Airbnb
The biggest story about Brian Chesky is not what he has said recently, but what he hasn't said. In all of the news announcements coming from Airbnb about its future plans to take the company public, we've heard little about the company's trajectory directly from its CEO since his infinity memo in early 2018 in which he said:
"People are increasingly living in digital bubbles, trust in institutions is at a record low, and companies realize they have a greater responsibility to society. It's clear that our responsibility isn't just to our employees, our shareholders, or even to our community – it's also to the next generation. Companies have a responsibility to improve society, and the problems Airbnb can have a role in solving are so vast that we need to operate on a longer time horizon."
Last month, the Wall Street Journal reported, "Airbnb Inc. expects to go public next year, the company said Thursday, the latest multibillion-dollar startup seeking to widen its investor base. The home-sharing giant offered no other details about its plans to become publicly traded."
Earlier in the year, Airbnb disclosed financial activity for the first time, again with no comment from Chesky.
According to the New York Times article, Inside Airbnb, Employees Eager for Big Payouts Pushed It to Go Public, "Last summer, several Airbnb employees wrote a letter to the online room-rental start-up's founders. On behalf of more than a dozen employees, they pleaded to be able to sell their Airbnb stock options. Because Airbnb is privately held, its shares cannot be easily traded or cashed in. So the employees also asked that the company go public, a move that would let them freely sell their shares, said five people who saw or were briefed on the document and were not authorized to speak publicly."
The article continued, "To try to keep employees happy, Brian Chesky, Airbnb's chief executive, and other top executives have made some adjustments, the people said. They began offering sabbaticals to longtime employees, extended Airbnb's parental leave policy and increased the retirement matching program. They also created a program to provide low-interest general-purpose loans of hundreds of thousands of dollars to employees. In performance reviews this spring, the start-up issued higher bonuses and raises, one of the people said."
Chesky broke his silence this week in an interview with Fortune to discuss the company's announcement that it is launching Animal Experiences, "a new marketplace that will connect travelers to some 1,000 animal-related tours and activities—urban beekeeping, arctic fox photography, and corgi paddleboarding, to name a few. The service represents a new category in Airbnb's growing Experiences platform—a business, CEO Brian Chesky told Fortune in an exclusive interview, that will be 'very central to Airbnb's story.'"
In the interview, Chesky said, "It (Animal Experiences) is a very large addressable market, there's very few people that are uninterested in animals. There are only so many zoos, and zoos are obviously a different kind of experience than what we're offering."
In a recent article, Skift's Dennis Schaal predicted that Airbnb would skip a traditional IPO road show in favor of moving toward a direct listing. "Airbnb, if it deems market conditions are ripe, will likely go for a direct listing instead," wrote Schaal. "At least one major investor will advocate internally for such an outcome, a source told Skift. In a direct listing, Airbnb would issue no new shares, could avoid massive fees to bank underwriters like Goldman Sachs or Morgan Stanley, and would receive no new funding, but would start trading as a public company nonetheless."
Steve Kaufer, president and CEO, TripAdvisor
TripAdvisor reported in Q2 it now has 900,000 short-term rentals on its platform, down from 914,000 in Q1 (compared to 7 million on Airbnb). Vacation rental managers remember all too well when TripAdvisor/FlipKey was a significant source of bookings. In 2015, managers came together to write an open letter to Kaufer pleading with the company to address technology challenges and a waning interest in the sector. The effort received no response from the company, and TripAdvisor as a major contributor to the vacation rental industry began to fall out of the spotlight.

However, in our recent survey, over 40 percent of vacation rental managers who responded said they are still using TripAdvisor as a booking channel.

Kaufer has not specifically addressed this sector in earnings calls in a while. With the AHLA advancing its anti-short-term-rental initiative, is TripAdvisor preparing to side with the hotel industry over the rental industry in upcoming legislative challenges?

In its Q2 10-K SEC filing, TRIP expanded its views on vacation rental regulations, adding to its previous language:

Further, Rentals has been and continues to be subject to regulatory developments globally that affect the rental industry and the ability of companies like us to list those rentals online. For example, some states and local jurisdictions, both domestically and internationally, have adopted, or are considering adopting, statutes or ordinances that prohibit property owners and managers from renting certain properties on a short-term basis or otherwise limit their ability to do so, and other states and local jurisdictions may introduce similar regulations. Some states and local jurisdictions also have fair housing or other laws governing whether and how properties may be rented, which they assert apply to vacation rentals. In addition, many homeowners, condominium and neighborhood associations have adopted or are considering adopting rules that prohibit or restrict property owners and managers from short-term rentals. Many of the fundamental statutes and ordinances that impose taxes or other obligations on travel and lodging companies were established before the growth of the internet and e-commerce, which creates a risk of these laws being used in ways not originally intended that could burden property owners and managers or otherwise harm our business. Operating in this dynamic regulatory environment requires significant management attention and financial resources. We cannot assure that our efforts will be successful, and the investment and additional resources required to manage growth will produce the desired levels of revenue or profitability. We also have been subject, and we will likely be subject in the future, to inquiries from time to time from regulatory bodies concerning compliance with consumer protection, competition, tax and travel industry-specific laws and regulations. The failure of our businesses to comply with these laws and regulations could result in fines and/or proceedings against us by governmental agencies and/or consumers, which if material, could adversely affect our business, financial condition and results of operations. Further, if such laws and regulations are not enforced equally against other competitors in a particular market, our compliance with such laws may put us at a competitive disadvantage vis-à-vis competitors who do not comply with such requirements.

At the Skift Forum, Skift founder Rafat Ali interviewed Kaufer about his views on overtourism and sharholder vs stakeholder capitalism. Kaufer did not address the company's trajectory regarding the vacation rental industry.




<!-comments-button-->