VRM Intel asked industry professionals to submit their favorite vacation rental management company websites that launched in the last 12 months to compete for VRM Intel's Best VRM Websites of the Year. We received over two dozen entries and spent several weeks reviewing each site for 20 articulated metrics, including site performance, website features, user experience across multiple devices, and overall aesthetics.
What the winners did better than the competition:
Site Speed/Performance: Our top websites loaded quickly and scored very well in Google's Page Insights test.
Simple/Smart Site Search Experience: Intuitive "refine search" or "advanced search" capabilities with a display of the number of rentals associated with each attribute. With an optimal search filter, when the user selects an attribute, the results automatically refresh to ensure that the user doesn't choose a combination of attributes or amenities that would show zero results.
Smart Availability Calendars: Smart availability calendars that appear when the user enters travel dates on the individual property detail pages. As one judge said, "If you can display an error when someone chooses dates that are not within your booking rules, then why can't you make the calendar not allow that to happen? Errors are never a positive experience."
Beautiful Websites: When clients have large, beautiful images and video footage, you can really tell that it inspired the web designers to create photo-journalistic experiences throughout the web design.
Other:

Videos and Floor Plans
Obvious Lead Capture
Lead and Requested Dates Capture When a Search Yields "0 Results"
Live Chat or Push to Talk
Site Feedback Forms
The inaugural winner of VRM Intel's Best VRM Website 2015 award is Midgett Realty in Hatteras, North Carolina.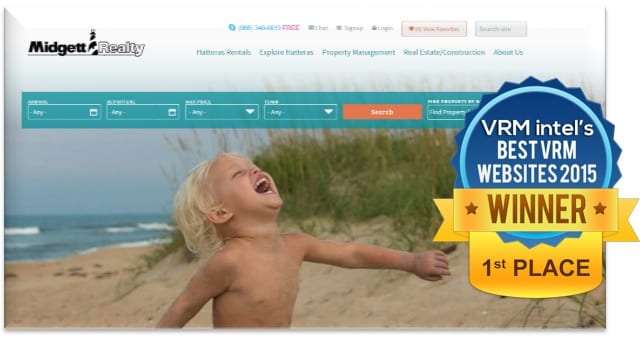 The creation and launch of a successful vacation rental management website is a true partnership between the property management company and the website development company. A critical and delicate balance must exist in the relationship that includes clear requirements, open dialogue, and an actionable feedback loop. The Midgett Realty team clearly worked hand-in-hand with Bluetent to ensure a seamless experience for their user, and as a result, MidgettRealty.com had the lowest number of technical errors among the submitted sites.
 Other winning attributes:
Optimal "Refine Search" experience
Smart availability calendars
Simplified booking process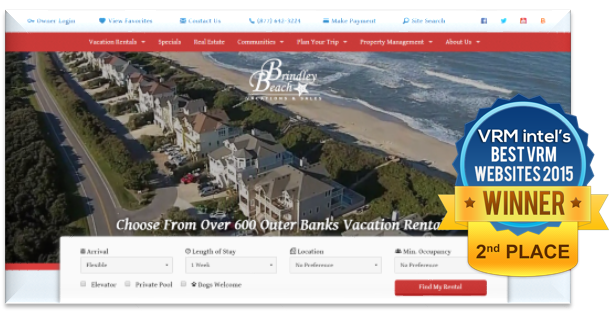 Winning Attributes:
Most unique homepage experience with beautiful opening video
High scores on page load speed (great for SEO and User Experience)
Best lead capture design throughout the site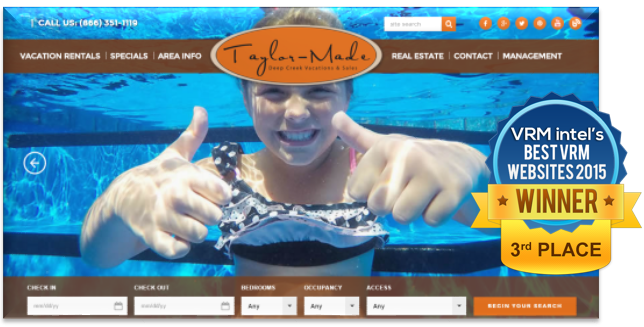 Winning Attributes:
One of the best integrations of photography and video throughout the site
One of the few managers to integrate interactive tours and floor plans
Lead capture opportunities throughout the site experience
Winning Attributes:
Evident and strong branding throughout the site
Consistent and simple search experience
Straightforward and easy to understand rates
Winning Attributes:
Smart site search experience
Consolidated, simple booking experience
Total rate displayed on date-based search results (very unique!)
Winning Attributes:
Beautiful imagery
Integrated floor plans
Live Chat and Push to Talk Capability
 Website Checklist
Want to know how your website would score? You be the judge.  Score Your Own Website:

1. Is your Website Responsive?

2. How fast do your website pages load on a desktop? Tip: Run your site through the Google Page Insight Test

3. How fast do your website pages load on a mobile/cell phone?

4. How fast do your website pages load on a tablet?

5. Is it easy for your consumers to refine their search to find the right set of homes to compare?

6. Can you sort your search results in a logical way based on price, bedrooms, and occupancy?

7. Do you have site search?

8. Do you have large, beautiful images of your properties?

9. Do you have floor plans on your site?

10, Do you have videos, virtual tours, or interactive tours on your site?

11. Does the availability calendar on your property detail page allow you to choose dates that are not available resulting in an error?

12. Are your rates easy to understand with explanations for fees?

13. Does your booking process take your guest through three pages or less?

14. How do you rank in Google for the common search queries used for guests who visit your destination?

15. Does your Homepage clearly display your destination without scrolling or clicking to another page?

16. How easy is it for guests to sign up for your deals, promotions, or newsletters? Do you have several places to collect lead information?

17, Do a search from your Homepage for something that you know goes against your booking rules like a one-night stay. Do you get a page with an error message?

18. Do you have Live Chat and/or Push to Talk features on your website?

19, Do you have a Site Feedback Form on your site, so that your website visitors can tell you about their online experience in real-time?

20. Grade the overall site aesthetic appeal? Does it promote your brand, your destination, and your homes in a professional way that communicates professionalism and trust?

<!-comments-button-->