On Friday night, a fire broke out at Brindley Beach Vacations and Sales in Corolla, NC.
Currituck County spokesman Randall Edwards said the fire started at Brindley Beach Center on Ocean Trail around 7:15 p.m. Due to wind, the flames spread to two houses just north of the recreation center. Edwards said there are road closures in the area as crews work to knock down the fire.
The building was empty and there were no injuries, but the structure is a total loss. A chimney is all that's left of what used to be the 12,000 square foot building.
Investigators think high winds fanned the flames and caused it to spread, but there is still no word on what caused the fire.
Our thoughts and prayers go out to Doug Brindley, Kelly Hanig and the Brindley Beach team.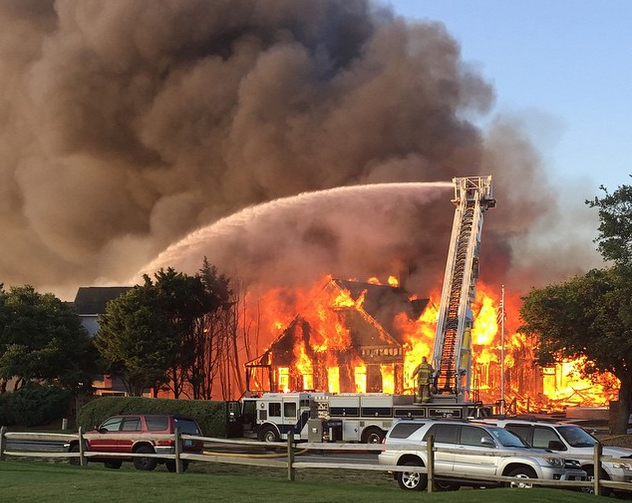 According to the company blog:
We're not sure what caused the fire; the North Carolina State Bureau of Investigation (SBI), who investigates any fire in an unincorporated town (Corolla), has finished their investigation and found that the fire was of an undetermined origin.
We'll be rebuilding our Corolla office. As Doug Brindley, the President of Brindley Beach said, "It will be like a phoenix rising from the ashes. It will be better than ever."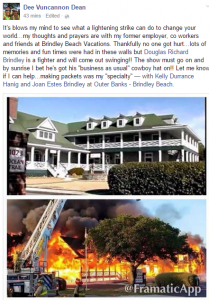 Please ignore the insensitive audio in the video below posted by OuterBanksVoice.com.


Just seven months ago Outer Beaches Realty in Avon also experienced a fire. The fire department ruled out arson in that fire. While they have several theories about how the fire started, his official ruling is "accidental."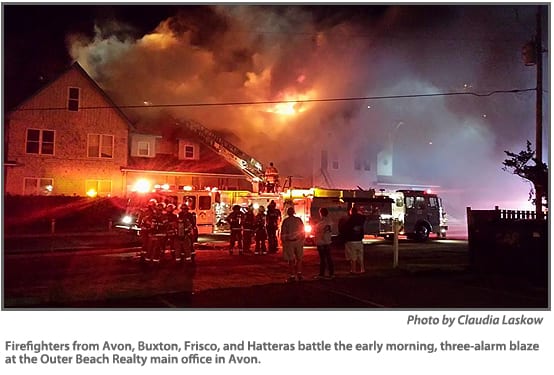 Outer Beaches President Alex Risser agreed that the cause of the fire is mostly conjecture but that the most reasonable theory centers on an outside electric outlet under the building.

The thought, he said, is that, over time, salt could have corroded the outlet to cause the blaze. Even though the outlet is above flood level, he added, tide from one or more recent storm could have compromised it.

<!-comments-button-->