Vacation rental industry veterans are familiar with disaster preparedness. Hurricanes, fires, and other weather-related incidents have had dramatic impact in many vacation rental destinations around the globe. In addition, Mexico has confronted safety concerns and travel alerts, and other areas have seen travel drop off from anxiety surrounding ebola and SARS.
But nothing prepares a vacation rental manager for a tragedy like the one which hit Paris Friday night. Even after the events of 9/11, while air travel declined drastically and travel-related stocks plummeted, in 2001, there was no Airbnb, and professionally managed vacation rentals in urban areas such as New York City, Washington D.C. and Philadelphia did not exist.
Vacation rental managers Madelyn and Phillipe Willems, owners of Paris Perfect, Susan Doull, owner of Commendable Rentals, and Marie Pistinier, owner of Paris Be a Part of It, faced an unprecedented industry challenge this weekend and did so with grace and compassion.
"Since last Friday we have had a 24 hour team in place to reach out to and ensure that all of our current guests are okay -thankfully, yes -and to answer questions from upcoming guests," said Madelyn Willems at Paris Perfect. "In addition our social media team posted helpful links to information resources for guests who wanted to contact the local embassy and other useful resources."
Susan Doull, owner of Commendable Rentals, said, "Yes, I did have guests in Paris, who were, fortunately, not in harm's way, nor were any of the Commendable Team there. We did let existing guests stay on in the case of a cancelled flight, but cancelled flights were few, and delays were short. I have been touched by an outpouring of concern from clients and friend past and present who have expressed their concern."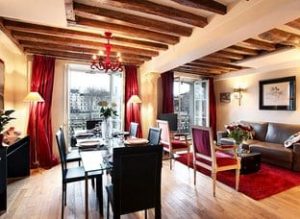 Doull added, "Though one would expect that the events of Friday might deter bookings to Paris, I have been heartened to see Paris Bookings still coming through from Americans, who understand that life goes on by continuing to promote freedom and our lifestyles, by carrying on. For those who are considering or nevertheless, hesitating to book a trip to France, Commendable Rentals does offer 'Cancel for Any Reason' travel insurance through Rental Guardian, which will allow peace of mind, if they do change their mind after booking. I hope that those who love Paris, will show their support by visiting."

Proactively reaching out to future guests, Willems said, "We've seen only a handful of cancellations. In fact, most guests and upcoming reservations have responded that they are looking forward to their stay and feel reassured about the increased security."

Susan Doull addressed the situation, "It is a heart-breaking to see and hear of all the young lives snuffed out on the very streets where they lived. This kind of evil terror strikes at the hearts of all of us, which is of course what was intended. Parisians are brave and proud, and have made a statement of continuing on, just as Americans did after 9/11 and as Bostonians did after the Boston Marathon, etc. Giving in to Terrorism is just what the Terrorists want us to do. That is why they choose sites where Parisians gather to socialise and relax; a stadium, restaurants, and a concert hall. Or where Americans go work, or run in a Marathon. And why the will pick different sites and probably a different country or city the next time. As we know from 9/11, staying home or travelling, presents equal risks."

Willems echoed the sentiment, "We are deeply saddened by the barbaric killings in Paris last week. It has brought about such a heartfelt response from our guests, our staff, our friends and our Parisian neighbors who collectively share their love for the City of Light and deeply empathize with all of the people and their families who have been impacted. The response has been nothing short of remarkable, and the streets of Paris are filled with a newfound resolve and appreciation for each other."

Willems added, "France will stay strong and prevail.  And Paris will remain perfect."

By Amy Hinote

<!-comments-button-->