This is part 5 in the Under the Hood Series in which we interviewed executives from seven on-the-grow vacation rental management companies to discuss everything from growth strategies to company culture, technology and marketing to future predictions for the industry. 
Part 1: A Look Under the Hood at Vacation Rental Pros
Part 2: A Look Under the Hood at Kokopelli Property Management
Part 3: A Look Under the Hood at Elliott Beach Rentals
Part 4: A Look Under the Hood at Winter Park Lodging Company

Amy Gaster, Tybee Vacation Rentals
Tybee Island, GA
Fresh from a visit to Europe, Amy Gaster thought it would be fun to welcome travelers into her home and decided to turn their downstairs into an apartment-sized vacation rental. At the time, other than a handful of realtors offering rental services to their clients, there was not an established vacation rental presence on Tybee Island. Amy used local online marketing to list the property. Before the renovations were complete, the new apartment was booked for the entire summer. Amy continued to receive calls and quickly recognized the opportunity before her. She contacted her sister Carrie who agreed to come on board.
After earning their real estate licenses in 2000, the sister-team mailed introduction letters to local property owners announcing they were the new "rental girls" in town who planned to do things differently. To set themselves apart, the Gasters also "invested in bright pink, fun and friendly signage to identify houses in the program."
With high quality service and all-online marketing, they began signing homeowners. They now manage over 200 vacation homes.
Division of Labor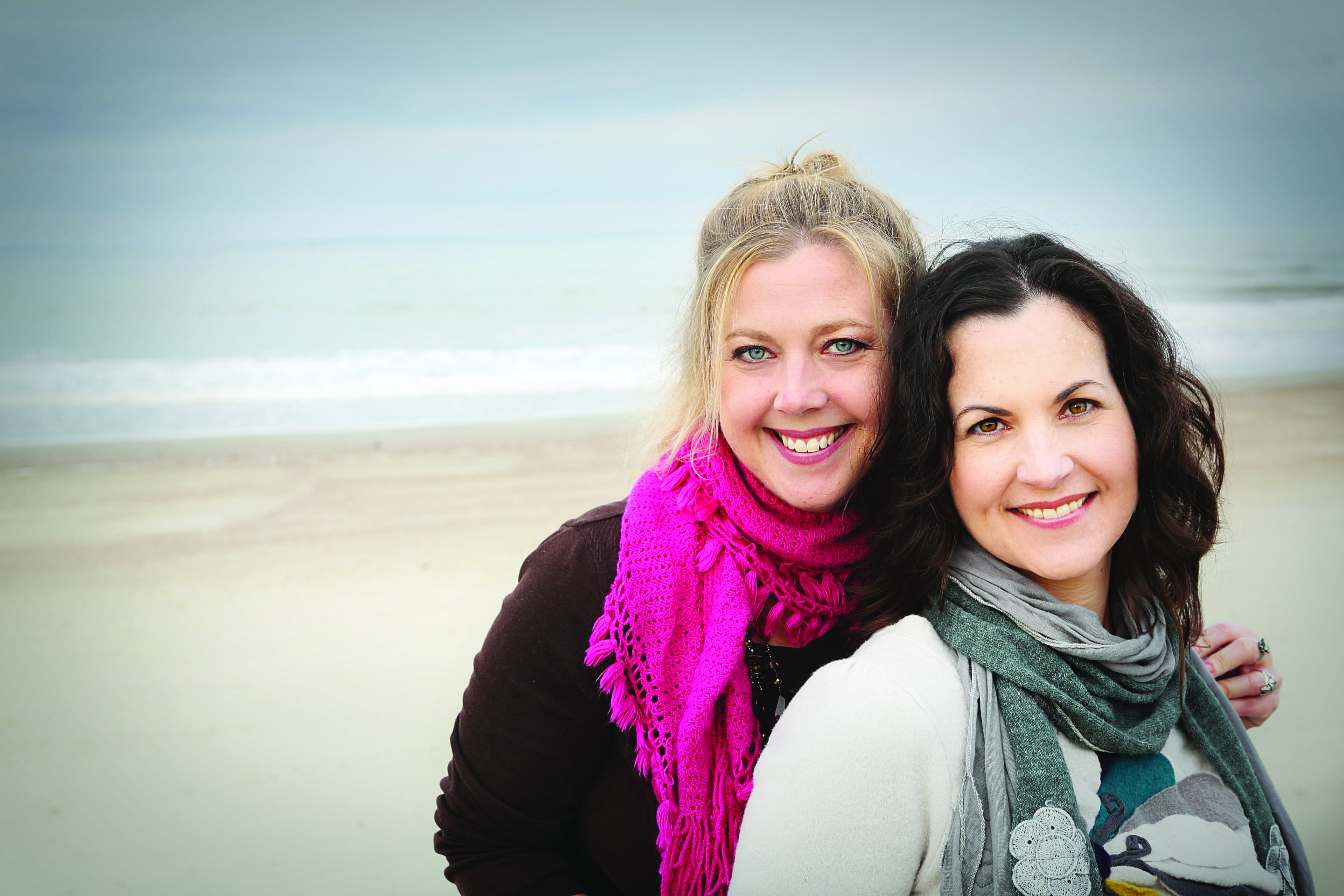 For several years, Amy and Carrie Gaster ran Tybee Vacation Rentals by themselves. Amy handled the legal and financial side of the business, plus marketing and sales functions. Carrie was responsible for day-to-day operations, housekeeping and linens, guest packets and design services.
"We were the only two employees for a number of years," says Amy. "We continued to add properties, and Carrie would plead, 'I can't take on one more toilet!' Once we had 50 properties in our inventory, we began to hire. We knew it was time to bring others on board."
Today Tybee Vacation Rentals has the largest market share on the island and is home to a full-time staff of 50, plus 50 additional seasonal employees.
Getting Connected
Shortly after launching Tybee Vacation Rentals, Amy and Carrie Gaster began networking with other vacation rental managers. They did their homework and discovered the Vacation Rental Managers Association (VRMA).
"We went to our first VRMA Eastern Seminar with three main goals:  making contacts, studying technology options, and obtaining information on contracts and rental agreements," says Gaster. "One of the first people we met was Linda Hess, currently at HomeAway Software for Professionals, but at the time with Sun Realty in the Outer Banks. She was a big help to us in getting started."
"We continued to network with people at VRMA. We met individuals like Claire Reiswerg with Sand N Sea in Galveston, TX who gave us a ton of help," adds Gaster. "Claire even shared documents like her housekeeping manual, her storm plan, and her local rental association documents! Because of the knowledgeable, experienced individuals we met through VRMA, we didn't have to reinvent the wheel. In return we trade our documents and ideas as we update our rental program.  We share open collaboration and a great friendship with a colleague and always look forward to seeing each other face to face at conferences."
Gaster emphasizes, "Making connections with other managers in non-competitive destinations can provide you with a free-flow of information which will make things easier and your business more effective."
Customer Service
From its beginning, Tybee Vacation Rentals was structured with the goal of providing friendly, personalized service to guests and owners. "As we grew, our front desk became a triage center. It was command central. We opened an office with a full-service welcome center focused on guest services. We hired a concierge and partnered with local businesses to invest in a modern office that provided a one-stop shop for guests to gather area information, print boarding passes, check email, and make arrangements for their vacation activities."
Tybee Vacation Rentals also set out to raise the industry standard for area vacation rentals. "We have improved the quality of rentals in the area dramatically to meet and exceed guest expectations," says Gaster. "We provide TV's in every room, internet, 24/7 customer service, and welcome gifts for our guests."
In keeping with their mission to provide exceptional service, the Gasters have their own in-house housekeeping services. "We work with Steve Craig at Pro Resort Housekeeping who helps with our housekeeping and linen service, and we utilize Status Tracker's housekeeping software for scheduling and managing our housekeeping department."
Gaster adds, "We are intentional in providing personalized service and interaction with our guests and owners. We understand that not all guests are going to be easy, so we train our staff to stay prepared to serve customers and their individual needs."
Company Culture
To maintain their friendly, service-oriented company culture, the Gasters focus on hiring and empowering capable team members:  "My advice is to grow a competent core staff," says Amy. "It's important to Carrie and me that we invest in (the way) our organization is growing. We make sure everyone is communicating, and we implement shared systems to keep our people connected. We train and empower our team to ensure they portray our vision to guests and owners. The end goal is for everyone to be confident in what the company stands for, and to be able to speak in the same voice when interacting with guests, property owners, and co-workers."
Technology
"Everything we do at TVR is technology focused," stresses Gaster. Tybee Vacation Rentals implemented web-based software early. "We began with a windows-based application but we quickly identified the need for a web-based solution. It was our number one goal when we attended our first VRMA conference."
Amy Gaster prioritizes their rental website. "We started with a good website, improved it, and continue to find ways to make it better for our guests. It's also important to remember that many potential owners make decisions regarding the company they chose to manage their property based on online presence and the functionality of a website."
The TVR marketing team puts significant energy into making sure properties are displayed well on the website. "We do all our professional photography in-house. It is one of our selling points. We also create robust descriptions for each of our properties, and engage in rate/yield management to maximize occupancy and revenue for our owners."
In addition, Tybee Vacation Rentals utilizes Kaba's keyless locks on 30% of their properties, and is currently working to implement keyless locks on all properties. "We still have all of our guests check into our office but we have remote expedited check-out on most properties," says Gaster.
Marketing
"Our focus on technology sets us apart in our marketing efforts. From the beginning we used email to engage our guests. We place a priority on collecting guest information and building our database so that we could provide segmented and targeted marketing communications to prospects and repeat guests."
In addition to technology, branding and social media are important components in the TVR marketing strategy. "Online reviews and social media are a big part of our strategy. It is important to us to know how we are perceived by our guests, and it is important how guests perceive us and relay their Tybee vacation experience online," explains Gaster.  TVR is the number one rated company in the state of GA on FlipKey/TripAdvisor with over 3100 online guest reviews – the most of any manager in the state.
Ancillary Revenue Opportunities
Like many vacation rental managers, the Gasters have added services to provide additional revenue streams. "For example, we started a design services program," explains Amy. "Carrie flags properties which are not meeting standards and works directly with owners to improve the marketability of each home. This provides our owners with much more than a simple "fix-up" list. It is a very personalized service; we work with each owner to help improve his/her property."
Owner Relations
Like all of the executives interviewed in this series, the Gasters agree that standards for properties accepted into the Tybee inventory have increased. "There was a time we would take just about any kind of property as long as we didn't have that gut feeling that working with the owner might be a challenge. As we've grown we're certainly more selective, and our onboarding of owners is much more quality-focused. We require that they meet minimum standards in order to become part of our rental program."
In keeping with their mission to provide personalized service, the team at Tybee Vacation Rentals is always available to property owners. "We send newsletters and use OwnerNet for communications, but we also ensure that our owners can always speak to an individual."
Community Involvement
The entire team at Tybee Vacation Rentals is active in the Tybee Island community. "Community events are very important to us," Gaster stresses. "We donate to, sponsor, and support nonprofit organizations in our area and we participate in all the community activities."
TVR is also active and involved in destination marketing and the Tybee Island Tourism Council. Amy Gaster served as chairman of the organization from 2010 to 2012. "We work very closely with the Tourism Council. I have served on the board for over ten years which has directly impacted the success of Tybee Tourism and our business by association. Side by side with other area businesses, we work to build awareness of Tybee Island and contribute to the overall marketing of our area as a vacation destination."
According to Gaster, "In our market we focus on three primary factors:  1) awareness of the destination itself so that TVR marketing is aligned with destination marketing, 2) awareness that vacation rental properties are the preferred lodging option in our area, and 3) awareness of our company  as the premier  vacation rental company in the area."
Today on Tybee Island, vacation rentals outnumber hotel rooms 2:1, and they outnumber capacity 3:1. "We've seen consistent 6-10% per year growth in our destination's tourism revenue for the past ten years, which is great especially since other destinations have really struggled to keep pace" adds Gaster.
Government Regulations
According to Amy Gaster, "In keeping with the growth of the vacation rental industry on Tybee Island, and in consideration of several proposed rental restriction ordinances, we added two vacation rental managers to the Tourism Council. We were able to demonstrate to the officials, and to the community, that 68% of revenue and local employment is derived from vacation rentals. We assured them that we want to be good neighbors. We were able to demonstrate the value of tourism and, more specifically, the value that vacation rentals add to the community. We knew it was necessary to balance the quality of life issues with residents and we figured out ways to coexist."

According to Amy Gaster, Tybee Vacation Rentals remains active in local government affairs. "There's always a risk that more regulations and restrictions will be created. We're in the process of compiling an official economic impact study, and we continue to communicate with the city and its residents as needed in order to be more proactive. We have partnered with other rental companies to form a local Vacation Rental Managers Association called TIARA (Tybee Island Association of Rental Agents), and we work together to maintain a code of conduct and to enforce "good neighbor" policies in order to preserve the peace in our neighborhoods and to protect our businesses from avoidable complaints."

Amy and Carrie have recently expanded their business into the Historic Savannah market and they are currently working with the City of Savannah and the Tourism Leadership Council to help Savannah draft their own Short Term Rental ordinance.  Currently Savannah does not have codes that allow for vacation rentals – they have been treated as "Inns" in the codes, so now is an important time to make sure the City incorporates smart ordinances that will allow and protect this use in designated zoning districts.  The primary focus is on enforcing hotel tax compliance and on creating conditions that are fair and reasonable without being overly regulative on the industry.

"Savannah is a young market in the Vacation Rental department, and we bring 14 years of experience to help set the stage for the next decade as the popularity of vacation rentals grows in historic Savannah."

By Amy Hinote

Related articles:

Part 1: A Look Under the Hood at Vacation Rental Pros

Part 2: A Look Under the Hood at Kokopelli Property Management

Part 3: A Look Under the Hood at Elliott Beach Rentals

Part 4: A Look Under the Hood at Winter Park Lodging Company

<!-comments-button-->