Halloween 2014, an early Chicago snow left powdery flakes on my Hyundai as I packed to leave on a year-long Vacation Rental Road Trip. Career goals in flux and a bucket list of places to see, I set out to explore vacation rentals around the country and to learn as much as possible about our fast-growing industry. Harboring an admitted aversion to crowds and conscious of budget constraints, I hopped off-seasons and was able to visit twelve great locations during the year. From one destination to the next, I encountered a level of professionalism I did not expect. A few of the many discoveries: superior housekeeping, keyless entry, and 24/7 customer service. What was the most important payoff of the entire road trip? A network of amazing, lifelong friends I cannot wait to see again.
1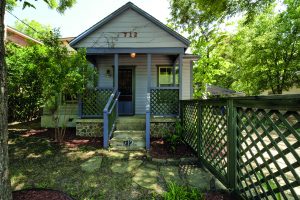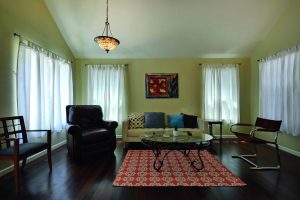 Austin, Texas
Austin, chock-full of top-notch music and culinary creativity, is a vibrant, eclectic mecca for free spirits. While I didn't think of it as a traditional vacation rental destination, Austin-based TurnKey Vacation Rentals has found a highly lucrative, short-term rental business there. My Austin home was a clean, cozy cottage off South 1st in what I later learned was the highly esteemed "78704 district." From there I could easily access the downtown area, South 1st, Lamar and South Congress. From 6th Street's hipster-meets-Bourbon-Street flair to amazing restaurants, live music, and funky shops in the SoCo area…from bats under the Congress Avenue Bridge to the food trucks' gastronomic artistry, Austin is never boring. And staying in a vacation rental makes it all the easier. If you don't have a car or don't want to risk driving, both Uber and Lyft are inexpensive and fast in Austin, and there is never a lack of things to do. Hands-down, Austin has the friendliest population I've found. The most difficult thing to work into your Austin plans – time to sleep!
2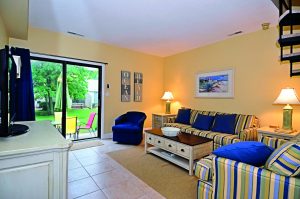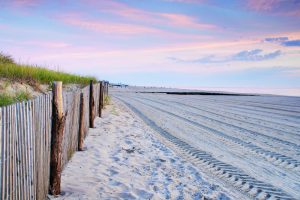 Bethany Beach, Delaware
Located just a few miles north of Ocean City, Maryland, Bethany Beach provides a safe, traditional, family-friendly, beach destination within a four-hour drive of some of the largest cities in the country. I stayed across the street from the beach at Sea Pines Village, in a townhouse managed by Sandcastle Realty. The centrally located destination made it a snap to explore areas near Bethany Beach, Ocean City to the south and Lewes, Delaware to the north – then drive home to enjoy the pool, patio, grilling area, and super-clean accommodations. The rental was a short walk from the Bethany Beach boardwalk and only a block away from Mickey's Family Crab House where I can vouch for the crab dip, crab cakes, steamed crabs and snow crab. When in Rome…
3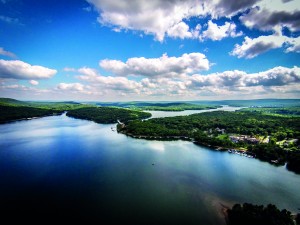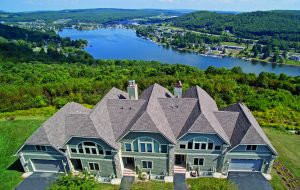 Deep Creek, Maryland
Was I the only one who didn't know how amazingly beautiful Deep Creek is? I stayed in a very private townhouse aptly named Amazing Views, managed by Taylor-Made Deep Creek Vacations. My intent was to accomplish much work in the serene environment. But the falling November temperatures added to the temptation of a private hot tub overlooking the lake, plus two fireplace levels forced work to take a back seat to relaxation. Taylor-Made owners Joe and Jodi Refosco were wonderful hosts and made time to show me the area, talk over drinks/dinners about the way they built their business, and what the area means to them. I followed their recommendation to hike Swallow Falls. It was, without a doubt, one of the highlights of my trip to the Deep Creek area. If my schedule hadn't forced me to move on, I might still be in Deep Creek today!
4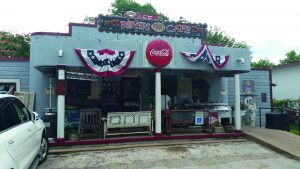 Fayetteville, Texas
Fayetteville was an unplanned offshoot of my trip to Austin and turned out to be one of the most special getaways of the entire journey. Located in central Texas between Austin and Houston, Fayetteville was settled in 1844 and is known for the biannual antique shows held in nearby Round Top. Visiting Fayetteville is a trip back in time. It's a unique Texas town complete with an ice cream parlor, a diner, a corner market, a tavern, and a courthouse centered on the town square. I stayed in a private home owned by Sand 'N Sea's Claire Reiswerg and managed by Country Butler. The historic farmhouse was charming! A few of the perks: original hardwood floors, high ceilings, and deep, inviting porches. For a girl raised in a small town in Mississippi, Fayetteville was a great place to rediscover the charm of roots. When the road trip began I had not considered including a small town snapshot of Americana, but I am so glad I did. 
5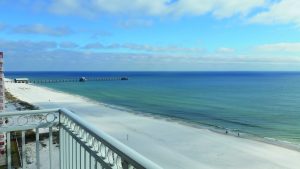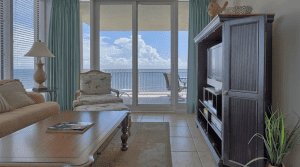 Gulf Shores, Alabama
Gulf Shores, with its 32 miles of breathtaking beaches, is home base for me. It's where I got my start in the vacation rental industry and most of my family lives nearby. Spending the holidays at a condo at The Colonnades Condominiums, managed by Meyer Vacation Rentals, was truly going home. The Colonnades is located right on the Gulf of Mexico at the east end of Gulf Shores. It is surrounded by two miles of uninhabited, sugar white beaches – total relaxation to savor and enjoy! Ground-floor facilities include in- and outdoor pools, solarium, gym, private theater, library, grilling area, and plenty of private beachfront. Another plus: The Colonnades is within walking distance of several good restaurants. While there in December, I was treated to a meteor shower. I grabbed a bottle of wine, a quilt, and headed to the beach where I sat undisturbed for hours, entertained by a natural fireworks show. The sky was alive with shooting stars and their reflection in the gulf waters sparkled like diamonds. Sweet Home Alabama! 
6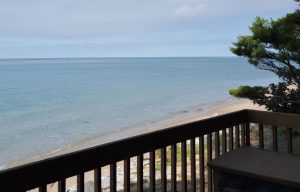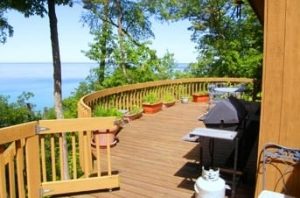 Harbor Springs, Michigan
If you're in the market for a waterfront escape from the summer's heat, North Michigan is the ideal. I invited a couple of Chicago friends to join me on the trip to Harbor Springs for some peaceful R&R on Lake Michigan. Our cooler stocked with meats and veggies for grilling and wine for drinking, we headed for the lake. Our destination: Eagle View, a large, 3-bedroom, private, lakefront home rental, managed by Holiday Vacation Rentals. Located along the road known as the "Tunnel of Trees," the house was well equipped, quiet, and serene. Holiday Vacation Rentals owner Alan Hammond and his wife Kathie went to dinner with us at Legs Inn, a Polish restaurant a couple of miles further down the Tunnel of Trees. There I heard the personal story of their experiences in the vacation rental business. We also had a lively discussion regarding the next direction the industry is taking. During the next few days we explored nearby Harbor Springs, relaxed on the shores of Lake Michigan, grilled our meals under the stars, and read by the fire. My hope is to one day add an annual vacation in North Michigan to my August calendar!
7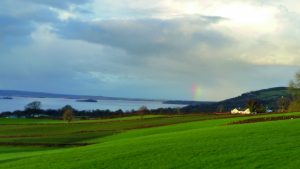 Nenagh, Co. Tipperary, Ireland
As a presenter at the VRMA 2015 European Seminar in Dublin, I had the grand experience of staying in several Irish vacation rentals. The first was Ashley Park House in County Tipperary, just a wee bit north of Ardcroney. I discovered Ashley Park through hiddenireland.com and treasure making the acquaintance of 93-year old owner, Sean Mounsey, during my stay. A narrow lane winds from the gatekeeper's cottage, beneath an archway of trees. Suddenly, the limbs part and an enchanting country home emerges, complete with white-washed stone walls, mullioned bay windows, a green tile roof, two sections of which are turrets, and verandahs reminiscent of Savannah's. In addition to sightseeing green Irish hillsides, thatched-roof villages, castles and abbeys, hill-loads of sheep, and sampling crisp fish 'n chips in a variety of pubs, daily activities also included morning walks on the 90 acre estate, afternoons spent rowing peaceful Lough Orna, and tea in the parlor by a welcome fire. Evenings brought luscious meals, a local play, wine, and international conversation around the fireplace. My ancestors were from Ireland – is that why I feel so at home there?
8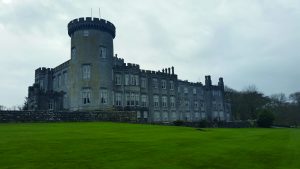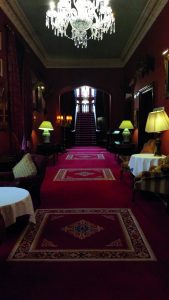 Dromoland Castle, Newmarket-on-Fergus, Co. Clare, Ireland
One of the most famous baronial castles in Ireland, Dromoland doesn't actually fall into the category of a vacation rental, but my experience there was just too good to leave out. Arriving at the castle, I felt like a 21st century Cinderella. Ancient blue limestone with chiseled workmanship, heavy wooden doors, ornamental grounds, gardens and woods extending over 1500 acres of land, and panoramic views of two rivers – the Shannon and the Fergus, are just a few of the delights. A castle stay is not cheap by any means, but there are off season deals to be found on the website. My room was huge with a 15' ceiling and crystal chandelier, a lovely sitting area with fireplace, and a huge bay window overlooking the castle entrance. The dressing room/bath was spacious; marble and decorative tile appointments functioned as well as they looked. All drapes and furnishings in the castle were upholstered in designer fabrics. Morning coffee in the gallery, afternoon tea in the drawing room, wine and hors d'oeuvres in a cozy, fire lit pub, and five-course meals in the dining room. Even in February the grounds were immaculate. I enjoyed a horse-drawn buggy ride, strolls by the lake and in the ancient walled gardens, and watched as the crows made their daily sunset flight, returning to the rookery beside the lake. What was the toughest aspect of staying at Dromoland Castle? Stepping back into reality when I had to leave. 
9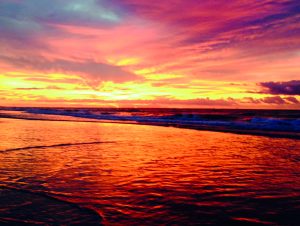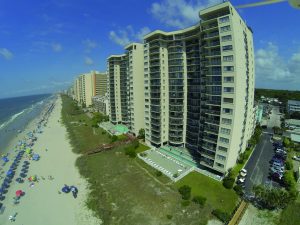 North Myrtle Beach, South Carolina
Following the VRHP National Conference in Charleston, I drove to North Myrtle Beach and stayed at Ocean Bay Club, managed by Elliott Vacation Rentals. The beachfront condo had all the bells and whistles: indoor and outdoor pools, fitness room, grilling area, private balcony, jetted tub, and walking proximity to the downtown area. From sunrises over the Atlantic (worthy of a top-notch artist) to high-energy shag competitions downtown, North Myrtle Beach proved to be a great beach getaway from morning till night. Owner Rick Elliott and GM Brandon Cox met us for a fabulous dinner at Joe's Bar and Grill where we talked about Rick's father, Senator Dick Elliott, who started the company and marveled at the way Elliott Vacation Rentals has grown to become one of the top ten largest vacation rental management companies in the USA. This was another place I could have stayed longer.
10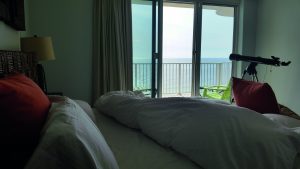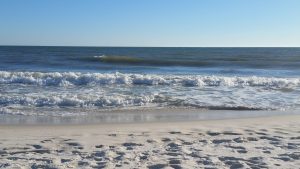 Orange Beach, Alabama
By January, I was ready for an off-season blend of wide-open Gulf front beaches and proximity to restaurants and nightlife. I found both at Regency Isle Condominiums, managed by Meyer Vacation Rentals. The large, 3-bedroom condo boasted a fabulous Gulf front and a corner balcony with amazing sunset views. The sugar sand beaches in Orange Beach are expansive and Regency Isle is located next to a state park with a mile of unspoiled coastline to the west. I stayed for a month and enjoyed every moment. Meyer offers renter-pleasing, weekly housekeeping services in which they clean, change sheets, and replace towels. Hotel services with all the perks of a vacation rental. It didn't hurt at all that the condo was within a quick walk of the legendary Flora-Bama Lounge!
11
Sandestin, Florida
The Sandestin trip was all work…well, mostly work. Several colleagues and I had planned a meeting in the Destin area. We opted to rent a 4-bedroom, penthouse condo at Sandestin's Baytowne Wharf. The condo, located in the Bahia building, proved to be pure luxury with rooftop balconies, resort amenities, plus all the activities and fun Baytowne has to offer. Downtown Baytowne is an enticing combo of upscale shops and restaurants, including the Marlin Grill, the Funky Blues Shack, Hammerhead's, Lumpy's Wine Bar, Poppy's Seafood Factory, and the Village Door Smokehouse. The huge dining table in our penthouse easily transformed into a boardroom table for our meetings and the balconies offered great areas for entertaining after hours.
12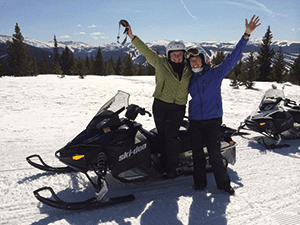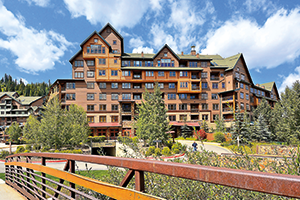 Winter Park, Colorado

March in Winter Park is pure magic. I stayed at the Zephyr Mountain Lodge condos in Winter Park Resort, managed by Winter Park Lodging Company. Zephyr offers easy access to one of Colorado's most popular ski destinations. Being a less than Olympic skier myself, I looked for a way to enjoy the area without breaking a leg. Snowmobiling fit the bill! At Winter Park's Grand Adventures I was able to ride the Continental Divide on Colorado snowmobiling trails that top out at nearly 12,000 feet. Panoramic views of the entire Winter Park ski area and Fraser Valley were spectacular. I loved it so much I made the trip three times and can't wait to go back on a future vacation. Winter Park Lodging Company has the friendliest, most cohesive team I encountered in my travels. They all genuinely care about each other and their guests, and it shows in everything they do. From special flower arrangements to team get-togethers, WPLCO operates in a team environment and ensure their owners and guests are part of that team.

<!-comments-button-->