Vacation rental managers (VRMs) are tasked with maximizing rental income for property owners and ensuring a safe and comfortable stay for guests. To accomplish this, VRMs strive to ensure that the décor, furniture, and flooring for each rental property are kept up to date.
"If the property is dated and furnished with worn furniture, bedding, flooring, appliances, light fixtures, cabinets, and counter tops, or is in need of fresh paint inside, there is no amount of cleaning that will convince the customer that a property is worth what they have paid," wrote Elliott Realty Beach Rentals, based in North Myrtle Beach, in a letter to homeowners. "Often times, poor condition is the cause of customer complaints, not poor cleaning. A poor cleaning can be corrected rather quickly at the beginning of a customer's stay. Poor condition cannot be corrected as easily or quickly, causing the customer to feel misled and highly disappointed about the property they've rented."
Even though poor customer satisfaction, bad reviews, and lack of repeat stays have a proven negative impact on rental income, convincing owners to update their interior design and furnishings is an ongoing, uphill struggle for vacation rental managers. It is common to get responses from homeowners such as:
"But we just bought that sofa in 2002."
"The wicker furniture is more 'beachy'!"
"We just replaced the mattresses right after Katrina."
The conversation would be easier if home décor came marked with an expiration date. According to a study sponsored by the website Apartment Therapy, 54 percent of US consumers think furniture should last 20 years or more. While this flawed expectation is surprising enough in a private residence, in a vacation rental environment, it can be damaging to rental income and your company's reputation.
All furnishings and home décor should be evaluated using at least three factors: safety, cleanliness, and appearance. Let's look at few items that are frequently debated between managers and homeowners.
Mattresses
Unlike vacation rentals, hotel operators place significant attention on the lifecycle of a mattress to improve guest satisfaction and reduce expenses. Regular flipping of mattresses helps to increase a mattress's life span. One manager advised, "In May and November, flip them end to end, and in February and August, flip them side to side, but still plan on replacing them every five to eight years or so."
While flipping, rotating and cleaning mattresses on a regular basis extends the lifespan, ten years is about as long as even a well-maintained mattress can last. As a result, mattresses that were purchased before 2006 are in need of a serious assessment.
Carpet
Most vacation rentals have a mix of flooring in each property, including but not limited to tile, wood, engineered wood, and vinyl; each type and brand has its own recommended longevity.
For example, let's look at carpet, which is expected to need replacing every five to fifteen years, depending on quality and usage. In the hotel industry, operators often choose carpet over other options for many reasons. Carpets help to limit noise, which is a primary concern in accommodations. In addition, it is cheaper to clean carpets; things break more easily when dropped on hard floor surfaces; gouges in hardwood are far harder to fix than a spot on a carpet; and it is less expensive and time-consuming to replace carpet than other types of flooring. For vacation rentals, replacing flooring is a matter of when, not if, so the ease and cost of changing is a key factor in flooring selections.
Sofas
Who hasn't encountered a vacation rental marked by a sofa that's clearly past its prime? If stains cannot be removed, the fabric is torn, the frame is sagging, or the cushions or springs have lost their support, it is time to replace the sofa or sectional. As the center point of living rooms, a sofa is generally the most used piece of furniture so it is best to keep it comfortable and clean. Vacation rental owners should expect to replace their sofa at least every 7 to 15 years.
And more…
A lot of attention is given to mattresses, flooring, and sofas, but other items require ongoing evaluation.
Shower curtain liners: Because they are regularly exposed to water, shower liners are prone to mold and mildew. For this reason, it is best to replace them every four to twelve months.
Pillows: Replacing pillows is also often overlooked. Most knowledgeable hotel industry professionals will tell you that with regular usage and cleaning, pillows should be replaced every two years.
Bath, door, and kitchen mats: These mats endure a lot of wear and tear during each stay, so replacing them every one to two years will keep the space feeling fresh and clean.
Accessories: Like major furnishings, accessories should be assessed based on safety, cleanliness, and appearance. New throw pillows and area rugs go a long way toward freshening the appearance of a rental. When replacing accessories, keep in mind that some home décor items, such as lamps with intricate designs, wall sculptures, and silk plants require more time dusting. In addition, styles and color palettes change in popularity. Comment cards, surveys and reviews often reveal when a vacation rental's décor is past its prime.
New Technology for Communicating with Homeowners
Communicating interior design needs with homeowners is both challenging and time-consuming, but one vacation rental owner and technology entrepreneur seeks to change that.
Sarah Honaker and her husband purchased a vacation home in northwest Florida that was in dire need of a design overhaul. She quickly discovered that redecorating a rental property from several states away was incredibly difficult as she struggled to keep track of purchase decisions and the total project cost.
"I kept thinking there had to be an app that does this," said Honaker. But there wasn't, so she set out to create one. The result is a technology platform called Design Made Easy.
In September, Honaker launched a new tablet application aimed at helping property owners and managers communicate easily when updating and decorating vacation rental properties.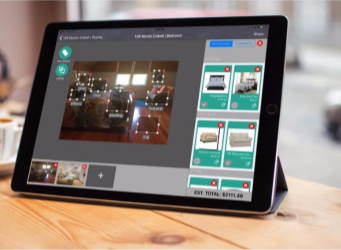 The Design Made Easy (DME) app eliminates the need for VRMs to send images via multiple texts or emails with suggested interior design changes to owners. With DME, homeowners have access through the platform to select inventory in categories such as home furniture, decor, accessories, kitchenware, appliances, and flooring. In addition, all communications sent to the vacation rental owner from DME appear from the VRM's company brand under a private-label approach.

DME's proprietary, patent-pending suite of tools includes a VRM-branded mobile app with a custom-built company profile and recommended inventory, so that interior design choices are appropriate and add value to the vacation rental. The DME central application tool is designed around projects created for rooms with collections to choose from and connections to share with the vacation rental homeowners for timely collaboration. Each step in the process allows collaboration, tracking of all design choices and costs, and allows vacation rental owners to reach decisions faster by choosing from virtual interior design boards—thus saving time and money.

360 Blue Properties, based in Santa Rosa Beach, Florida, has had success in using the platform. "The application has been very beneficial in assisting owners in how to visualize how different styles of furniture and decor can enhance the interior appearance of their home," said 360 Blue's Kim Catellier.

John Martin of Berkshire Hathaway Home Services in Watercolor, Florida also recommends the platform. "The app makes it easy to see rooms with new furniture, paint colors and pricing to redesign," said Martin. "This tool has been a valuable resource."

"Having a clear, simple way to communicate and track the costs of interior design projects took hours off the process of decorating our family's vacation rental, and we want to provide the same capabilities for owners and managers," said Honaker.

By using advancements in technology, such as Honaker's DME app, VRMs can streamline the process of communicating design challenges and updates with homeowners.

VRMs know there is frequently a gap between the guests' and owners' perceptions of what is considered worn and outdated. Creating a replacement schedule for common items and performing regular evaluations of home décor and furnishings based on safety, cleanliness, and appearance improves customer satisfaction, builds trust with owners, and increase revenues for years to come.

By Amy Hinote, VRM Intel

<!-comments-button-->