I feel compelled to respond to David Angotti's post on Matt Landau's VRMB blog about the Guest Education Day held in February to educate consumers on the value of booking vacation homes directly with owners and managers.
Note: The Guest Education Day effort used a singular hashtag to promote the value of booking directly with vacation rental managers and owners. We have chosen not to use the hashtag here to avoid distracting from online traffic and diminishing the message for travelers. 
David Angotti, founder and owner of the vacation rental marketplace SmokyMountains.com, presented two overarching themes in his post analyzing the Guest Education Day effort:
The message about price was flawed in that the OTA guest fee is likely going away, and vacation rental managers and homeowners/hosts should not attempt to compete in price with online marketplaces because it is a "race to the bottom" in pricing.
The Guest Education Day effort needs certain elements to be sustainable, including a centralized website, standardized graphics, a consolidated PR/media effort, and a uniform offering by participants.
At VRM Intel, we disagree on both points.
We believe that offering a "best-rate guarantee" for guests who book directly with you is the right thing to do—and promote. We also believe that the Guest Education Day belongs to the owners and managers, and creating yet another third-party website, developing a graphics package, and standardizing branded messaging was a confusing and unnecessary distraction that gets between owners/managers and their guests (which was counter to the whole message).
First, I want to personally say to readers that David Angotti and I are friends and colleagues, and he is a brilliant marketer and a valuable member of the vacation rental industry ecosystem. We are both passionate and seek to grow the industry. Although we disagree about some components in this effort, my respect for him is immense, and I look forward to working together and debating issues like these for years to come.
The Guest Education Day Objective
February's Guest Education Day was designed to educate consumers about the fee that online marketplaces (e.g., Airbnb, VRBO, HomeAway, TripAdvisor, etc.) are charging to guests—and to give owners and managers a chance to inform travelers about the many advantages of booking a vacation rental directly.
We initiated a one-day event that sought to unify the supplier side of the industry and encourage both owners and managers to send emails to their databases and use a singular hashtag on social media with the goal of reaching vacation rental users with a cohesive message, using multiple touch points in a compressed time period for effectiveness.
Timing was everything on February 7. First, there was no mass education about a guest fee, and guests were confused. Second, Airbnb and HomeAway were in the process of making some bold business moves that had the potential to harm suppliers—without any cohesive pushback from owners/managers. Demonstrating to Airbnb and HomeAway that this industry could come together in a very short amount of time in a pure, meaningful, grassroots effort was critical. And it made a difference. (For example, check out Expedia's Q4 2017 earnings call Q&A which took place the following day.)
As you can read in the initial call for action for the campaign, we asked owners and managers to communicate with their contacts and social media followers with core messaging: (1) book direct and save with best-rate guarantees; (2) when guests book direct, they have direct contact with the manager or owner: peace of mind is important; (3) the best price isn't on the OTAs; (4) many of the best vacation rentals aren't even listed on the major sites; (5) managers and owners have intimate knowledge about the destination; (6) if guests have special needs, a manager or homeowner can help; and (7) during nonpeak travel times, managers and owners may have special offers available.
Promoting a Best-Rate Guarantee Is Not a "Race to the Bottom" in Pricing
Using the Guest Education Day to promote a guarantee to travelers that they will get the best price by booking directly with the owner/host/manager is not, as Angotti described, a "race to the bottom."
In fact, it is a tool used by the biggest brands we know. Hilton, Marriott, and Choice Hotels all currently offer best-rate guarantees. Even Best Buy and Walmart will match any competitor's price. And there are countless examples other than these.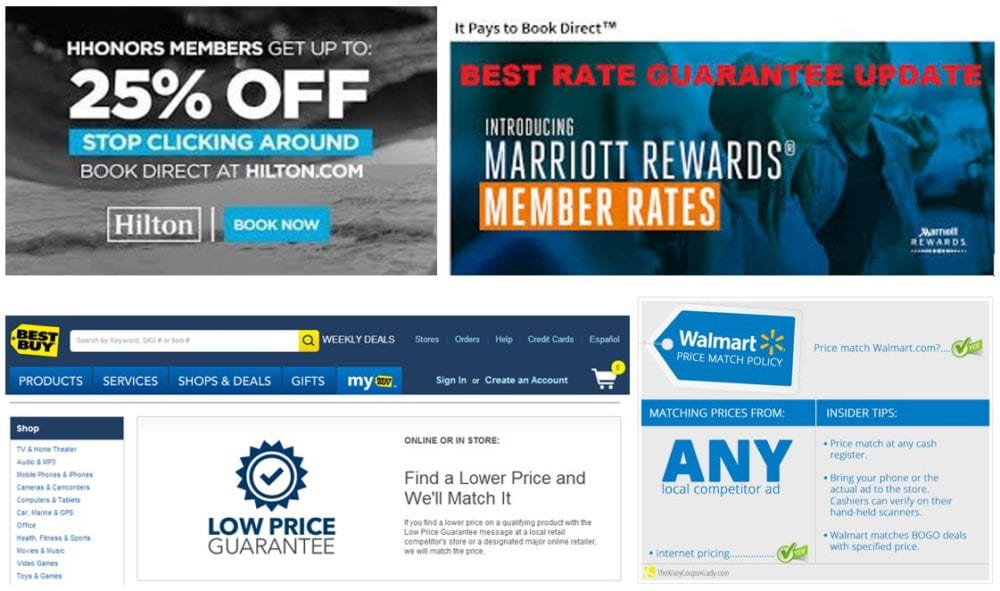 Angotti's argument is that the traveler fee is expected to disappear, and that if the campaign is about avoiding the traveler fee, it is not sustainable. He said onstage at our VRM Intel Live event in Breckenridge that we might as well have called the campaign #booking.comdirect since Booking.com doesn't charge a traveler fee. While he is right that the traveler fee is expected to go away (we wrote about this on VRM Intel), fees are not disappearing. If the traveler fee goes away, it will be passed on as an increased fee to the supplier (the owner/host/manager).
Regardless of who pays the fee, the cost of customer acquisition is higher for owners/hosts/managers when guests book on third-party marketplaces. Encouraging guests to book directly to save money is good for guests and good for you.
The traveler fee is not the only reason that managers and owners should offer the best rates to guests who book directly. When guests book directly, owners and managers have an increased ability to cater to guests' needs and set expectations; and they don't have to pay a commission to a third-party marketplace.
Angotti speculates that rate parity requirements are coming, but—in reality—our industry is a long way from being able to enforce rate parity agreements. In addition, because of the current sliding scale and testing of the traveler fee percentage, the fee is not consistent. Owners and managers do not know what guests are being charged and couldn't offer rate parity if they wanted to.
Angotti proposes, instead, an if-you-can't-beat-them-join-them solution: "Charge the same fee that the listing sites are charging and use it to do incredible things." Basically, Angotti is suggesting that you should add the equivalent of OTA fees to your own bookings as an additional fee for guests. It is worth mentioning that Angotti's vacation rental marketplace, SmokyMountains.com, adds a traveler fee. His business naturally benefits if you do not have a lower price than is displayed on his site(s).
Guests deserve to know that they can get a better rate by booking directly with an owner/host/manager, and we believe owners and managers can and should provide a better rate to encourage guests to engage and buy from them directly.
The Sustainability of a Guest Education Campaign
The second part of his advice for the campaign was that more was needed to create a sustainable campaign, including a centralized website, consistency of messaging, standardized graphics, and a consolidated media/PR effort. He also proposed that all participants should provide a standardized offering, saying that "every Book Direct guest should receive branded material through the mail when they book, a welcome amenity, a food experience (i.e., brunch one day of their stay), destination benefit (free paddleboards), and negotiated benefits."
Sounds great, right?
The problem is that the vacation rental industry is not a standardized industry. To be fair, we strongly considered many of these ideas, but these actions require a level of industry consolidation that does not currently exist.
Also, who is going to pay for a centralized website, graphics, branded materials, and a PR campaign? Managers? Owners? In fact, when the hashtag was formed, we had to overcome a considerable dispute between the manager and owner community about what booking directly really meant.
Even if we had been able to get mass buy-in among the owner and managed communities, create a budget, identify resources and stakeholders, and raise funding for the campaign, owners and managers would passionately disagree about the content on a website. Furthermore, can any owner or manager even imagine what an agreed-upon, standardized offering among participants would be? Mailed branded materials? A welcome amenity? A food experience? A destination benefit?
If we had waited to launch the Guest Education Day until we had industry buy-in among owner-managed and professionally-managed providers that included funding for a website, graphics, collateral, and media blitz—along with a standardized benefit—we would still be in committee meetings several hours a week, with nothing to show for it.
Instead, knowing that the timing was critical, we found basic common ground for a simplified one-day campaign.
Although the effort was grassroots and centered on education, participants sent a reported 3.5 million direct emails and reached 24 million consumers on Twitter alone.
We also eliminated the middleman by not distracting from the message with yet another centralized website. Each participating vacation rental owner and manager was able to leverage the effort to drive guests directly to their home(s).
Value-Added Activities over Price?
In his blog post, Angotti included fantastic ideas to add value instead of discounting. As someone who has spent over a decade directly marketing vacation rentals, I believe in creating a value-driven vacation rental experience. Matt Landau has developed a Limited Edition Theory about how to make each and every home rental a limited edition experience that I 100 percent agree with.
Angotti proposed offering guided hikes, professional photography, walking tours, designated drivers, wine tastings, beach services, and more. While we absolutely agree that wow-offerings are important for vacation rental providers, when a guest is scrolling through dozens of websites and hundreds of listings, communicating a value-added "guided hike" to reward direct booking is unlikely to move the needle in the booking decision.
As a complex and nonuniform industry, differentiation is a significant challenge. While Kabino offers guided fishing trips, Sunset Vacations offers beach chair rentals. In crafting a simplified Guest Education Day message, we had to create a uniform, simple, relevant, timely way to communicate to travelers why they should book directly.
Stated a different way: In an unstandardized industry, communicating varied added-value offerings within a single campaign was simply not doable.
To Wrap Up…
I agree that there is more to do and that we must work together to find ways to make a Guest Education Day campaign sustainable, but creating more friction and more middleman marketplaces in the process is—in my opinion—distracting. (However, if owners/hosts/managers want to contribute to funding a Guest Education Day website, collateral, and media blitz as a resource for owners, managers and the media, we are happy to produce it.)

Regarding price—offering your guests a best-rate guarantee is not a race to the bottom. It's a promise to your customers that you will reward them for booking directly with you, and when they do, you have a proven ability to offer them a better vacation experience.

<!-comments-button-->