The long-awaited Expedia partnership with HomeAway, which had its beginnings in a beta in February, went live today, with HomeAway property managers and owners who use the commission-based pay per booking model opting into the distribution relationship.
However, there is no distinct vacation rental tab on the Expedia.com homepage. Instead, when Expedia.com users search for a stay of a week or so in duration for a particular destination, they will see vacation rental options listed.
And, under accommodation type in the left-side rail on hotel pages, customers can also filter their searches for "private vacation home," and there are 67 such listings in Orlando, for example.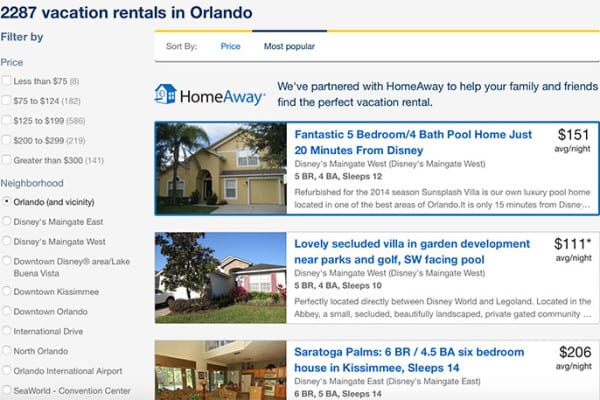 These listings of vacation rentals within the Expedia hotel search/tab is Expedia's answer to providing more lodging options, but without undermining its all-important hotel business.

The HomeAway-Expedia partnership means 115,000 vacation rental listings are now displayed on the U.S. version of Expedia.com. They must pay a 10% commission and 3% in credit card processing fees for each booking.

Vacation rental owners and managers who pay subscription fees to HomeAway aren't part of the Expedia tie-in yet, but HomeAway states it will make an announcement in the first half of 2015 about bring them on board.

There is a twist, though, to this new partnership relationship between Expedia and HomeAway.

In HomeAway's announcement of the implementation of the new partnership with Expedia, the companies point out that "property managers and owners continue to have the opportunity to reach Expedia travelers by partnering directly with Expedia" — and thereby cutting out HomeAway.

"Doing so would be complementary to distribution via HomeAway, and would maximize bookings by listing across various Expedia Inc.-owned websites instead of only Expedia.com," the implementation announcement states.

In other words, Expedia Inc. will benefit and learn lots about the vacation rental market from HomeAway, and HomeAway gets to expand its customers' distribution, too, but Expedia plans on building its own direct vacation rental business, as well.

No one can predict how the partnership will work out, but it's a often-done online travel agency strategy — and not just by Expedia — to partner and then build-your-own in the future. Still, Expedia would have a great distance to go to catch up with HomeAway's one million paid listings stretching across 190 countries.

Asked about Expedia allegedly undermining HomeAway, HomeAway CEO Brian Sharples said:

"Though Expedia does have direct relationships with property management companies, they are not currently integrated into the for-rent-by-owner (FRBO) market, which is 60% of HomeAway's inventory (as of Q2 2014). Currently, not all FRBOs can be distributed to Expedia.com because they are on HomeAway's subscription model, but it is something we are working towards.

"The additional distribution for that segment of the market presents a meaningful opportunity for everyone — Expedia, HomeAway and its customers — and is a major reason why both companies are excited about the future of the partnership."

The new Expedia-HomeAway distribution relationship is a big deal for HomeAway because the "cornerstone partnership," as it is described, marks HomeAway's launch of its so-called Expanded Distribution Network, which includes Expedia.com, but will be expanded to other "well-known travel brands," HomeAway states.

HomeAway CEO Brian Sharples is on record as stating that HomeAway would like to establish partnerships similar to its Expedia relationship with other online travel agencies, tourism sites, and other websites.

HomeAway shared the announcement about the implementation of the Expedia.com partnership with the press, and was slated to publicize it today at the RezFest vacation rental conference in Nashville.

<!-comments-button-->