Sign up to get the new VRM Intel Magazine! With articles on Distribution, Marketing, Customer Service, Reservations, Regulations, Housekeeping, HR, Business Management and Industry Trends, our goal is to provide vacation rental professionals with timely and relevant news and information to grow their business.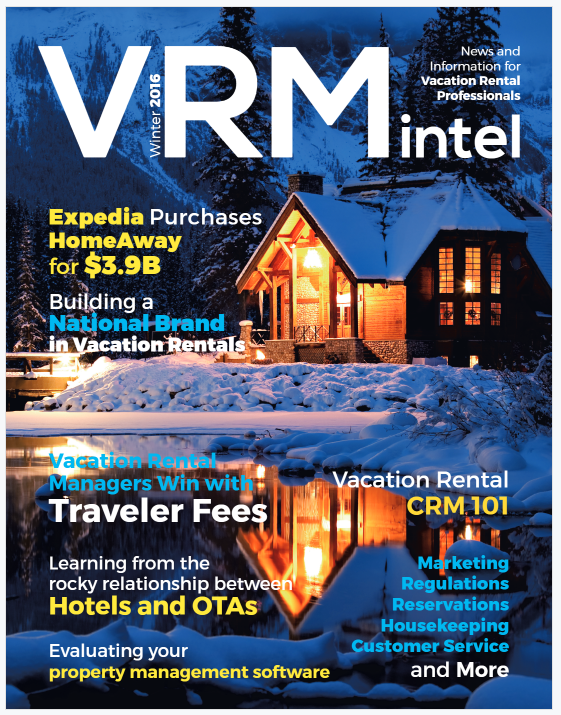 The magazine is free for U.S. subscribers, and the digital version will be sent to those outside of the U.S. Just fill out the form below to get your free subscription to this quarterly publication.
We want your feedback, so email your thoughts and suggestions to amy.hinote@vrmintel.com.
The Winter issue feature articles are:
A Deeper Look into Expedia's Purchase of HomeAway
Vacation Rental Managers Win with Traveler Fees
Learning from the rocky relationship between Hotels and OTAs
Building a National Brand in Vacation Rentals
Vacation Rental CRM 101
Evaluating your property management software
Plus the following articles:
Brand Marketing
Bring in the New Year with Great Hires
Building a National Brand for Vacation Rentals
Building a New Company in the Vacation Rental Market
Converting Web Traffic Into Results For Your Property Management Company
How to Attract Families with Small Children
Imagine This… Storytelling is Key to Reservation Sales Success
Latest Innovations in HomeAway's Software Support
Microbes: Unseen Dangers in Vacation Rental Housekeeping
NAVIS Releases 2016 Vacation Rental Trends
New Developments in Housekeeping Technology for Vacation Rental Professionals
Online Marketing Components You Should Re-evaluate Each Year
Policymakers Urged Not to "Commercialize" Short-term Rentals
RealTimeRental's Tenant Portal Offers CRM Functionality, Integrated Trust Accounting, and Increased Distribution
Technology: Reshaping Vacation Rentals
The 7 Deadly Sins of Distribution for Vacation Rental Managers and How to Avoid Them
The Best Property Management System For Your Company: Do You Already Have It?
The Smart Home Tug-of-War Between the Property Manager and the Homeowner
Utilizing Search Engine Marketing for Homeowner Acquisition
Vacation Rental Management Company Acquisitions
VRM Calendar of Events
<!-comments-button-->