Design Made Easy (DME) announced the launch of its mobile application platform that allows Vacation Rental Management (VRM) companies to work easily and quickly with homeowners to update their vacation rental's interior design.
As VRMs know, interior updates increase occupancy rates and repeat stays, but communicating interior design needs with homeowners is both challenging and time-consuming.
This new app allows VRMs to work directly with homeowners to remotely identify items that need to be updated, provide recommendations, and let owners select and purchase replacement items.
Under a private white-label agreement, this proprietary, patent-pending suite of tools includes a VRM-branded B2B app with a custom-built company profile and recommended inventory, so that interior design choices are appropriate and add value to the vacation rental. DME also includes a unique marketing video specific for the VRM company to use with their property owners, detailing the interior design services.
"The application has been very beneficial in assisting owners in how to visualize how different styles of furniture and decor can enhance the interior appearance of their home, said Kim Catellier of 360 Blue Properties based in Santa Rosa Beach, Florida. "What a great concept to use when working within a budget."
How the DME Mobile App Works
No longer does a vacation property owner or vacation rental manager have to send images via text or email to communicate suggested interior design changes. With DME, homeowners have access through the platform to select inventory such as home furniture, decor, accessories, kitchenware, appliances, and flooring. In addition, all communications sent to the vacation rental owner from DME appear from the VRM company's brand under this private-label approach.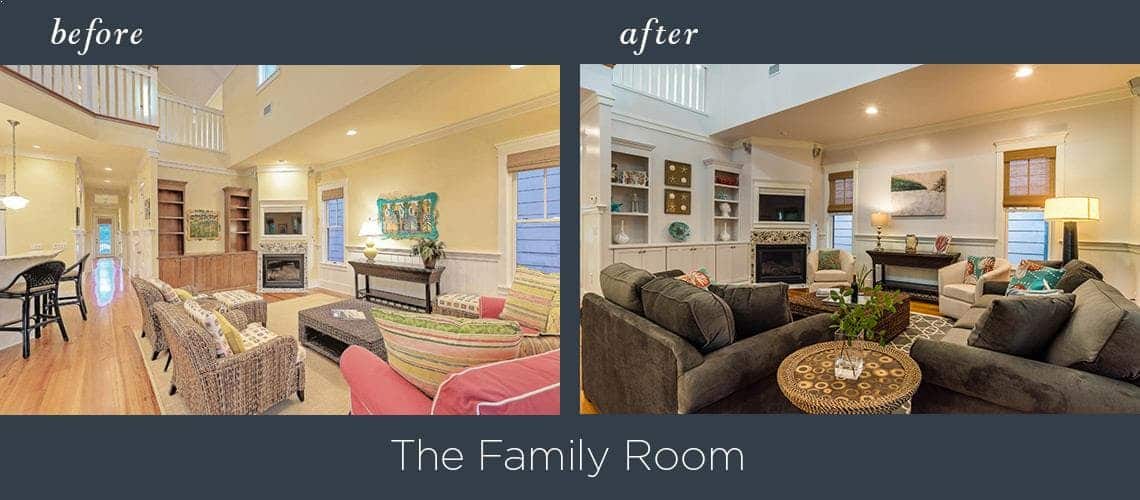 If the vacation rental homeowner would like custom interior design, they can sign up for DME's concierge service. DME's trained interior design staff then works virtually with the vacation rental owner to create and select home décor purchases for their vacation rentals to increase rental and occupancy rates.
The DME central application tool is designed around projects created for rooms with collections to choose from and connections to share with the vacation rental homeowners for timely collaboration.
Each step in the process allows collaboration and tracking of their choices with costs and allows vacation rental owners to reach decisions faster by choosing from virtual interior design boards saving time and money.
The app allows for:
Insertion of the actual dimensions of rooms;
Design project and tags items to be changed in a given room;
Interior design boards and web links that shows selected items for purchase;
Digital design boards, where notes and shares occur to make final choices while tracking costs.
According to Sarah Honaker, DME Founder and a vacation home owner herself, ""I started Design Made Easy in an effort to create order and organization for our own room projects in our vacation home, and then expanded on the concept for others overseeing the updates needed for vacation rental properties."

Honaker continued, "Having a clear, simple way to communicate and track costs of interior design projects took hours off the process of decorating our family's vacation rental, and we want to provide the same capabilities for owners and managers."

Aaron Drake, DME's Chief Information Technology Officer, and Bhaskar Sanga, DME's IT director, said that it is extremely rewarding to be part of a product that helps people improve their living spaces and properties.

Drake said, "As a software developer it has been fun to move outside of the world of bits and bytes and into creative living spaces."

DME is excited to be attending both the HomeAway RezFest Conference, September 21-23 in Orlando, Florida, and the VRMA National Conference, October 16-19 in Chandler, Arizona.

About DME

Design Made Easy, DME is a cutting edge mobile interior design company that communicates interior design ideas in real time for the vacation homeowners of vacation management companies. The DME interior design team uses a proprietary, patent- pending central application platform to provide interior design solutions to their clients, to gain consensus and purchase selected items. Please visit Design Made Easy or call 1-866-DME-APP3 for more information.

<!-comments-button-->